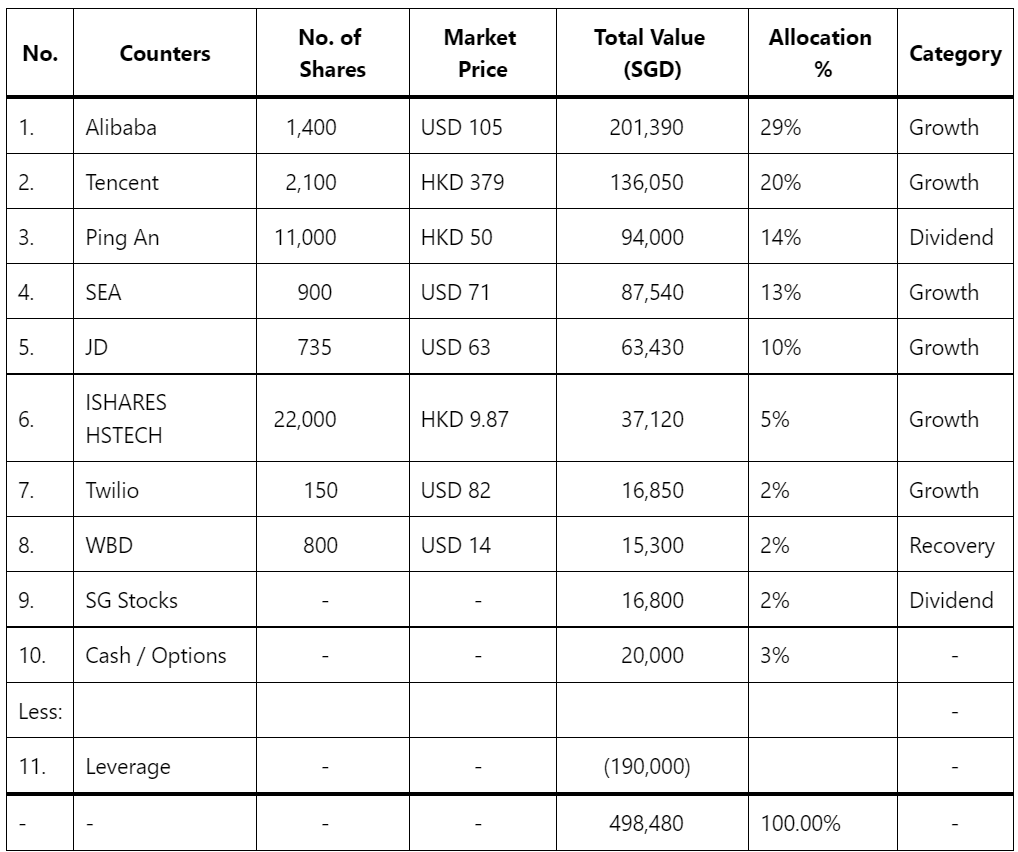 I am having my off-month visiting my parents during this school holiday so I will make the updates quick.
Another roller coaster month – one month up another month down and this month another month up again.
It seems like volatility has been the sole theme this year with many unpredictable event happening. Any bit of news coming out will send the market into one direction after next, which makes it very difficult to establish a position of short term long or short. I do not have much short term positions in the holding so the above positions are pretty much for the mid to longer term.
Many of those are also underwater at the moment (although some saw a green on one of the very rare good week) so there's not much to do except slowly adding to the existing positions.
The Chinese stock positions seem to be relatively more quiet these days as compared to the past when regulatory was still rampant. These days, many of the positions are just rolling away with some of the news coming out from the US, and it is the US positions that are more concerning in the short term.
My plan for the next few months is to focus more on deleveraging a little at a time while trying to average in on positions which I still want to add more. There are still works to do on reducing the leverage but I am confident in reaching leverage-free in about a year or two, given everything else equal. Income has been coming in very strongly these past few months due to the resurgence of travel (which means higher bonus) and more gigs (which means more side income) so I am keeping a cross finger things will remain as it is until the end of the year.
My only accumulation this month is on WBD shares, which I double from 400 to 800 shares as its share price continues to go down. My average for the position is now at around $17.50 and I will be looking to continue adding slowly in this blood on the street environment.
At one point, several of my US (e.g SEA) and HK positions (e.g Tencent and JD) were green on a rare week so I think it is just a matter of time before these positions turn positive when sentiments return back. As for now, the longer the blood on the street remains, the better the opportunity to accumulate to get into some very attractive average entry price.
I trade my positions using multiple brokerages such as Tiger, uSMART and moomoo. If you are interested, you can explore them. Each of them has their own distinct advantages which I have written in detail on a separate post.
One month down another month up.
Not the kind of straight line upwards which I would have preferred to see but that's how life in the market is, assuming you are investing for the long term.
The network for the portfolio is right just below the magical $500k mark this month, as it closes at $498,480 on the day I was writing this blogpost.
If market continues to go down, then networth will likely continue to follow downwards but with a better accumulation entry, I am likely going to end up with more shares in the company over time. If market goes up, then the entire positions would be direct beneficiary from it itself.
Either way, I will be in the market 6 months, 1 year, 2 years, 5 years or 10 years down the road. So I think it is a win win strategy.

I have also started using more of my social channels to post ideas and thoughts in recent weeks so if you are interested, you may follow me at my Facebook, Instagram or Twitter profile here.

Brokerage