How much is enough? Money and the good life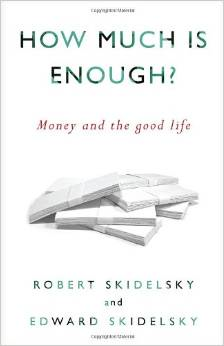 What constitutes the good life? What is the true value of money? Why do we work such long hours merely to acquire greater wealth? These are some of the questions that many asked themselves when the financial system crashed in 2008. This book tackles such questions head-on.

The authors begin with the great economist John Maynard Keynes. In 1930 Keynes predicted that, within a century, per capita income would steadily rise, people's basic needs would be met, and no one would have to work more than fifteen hours a week. Clearly, he was wrong: though income has increased as he envisioned, our wants have seemingly gone unsatisfied, and we continue to work long hours.

The Skidelskys explain why Keynes was mistaken. Then, arguing from the premise that economics is a moral science, they trace the concept of the good life from Aristotle to the present and show how our lives over the last half century have strayed from that ideal. Finally, they issue a call to think anew about what really matters in our lives and how to attain it.

How Much Is Enough? is that rarity, a work of deep intelligence and ethical commitment accessible to all readers. It will be lauded, debated, cited, and criticized. It will not be ignored.
Your Money or Your Life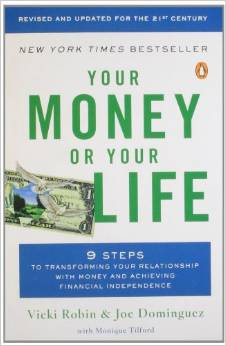 In an age of great economic uncertainty when everyone is concerned about money and how they spend what they have, this new edition of the bestselling Your Money or Your Life is an essential read. With updated resources, an easy-to-use index, and anecdotes and examples particularly relevant today-it tells you how to:
? get out of debt and develop savings
? reorder material priorities and live well for less
? resolve inner conflicts between values and lifestyle
? save the planet while saving money
? and much more
In Your Money or Your Life, Vicki Robin shows readers how to gain control of their money and finally begin to make a life, rather than just make a living.
The 9 steps are:
(1) Making Peace with the Past;
(2) Being in the present – Tracking Your Life Energy;
(3) Where Is It All Going? (The Monthly Tabulation);
(4) Three Questions That Will Transform Your Life;
(5) Making Life Energy Visible;
(6) Valuing Your Life Energy – Minimizing Spending;
(7) Valuing Your Life Energy – Maximixing Income;
(8) Capital and the Crossover Point;
(9) Managing Your Finances.
.
THE POWER OF HABIT by Charles Duhigg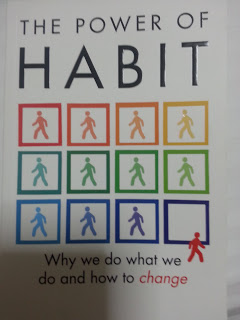 In The Power of Habit, award-winning New York Times business
reporter Charles Duhigg takes us to the thrilling edge of scientific discoveries
that explain why habits exist and how they can be changed. With penetrating
intelligence and an ability to distill vast amounts of information into
engrossing narratives, Duhigg brings to life a whole new understanding of human
nature and its potential for transformation.
Along the way we learn why
some people and companies struggle to change, despite years of trying, while
others seem to remake themselves overnight. We visit laboratories where
neuroscientists explore how habits work and where, exactly, they reside in our
brains. We discover how the right habits were crucial to the success of Olympic
swimmer Michael Phelps, Starbucks CEO Howard Schultz, and civil-rights hero
Martin Luther King, Jr. We go inside Procter & Gamble, Target superstores,
Rick Warren's Saddleback Church, NFL locker rooms, and the nation's largest
hospitals and see how implementing so-called keystone habits can earn billions
and mean the difference between failure and success, life and death.
At
its core, The Power of Habit contains an exhilarating argument: The key
to exercising regularly, losing weight, raising exceptional children, becoming
more productive, building revolutionary companies and social movements, and
achieving success is understanding how habits work.
Habits aren't
destiny. As Charles Duhigg shows, by harnessing this new science, we can
transform our businesses, our communities, and our lives.
BUILDING WEALTH THROUGH REITS by Bobby Jayaraman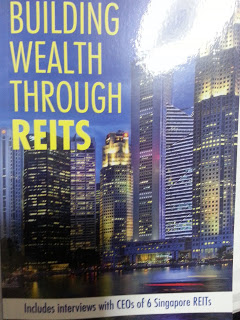 A great book on the introduction of Reits (latest 2012) in Singapore. Each individual strengths and weaknesses are explained in detail. The best about it is the personal one-on-one interview with some of the CEO and CFO of some of the REITS like Lippo, CMT, First Reit, Saizen and many more.
Not to be missed for Reits investors.