The fast and growing industry of Fintech is taking the world by storm as the world is evolving towards a digital economy – driven by technology, innovation, and new ways of doing and transacting business in a seamless way.
Over the past few years, the security brokerage industries have been buzzing about the disruption it brings to the table by providing consumers with safer, quicker, and more convenient alternatives to the traditional brokerages.
Gone are the days where you need to take more than a few minutes to log in, give instructions, deposit, withdraw and make your transactions. Consumers are expecting a seamless digital experience when it comes to handling their own money and accounts and this gives opportunities to leading online brokerage firm for intelligent investment.
uSMART SG is the latest buzz for intelligent investing that has made its splash onto the Singapore scene.
The brokerage is one of the leading online brokerage firms that aims to provide its customers with cutting edge tools and investment experience via innovative technology, community and customer support.
uSMART Group was founded in December 2018 with its headquarter in Hongkong and the company is backed by one of the most prominent conglomerate players in the region – Chow Tai Fook Group. Best known as one of the world's largest jeweller, Chow Tai Fook Group also has businesses in property, hotel, energy and telecommunications to name a few.
In February 2021, uSMART Group completed its Series B funding – securing an impressive amount of USD100m which will be used to accelerate the development of their products and services to help investors experience and make better decision with their money.
uSMART Securities Singapore received regulatory approval for the Capital Market License (CMS) from MAS in December 2021 and is now ready to cater to the needs of investors around the region.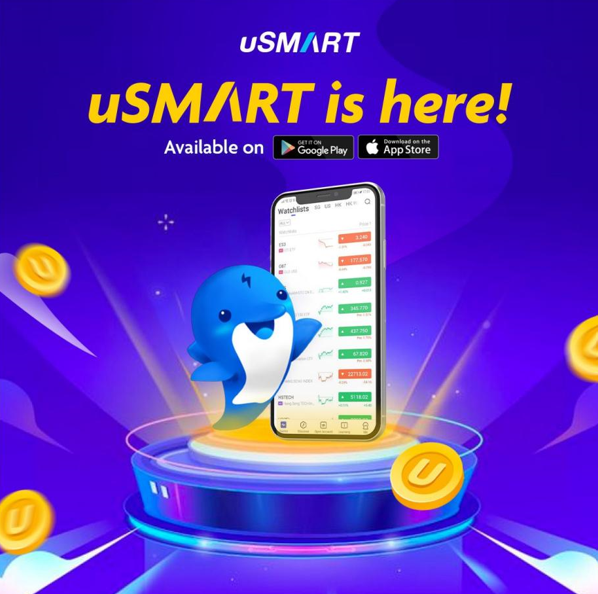 The Group's Motto – Learning. Intelligence. Community – aims to provide users with a seamless experience not just from the investing front, but also a strong group of community where one can interact with another in an educative and interactive manner.
For instance, under the "Discover" tab on your apps, you may find a recommended Daily Stock Picks for US, HK, and Singapore markets. These stocks were handpicked by the uSMART research and analysis team through tens of thousands of variables among thousands of other stocks including fundamentals, market news, value, and technical analysis – with the objective of higher possibility price increase in the upcoming days.
Take the 14th April recommendation for US stocks for instance – Nucor Corp (NYSE: NUE) was selected as the Daily Stock Picks for the day and it has since recorded a 2.21% gains thereafter.
What I like about this feature is the team has also been very transparent about what they recommended and posted a track record of its performance within the next 10 days thereafter. As of the 18th April, these are their US track performance records where the picks have gained an impressive 37.3%, 58.2% and 23.7% return for T+0, T+5 and T+10 periods respectively.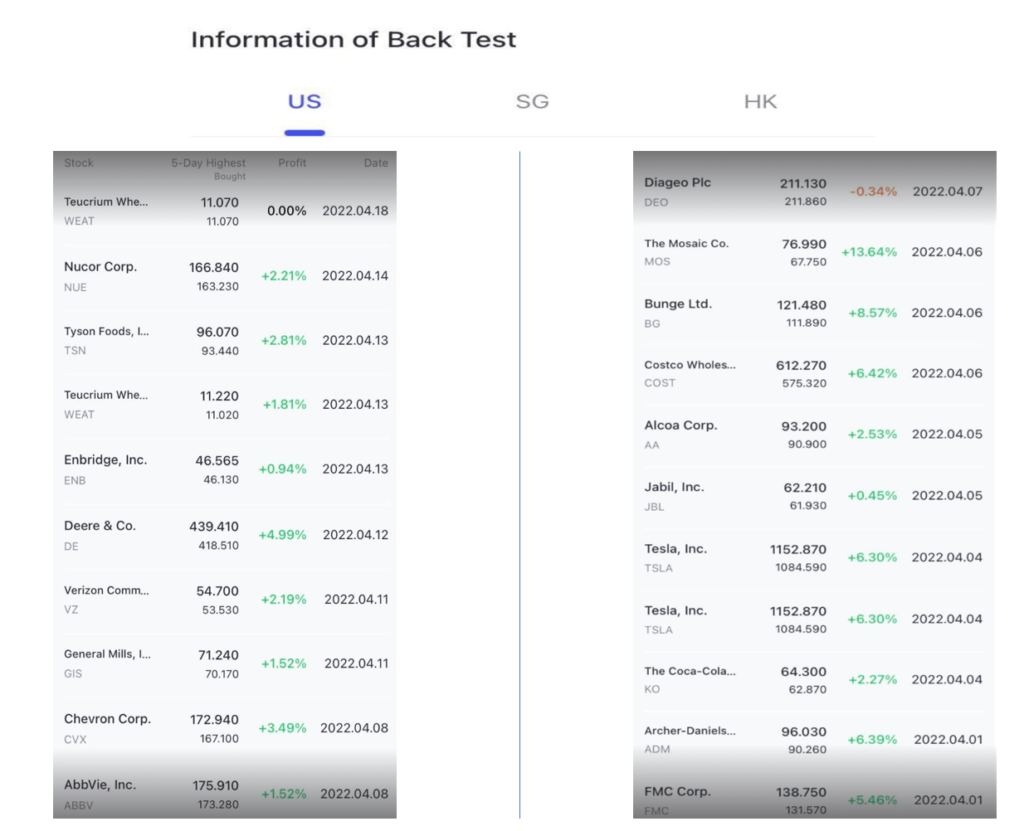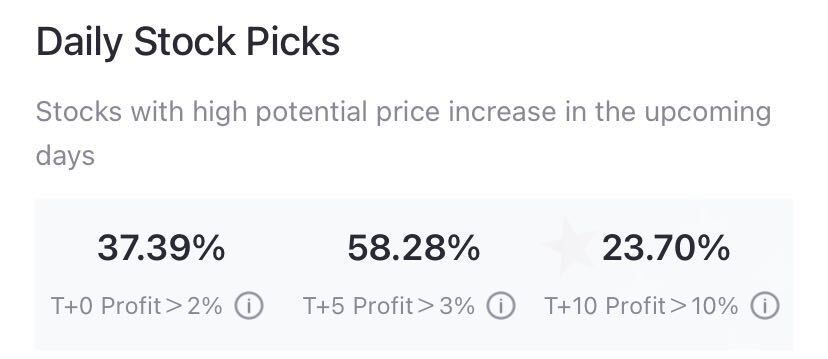 Daily stock picks, along with other SMART features, is available to Intel account with the condition to keep SGD3k AUM in your account, although with this account your trade commission are going to be higher than the other two account types.
For Standard or Trade account users, you may subscribe to uSMART Intel subscription at a very affordable price of $0.01 for the first 30 days to give it a try and $18.80 for the next subsequent 30 days thereafter.
One of the order features that sets uSMART apart from the other online brokerages is the Smart Order feature where investors can execute easily by setting a certain price condition that meets their criteria and intentions.
For instance, the Breakthrough Buy triggers a buy when the stock price breaks above a preset price that you set. This helps investors who are looking to go long on a breakout momentum without having to monitor the price every now and then.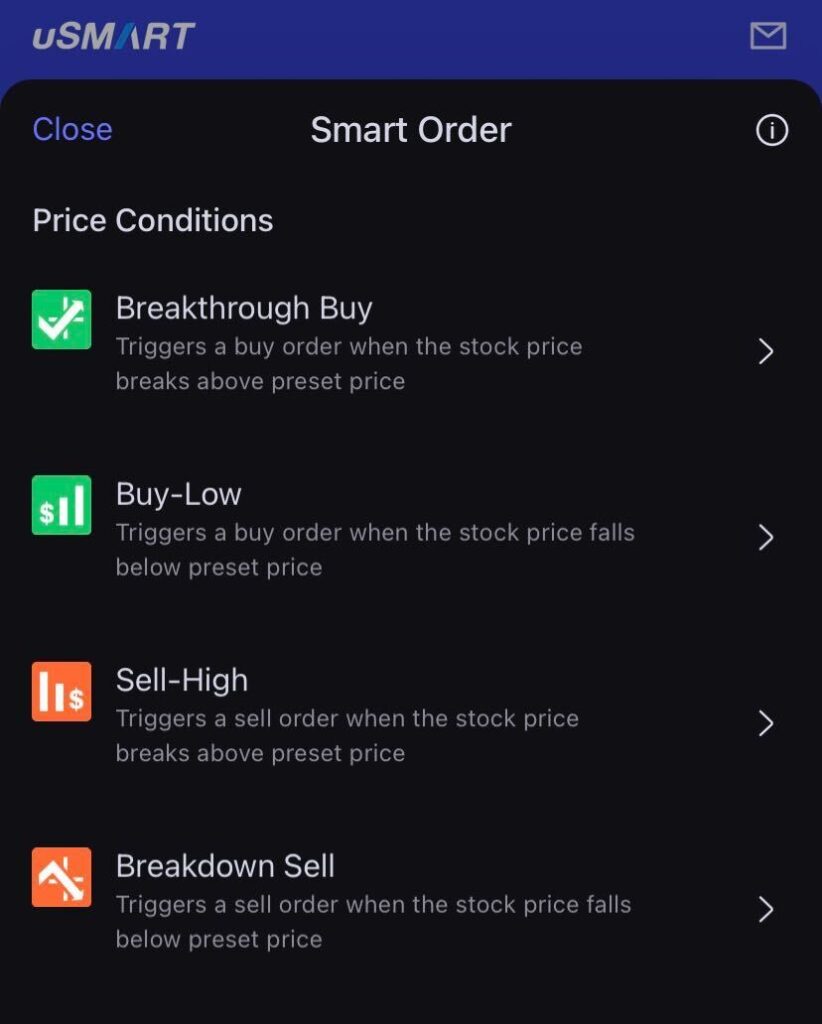 Illustrating this Breakthrough Buy using CNOOC (HK: 0883) as an example, the stock has been facing resistance in the daily candle for the past 6 sessions at about $11.8 level. If you are bullish about the company and wish to go long for the trade, you may want to wait until the candle closes above the last high at about $11.8 level before executing your trade. Using this feature, you can set a preset price at ~ $11.8 and the trade will execute should the stock price breaks through this level.
You can do this in conjunction with a stop loss order through a breakdown sell feature should the trade goes against you in the opposite direction.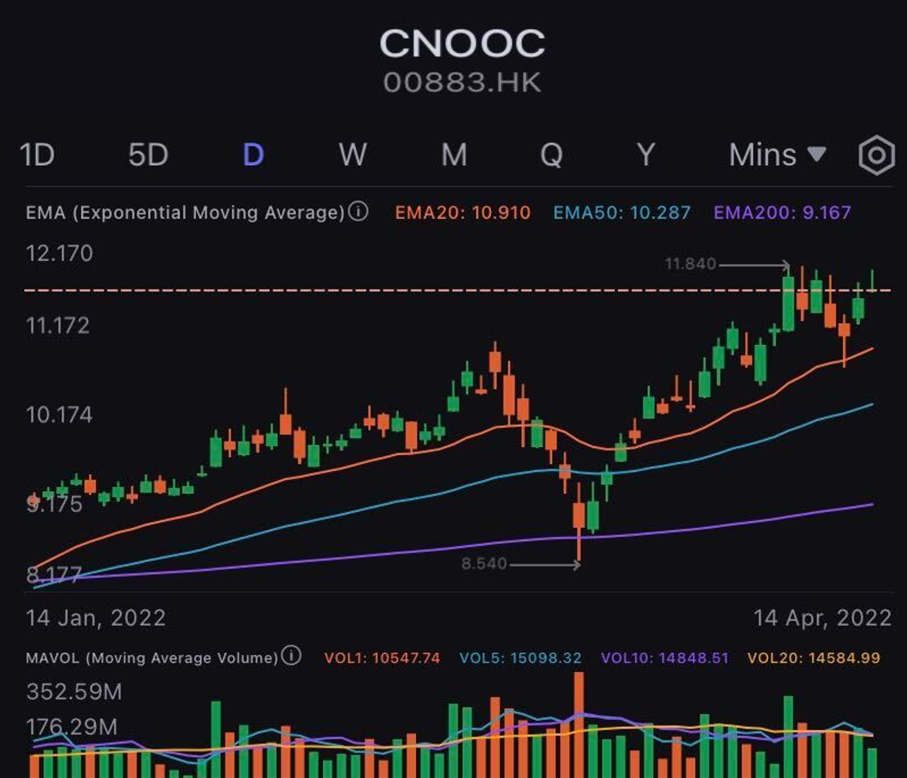 Speaking of orders, I encountered a pleasant surprise when checking my orders and found out that I received a mystery box when I shared my order via eligible social media. Upon further checks with uSMART, I understand that the prizes range from SGD 0.08 to 8.88!
Interesting gimmick.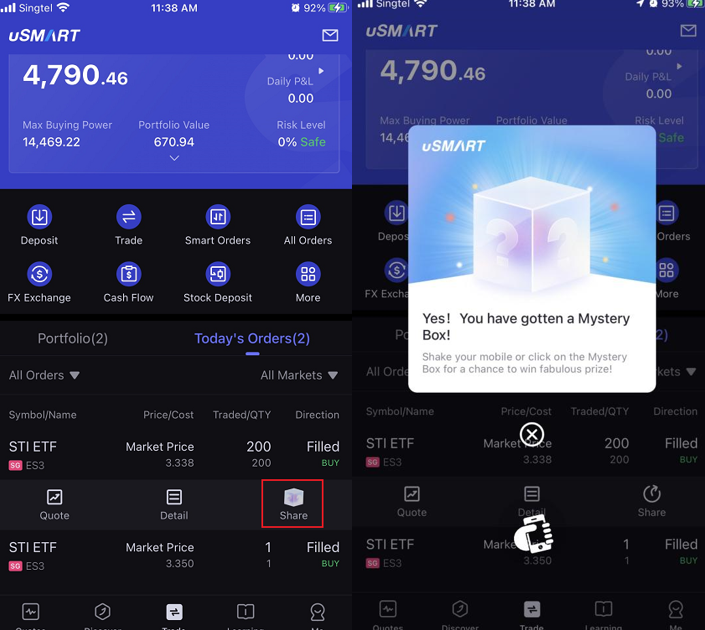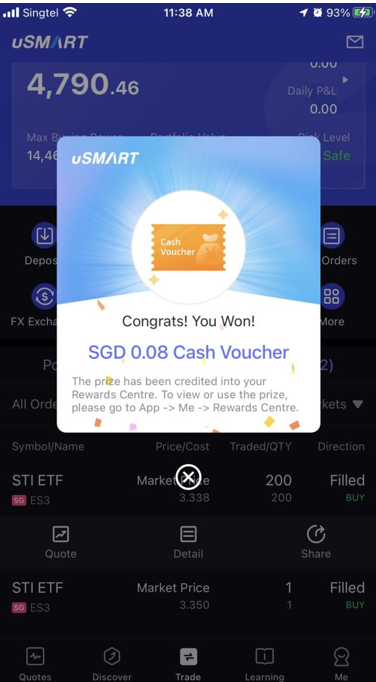 In a world where many brokerages are fighting for market share, uSMART has priced itself very competitively relative to what the other brokers are offering right now.
There are three types of accounts (Trader / Standard / Intel) and they vary in terms of the commissions & features offered.
Users can choose to sign up with Trader or Standard during account opening. Intel account upgrade is available once the account is opened and you maintain an AUM of SGD3k. In general, a trader account tends to trade more and thus attracts the lowest commission fees while the other two accounts are just slightly higher in terms of the fees (but still very affordable). The downside of a Trader account is that you will not receive the Welcome gifts or enjoy SMART features.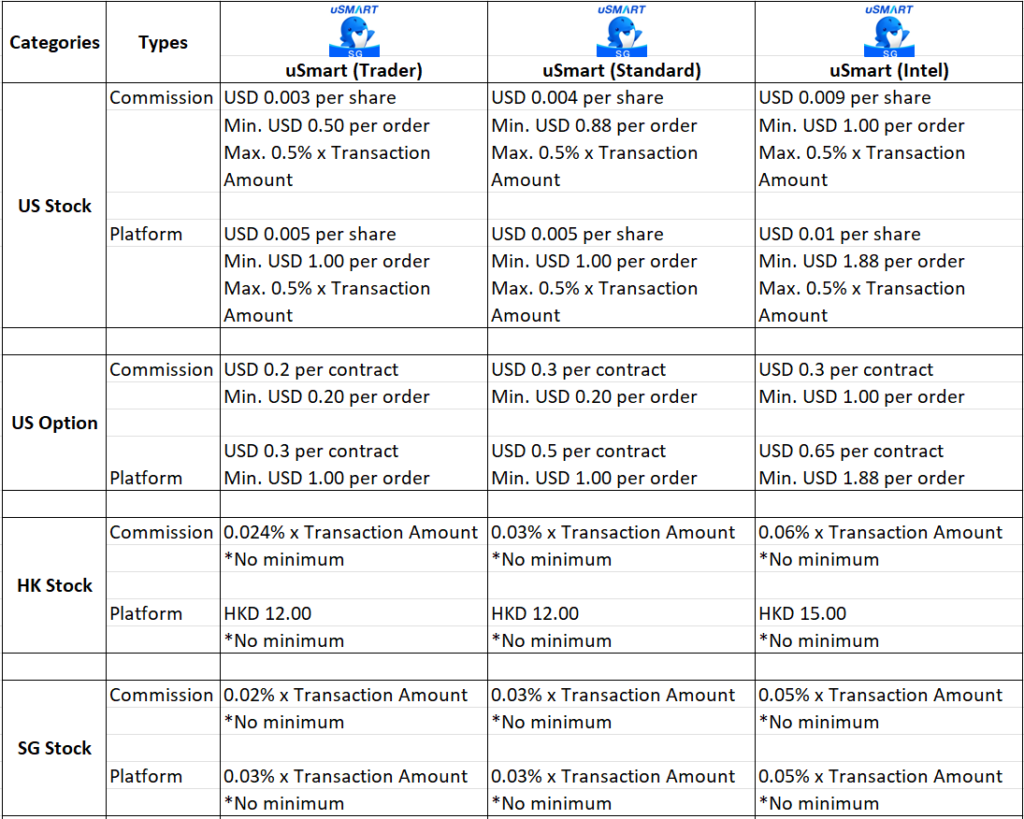 My experience signing up for an account and depositing funds into it was seamless as I managed to open my account in less than 30 minutes including all the verification done from their side.
To deposit, you may choose either one of the 3 currencies provided (SGD, USD, and HKD) and you can choose via a variety of different deposit method available – although I want to particularly highlight the eGIRO method which supports up to 9 different participating banks which users can choose from, and funds are deposited almost in an instant. This means you can link up to multiple bank accounts, talking about convenience.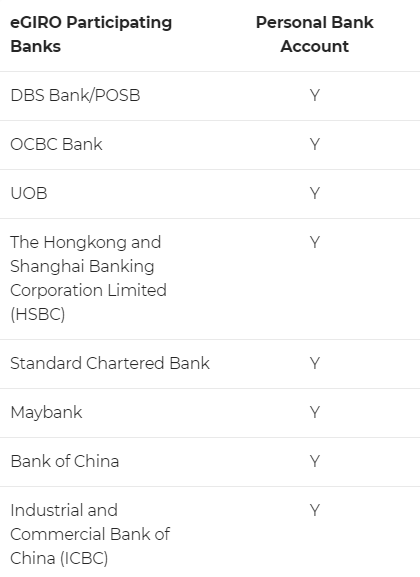 Once you have deposited your funds, there is just one last step where you have to notify uSMART in the apps with the amount you just deposited and just sit back and wait for your funds to arrive.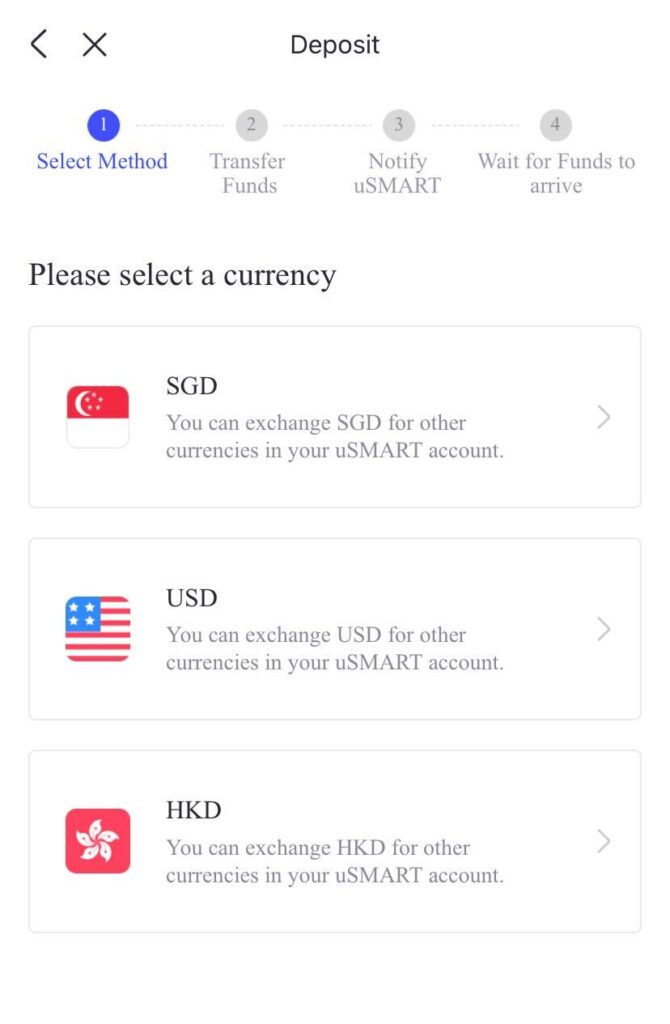 Just like the other brokerage platforms who are running on sign-up promotions when you sign up with them, uSMART is doing the same when you sign up with them, so make sure to grab this opportunity and open up an account with them.
First, just opening up an account (uSMART Standard) will entitle you to a $15 cash voucher right away.
If you decide to deposit an amount of SGD2000 or higher, you will get another free gift in the form of 3 BITO (ProShares Bitcoin ETF) Shares that is worth approximately SGD110 or a comprehensive Investment Master Course worth SGD720.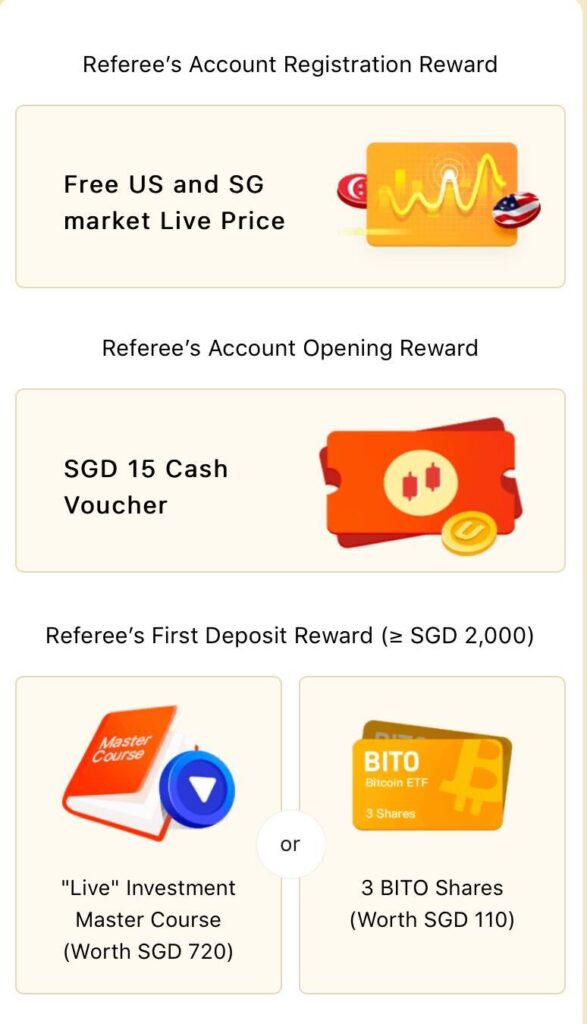 I am already liking some of the features that uSMART is offering differently to its users such as the Daily Stock Picks and the Smart Orders.
Obviously, they are quite new and there are still things which I have yet to explore so I will leave it until next time to shout out some of the other features I will come to know about.
Meanwhile, if you are interested to sign up and explore together, do sign up using my link here and I will appreciate it a lot.

Disclaimer: This article is written in collaboration with uSMART Singapore. All views expressed in the article are the independent opinions of mine. This article is intended for information purpose only and should not be construed as financial advice. This article has not been reviewed by the Monetary Authority of Singapore

Brokerage