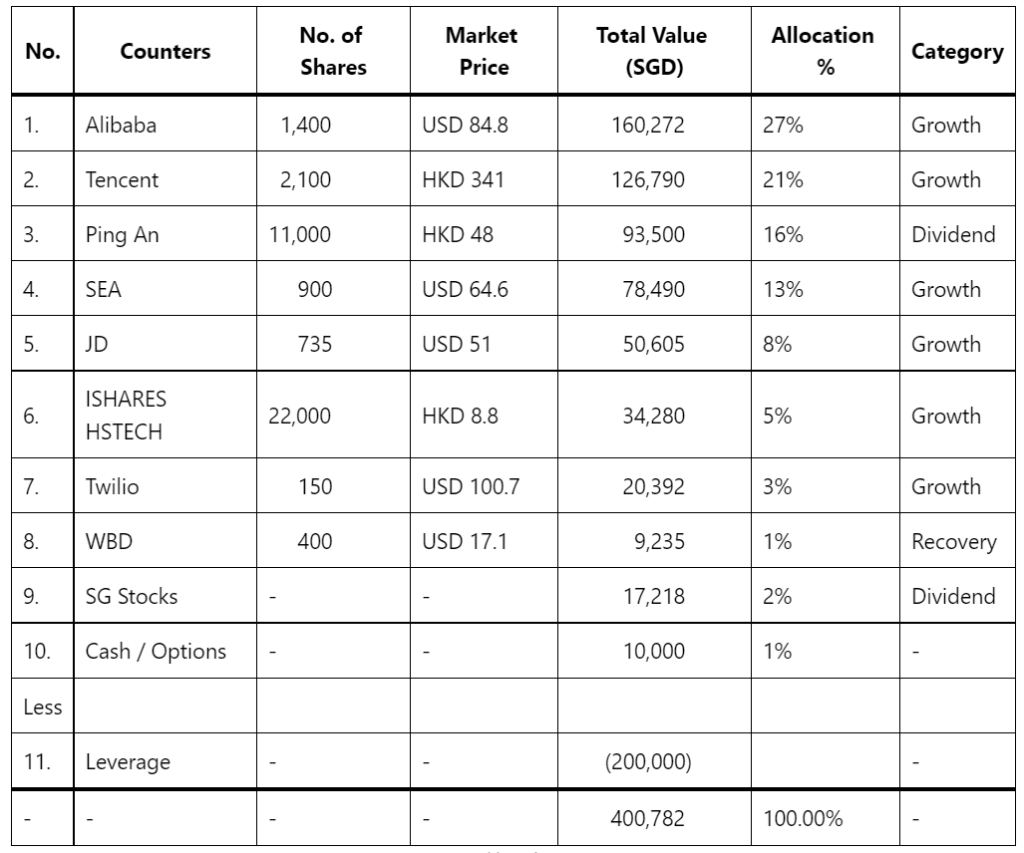 What a roller coaster month it has been this year.
After recovering strongly the previous month, the portfolio was once again hammered and it has been a very common sight these days with the portfolio continuing to suffer at the mercy of the global rout.
Before I go into specifics of what I have been adding, I am just thankful that with the job I have and the busy few side gigs projects I have been riding over the past couple of months mean I continue to have the funds to keep on adding to shares.
So more unit of shares owned but because it is worth lesser now hence networth was dampened – but I'll continue to stay invested because I am confident that we'll see better times, and the more we are able to take advantage of these sort of situations, the better our average price is and our long term expected return.
For this month's update, I continued my accumulation on Tencent shares once again by adding a further 200 shares into the portfolio at price of around $355. My position for Tencent has now leapt above the 20% mark so I will likely slow down my accumulation from here unless it continues to drop which allows room for more accumulation.
I have also accumulated more positions for Sea Ltd at $77 just last Friday. This once-upon a time company used to be the darling of many investors but the recent US performance has sent its shares dropping more than 71% just this year alone. Compared to last month share price when I reported my Apr performance, the shares have also halved right now. It is a pretty crazy sight.
I have also added a new position for WBD at $19 after it announces its latest earnings and the merger situation. This is a company which has a good management and great cash flow generating ability and from its latest earnings, I like what the management is guiding through investors of its plans towards 2024.
If you are planning to trade HK or US shares, do check out my review on uSMART and moomoo which you can click on the link to find out more.
If you are interested to refinance your property or simply just check the latest interest offered by banks, you may do so here. Interest rates are going up real crazy fast, so do act fast especially if you have an ongoing loan that is going to expire this year.
As expected, Networth for this month plummeted back below the half-million mark at $400,782.
It is not a pretty sight but I take comfort knowing that I actually own more unit of shares in various companies than the previous month, so if these picks are the right ones, we should see recovery at some point and networth should follow suit with more units owned.
Rather than worrying about when to pick the bottom, I am more concerned over the selection of some of these companies and that is where the focus of the execution is.

With the global reopening post pandemic, we are seeing a divergence of revenge travel coming back which means my work volume has just ballooned and I have been very pre-occupied with work – which I see it sort of a good thing rather than worrying too much about the market because there's literally nothing you can do to stop it from doing what the mechanics is doing.
I will also be heading back to visit my parents for about 3 weeks in early June (school holiday) so that is another one to look forward.
Meanwhile, do stay safe from the volatility spike and re-focus as and when necessary on your thesis.

Portfolio