Among the plethora of brokerage offerings for consumers to choose from, CMC Markets is one of the most competitive platforms that stands out due to its stellar reputation, wide range of products, sleek and seamless UI/UX experience, and competitive fees and spreads.
Founded in 1989, CMC Markets is a well-established, publicly traded, and highly regarded U.K. forex broker that has successfully adapted to the ever-changing online brokerage landscape. The company is listed on the London Stock Exchange (LSE) under the ticker symbol, CMCX.
CMC Market's flagship platform features a rich and engaging web-based offering aptly named "Next Generation." This, coupled with the ubiquitous Metatrader MT4 platform and an updated mobile application, offers a good combination of trading products and tools to their targeted customers.
CMC Markets provides traders and investors access to an extensive range of instruments, including Contract for Difference (CFD) across many different asset classes such as commodities, equities shares, and indices. In addition, CMC Markets offers competitive spreads for Forex traders, which are dynamic in nature and provides real-time updates to news and publications.
On top of all these bells and whistles, if you trade with high volume, you may stand to gain access to CMC Markets Alpha and enjoy extra perks from your active trading.
CMC Markets Alpha is a premium service which is created to take your average trading experience to an entirely new level. Client benefits include differentiated pricing schemes & rebates, premium support, and more! (more information at the end of the article).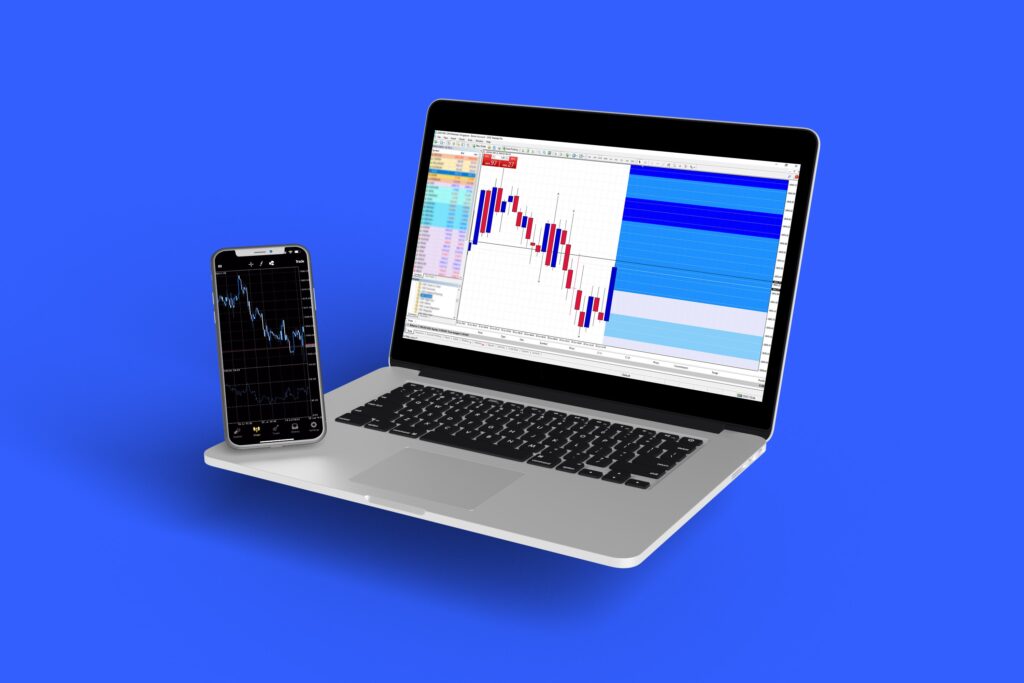 Contract For Difference (CFD)
To give some background of what a Contract for Difference (CFD) is, it is essentially a leveraged derivative tool that allows users to trade on margins, meaning that with a small amount of capital, they can gain exposure to a larger amount of assets, thereby enhancing the potential profits one could make.
Currently, CMC Market offers the following types of CFDs:
Forex CFD
Global Indices CFD
Commodities CFD
Shares CFD
Treasuries CFD

CFD contracts generally have no expiry dates, which means that investors can keep the CFD positions open for as long as they maintain the margin requirements. However, the open positions are subjected to a charge called the "holding cost" which can vary across different products.
Margin Requirement
When you are trading in CFDs, you are leveraging your capital, which means any gains or losses will be magnified.
As a trader, it is important to keep track of the overall margin requirements to avoid a margin call. You may also close your positions to maintain the required capital to sustain other positions.
To illustrate an example:
The margin for 1 CFD on Dow Jones Industrial Average Index (DJI) is at 5%. When you buy 1 contract at the prevailing market price of USD33,000, the initial margin you will have to cough up is USD 1,650.
In the event that global markets fall and the Dow Jones Index drops to USD30,000, the notional value of your contract is now worth USD 30,000. Assuming the margin requirement to maintain the contract is at USD 1,500, this means that you would have to top up USD2,850 ($1,650 – $3,000 – $1,500) in order to avoid a margin call and have your positions stay open.
Alternatively, by closing your existing position, you can work out the different scenarios in place to ensure that you have a margin of safety and buffer for your capital, so your positions remain solvent.
CMC MT4 Platform – Sleek and Seamless UI/UX
CMC Markets MetaTrader 4 (MT4) is one of the most popular forex trading platforms.
The platform's popularity has emerged thanks to its Expert Advisor's (EA's) automated trading ability, advanced order types, technical analysis, and user-friendly interface. MT4 also encompasses advanced features for trading strategies including both pattern recognition and an economic calendar.
Friendly UI/UX interface designs are also always a bonus point when it comes to selecting the right brokerage platform to trade.
The interface works well in desktop web application, making it very easy for both beginners and advanced players to navigate.
It also has a clean and eye-catching design with a perfectly blended colour scheme that contrasts red and green, making it easier for users to identify profits or losses, up or down candles, and buy or sell prices. The overlapping of graphs, icons, and information about the company or FX pairs also makes it very user-centred and easy to digest.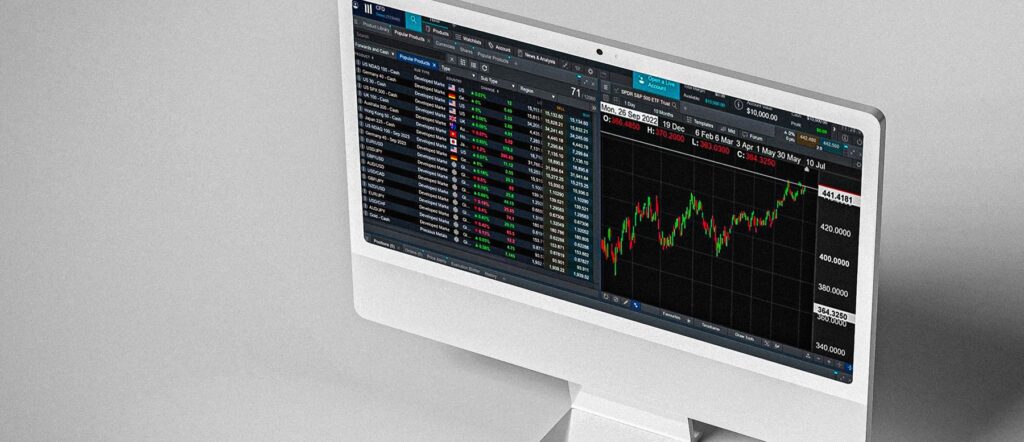 Additionally, the platform allows you to access draw tools, studies and overlays, as well as advanced chart types that can help you navigate the pattern and where it is heading over the next few days or weeks.
An illustration below shows the Fibonacci support line for the AUD/USD pair which has been trending sideways for quite a while.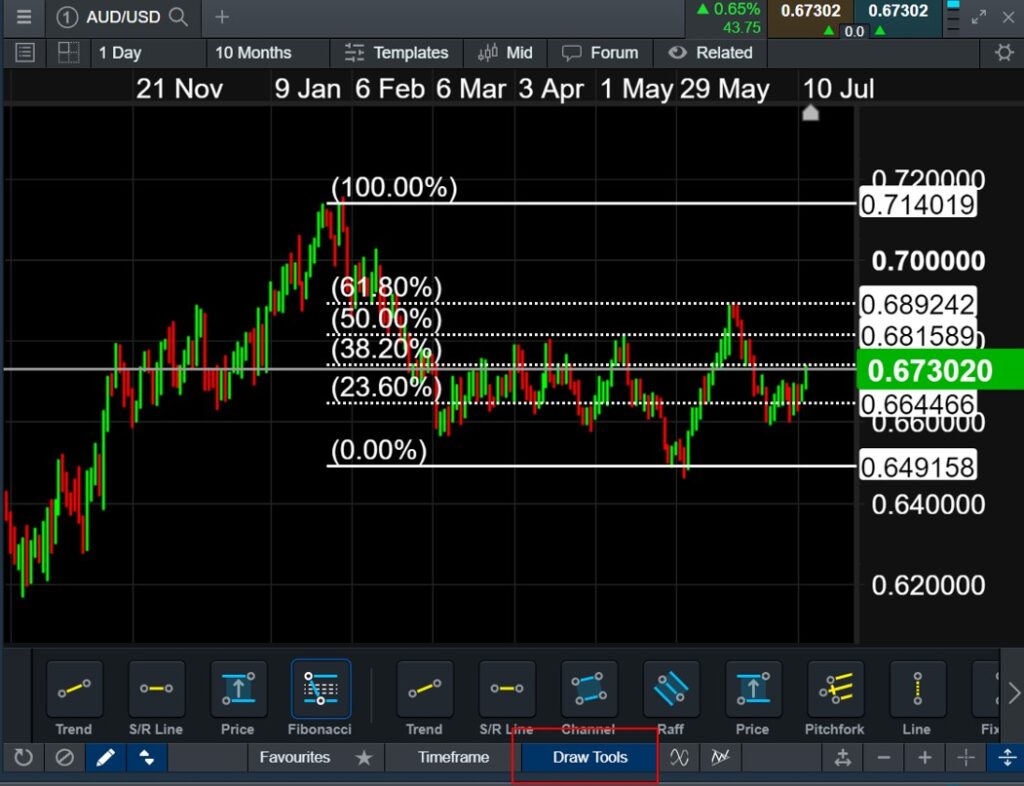 When it comes to placing trades, the platform provides a wide range of order types. Examples include:
Market order – which is used to open or close trades at the current market price.
Limit and stop entry orders – which is used to enter or exit the market at a specific price.
Stop loss order – which is used to specify the price at which a position will be closed if the market moves adversely.
Trailing stop loss order – which is used to follow market price as it moves in your favour.
Guaranteed stop loss order – which is used to provide certainty that your stop-loss will be executed at your desired price.
Boundary order – which is used to allow you to set a price range that you are willing to accept.
The trading platform also allows you to try out trading on a demo account for CFD and Forex. This grants users a realistic environment to test trading in a simulated real-time environment.
Competitive Commission Fees
CMC Markets earns money mainly from spreads between the bid and offer prices of an asset. In the case of stock CFDs, commissions are also charged.
Spreads at CMC Markets are among one of the tightest in the industry, making it a competitive proposition for active traders. Rebates are also given to active traders who trade a high-volume amount with the brokerage.
CMC Markets recognizes that keeping commissions low and competitive is an important consideration for users because they will not want to incur a hefty part of their overall transactions on fees.
For CMC Markets, their commission fees on CFD vary by country of origin, with most markets charging commission fees of just 0.10% except in a few countries such as US, UK, Australia, and Canada. Moreover, there are minimal commission fees imposed so even if you just buy 1 lot of 100 Singapore shares, your minimum commission fees would amount to SGD10.
Like all CFD brokerages, there is a holding fee that is accrued daily should you hold the position overnight.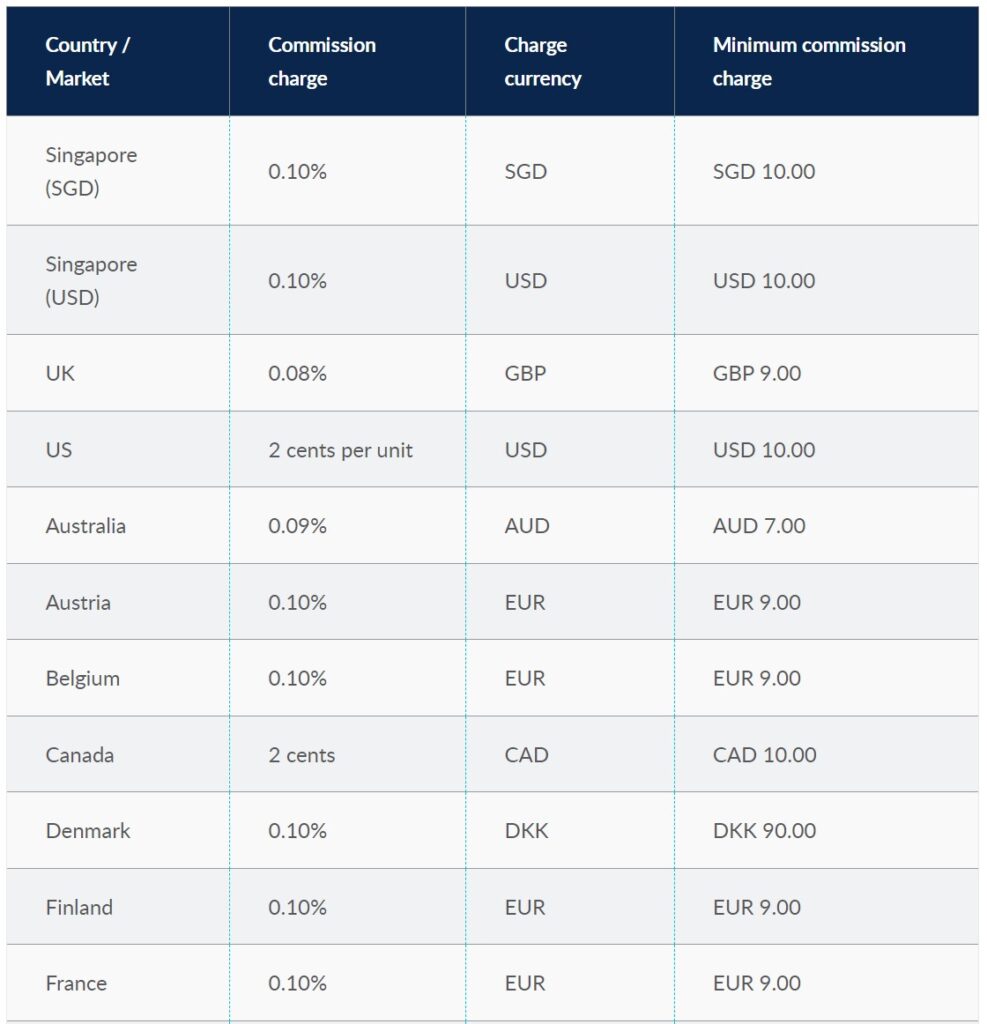 Now, if you are someone who frequently trades in high volume orders and looking to enjoy a little bit more perks from your transaction, then you need to consider the CMC Markets Alpha.
Introducing CMC Markets Alpha, a premium service brought to you by CMC Markets – this will take your average trading experience to an entirely new level.
As an Alpha client, you get to enjoy benefits such as:
Volume-based discounts & friendly pricing schemes (example: rebates)
Premium support from the client's personal account manager
Exclusive invites to VIP events & seminars
Personalised research consisting of market insights & technical analysis
For more information on what CMC Markets Alpha can offer, please visit their website here for the full benefits detailed breakdown.
Overall, we were quite impressed by the proposition that CMC markets offers.
Whether it is reputable branding, functionality, variety in product offerings or competitive commission fees, CMC Markets stands above the competition as one of the most competitive brokerages in the industry.
These factors make CMC Markets an all-round winner and a serious contender whether you are a beginner, an intermediate, or advance traders.
To sign-up for the Next Generation account, please click here.
For MetaTrader4 account, please click here to get started.
Disclaimer: This article is written in collaboration with CMC Markets Singapore. All views expressed in the article are the independent opinions of mine. This article is intended for information purpose only and should not be construed as financial advice. This article has not been reviewed by the Monetary Authority of Singapore.

Products