Earlier this week, Mark Zuckerberg announced the initial version of Threads, an app built by Instagram for sharing and networking with text.
Most people would be familiar with how Instagram works where billions of people around the world connect with photos and videos, so the vision with Threads is an expansion of the ecosystem to create a space to express your ideas with words.
It has already occupied the number one spot in the charts for social media apps in store this week so you can quickly see how that escalates.
Latest news is that Threads has passed 2 million sign-ups in the first two hours launch in App Store, and 30 million sign-ups in less than 24 hours. That is some serious impressive numbers there.
To sign-up, the process is very straightforward.
The sign-in page will link to your current Instagram account and pick up all information that you as user have agreed to share your data information with. In other words, you can simply pull all your information from Instagram, including your followers and interests to Threads with you.
And you get your account set-up in about less than a minute.
I've also similarly set up mine and if you're interested, you can click this link to reach my profile.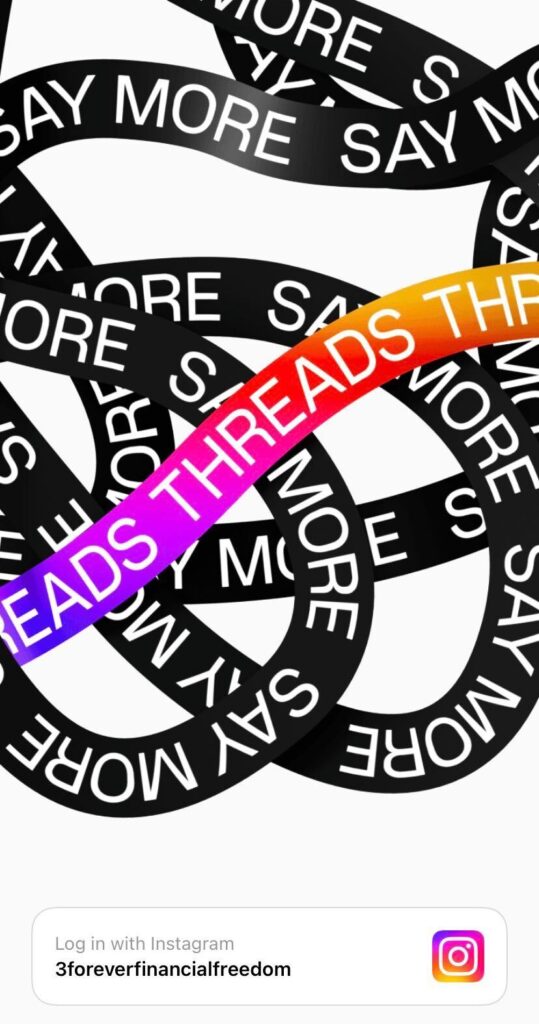 In case you have not realised by now, Threads model is actually built to be very similar like Twitter in the way the social networking app conducts and prides themselves with expression, creativity, and ideas with words.
Threads has been built with features and tools to enable positive and productive conversations that will engage your followers. You can control and set up certain filtration such as who can tag you or reply to you within Threads or simply just block them altogether. Similar to the feature in Instagram and Twitter, you can add hashtag# to ride in the wave of the latest hot topic conversations going on.
You can unfollow, block, restrict or report a profile on Threads by tapping the three-dot menu, and any accounts you've blocked on Instagram will automatically be blocked on Threads. There are also buttons to like, repost, reply to or quote a "thread", and counters showing the number of likes and replies that a post has received.
Active Users of Twitter are unlikely to leave the app just yet as Threads is still in the relatively infant stage but given the same profiling of the "tweet" model, the same users are likely to also sign-up to Threads to give it a try. Still, we are unlikely to see a complete switch case of active users moving totally from Tweeter to Threads that quickly at this point in time.
To see just how much daily active users Twitter has at the moment – courtesy of Bankmycell infographics, the number of Twitter users are about 360 million at the moment, though it has been rather stagnant in the 300+ million range since 2019.
Twitter themselves has in 2023 officially changed its reporting metrics to monetizable daily active users.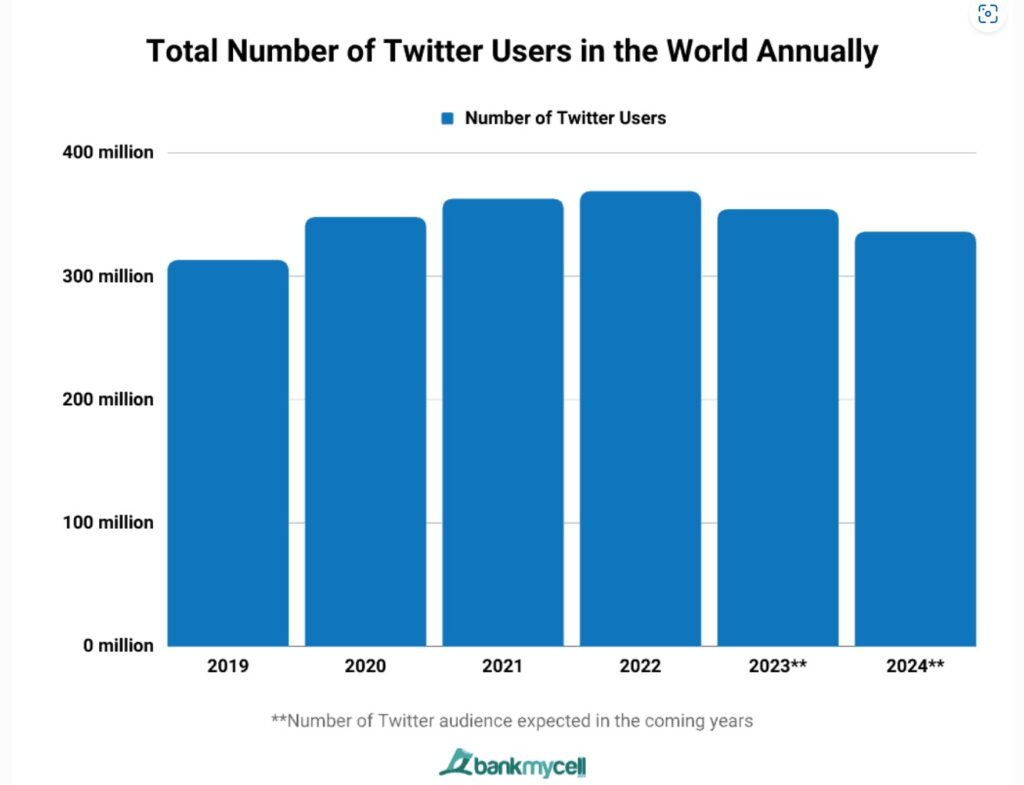 Twitter generated $4.4 billion revenue in 2022 – out of which 90% of those came from advertising. The rest of the 10% came from data licensing.
If we take that and divide it by the daily active users, each active user will generate approximately $12 / year of advertising revenue. This is the majority of the large user base that are predominantly using the free service.
If Twitter can convert some of those freemium users into premium users at some point in the future, even at just $1/month, which is equivalent to $12/year, they could easily double their revenue from here.
Not easy to convert, especially with all the competition going on, but is something that is plausible.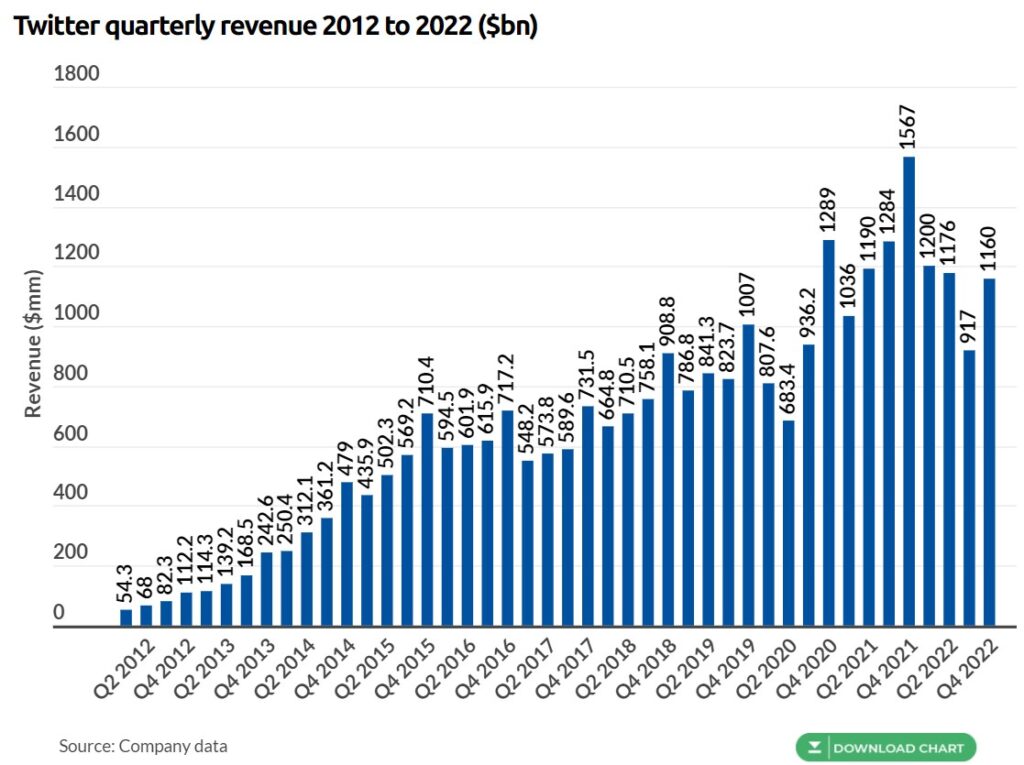 Now, what is also interesting is that the age demographics of users who are using Twitter right now span across between the 18-44 range quite evenly, whereas the distribution of Instagram users are more in the younger crowd between 18-34.
What this means is there will be competition to fight for space and attention in that targeted market, especially for targeted advertising catered to that age bracket, whereas demographics for the older segments are currently still towards Twitter.
This is not surprising because many younger social or travel influencers might be attracted to Instagram where they can publish their photos and beauty pictures, but they may not be able to attract their audience as much with words. So, there will be these groups that are unlikely to convert from Instagram to Threads.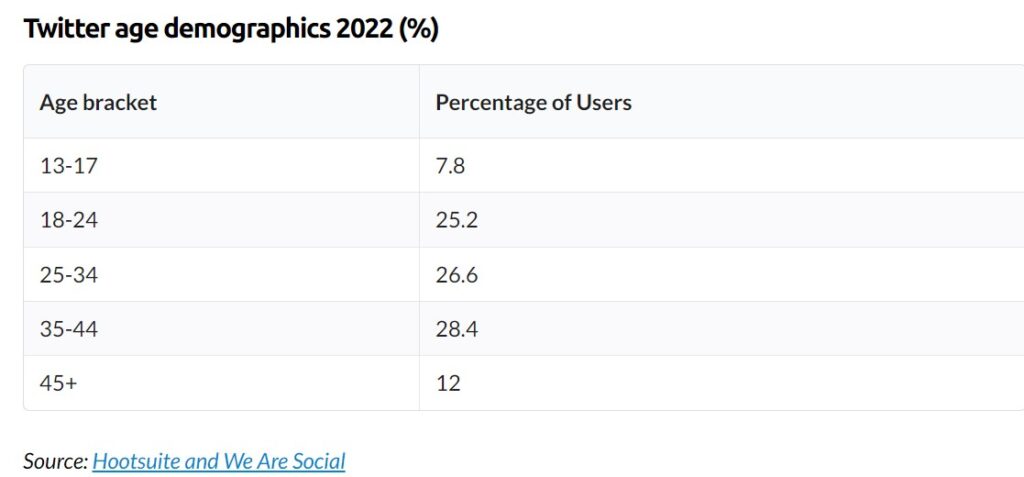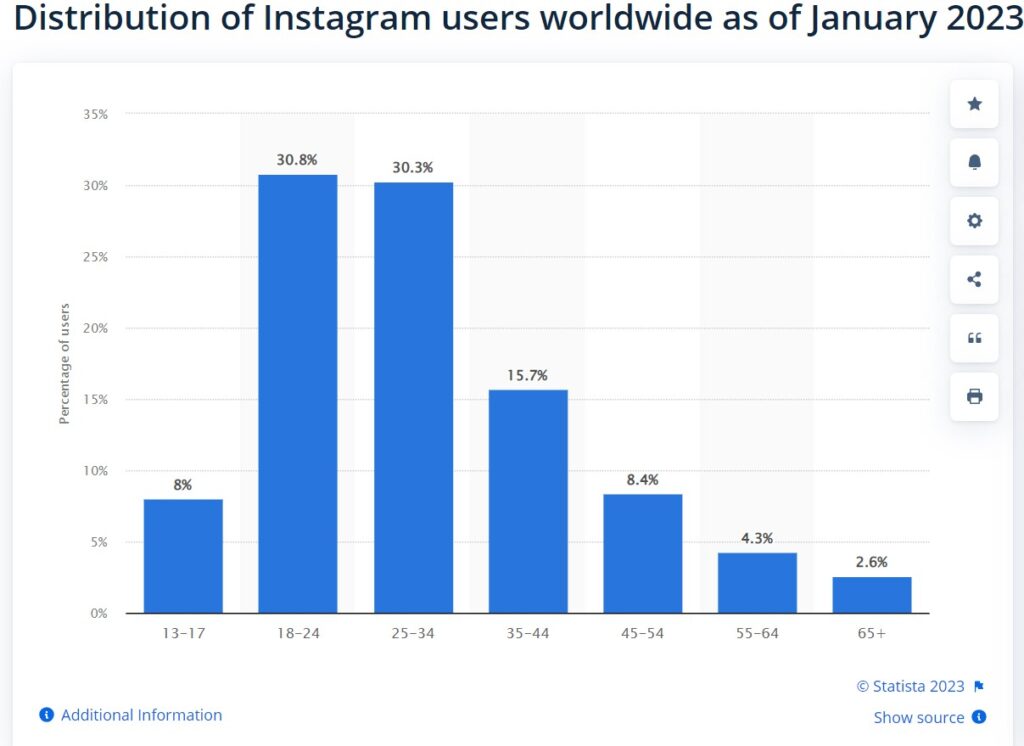 Meta has a habit of trying to leverage other's popularity by going in second mover advantage (rather than first). First, it created Facebook in the early stage and cannibalized Friendster, then it created Instagram Stories in trying to copy Snapchat. Next, it moves on to creating Reels to leverage on TikTok's popularity for short form videos, and of course now it has launched Threads to rival Twitter.
Most of them have been successful, although it takes time to slowly move and attract users to their platform over time.
They are smart at it, and I wouldn't be surprised if they are already eyeing on potential advertising revenue stream coming in from Threads once it becomes big enough.
If you have not followed my social channels, you may want to do so as I frequently post ideas and thoughts in those channels so if you are interested, you may follow me at my Facebook, Instagram, Twitter or Threads profile here.

Stock Analysis