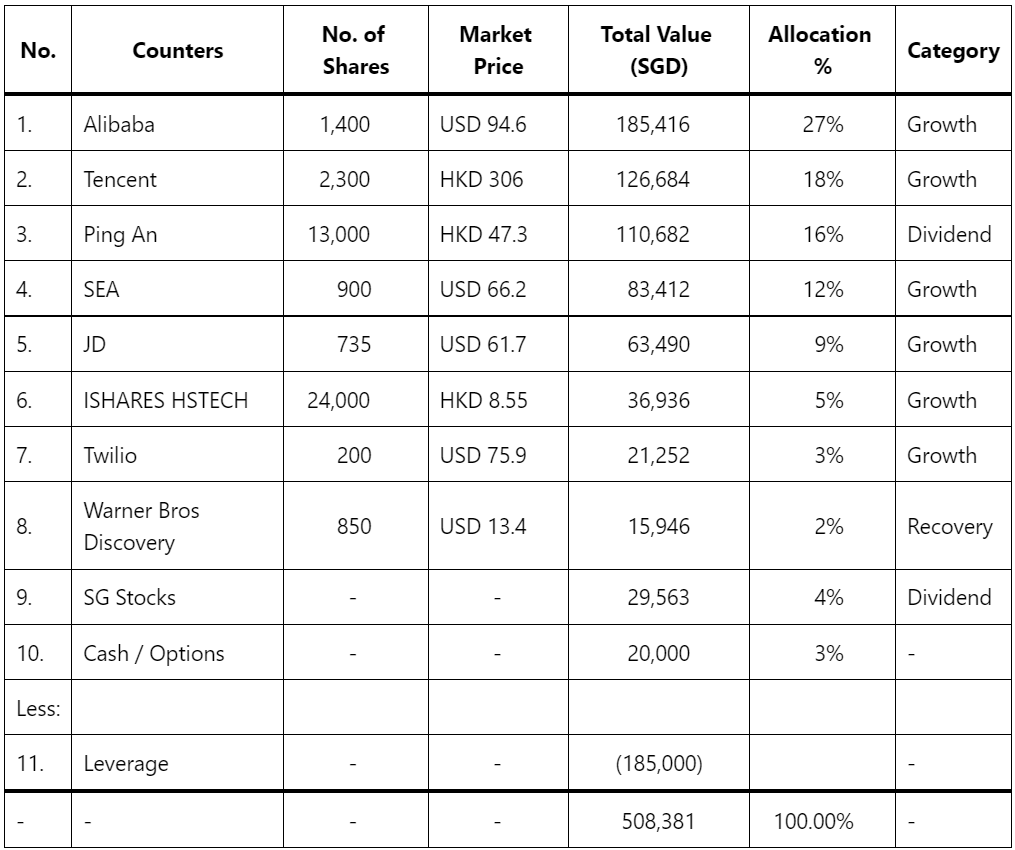 A new month a new beginning.
This update came in later than expected as I just returned from a 5 day break at Langkawi, which was a really nice break away from the city during the school holiday.
After 2.5 years, we are finally in an environment where masks in public places are no longer required so I think we are pretty much back to the new normal (with exception to China).
I had also just celebrated my 37th birthday a couple of weeks back so a lot of thoughts are going through my mind as I get older.
This month is another month where I did my small accumulation here and there.
I added another 100 shares of Tencent at about $302 and another batch of Ping An at about HKD 45. These are positions that I have been accumulating for the past 1-2 years and the strategy will remain the same pretty much for now.
I am convinced that the moat of their businesses remain pretty much intact and all we are lacking is a catalyst from the macro level to push China out of the boundaries of local consumption and lockdown.
When the beasts are eventually freed, we should see better times (barring any black swan event).
I have also this month added a rare opportunity on my SG dividend portfolio – adding in a US Office portfolio Prime REIT which I have blogged earlier. This is a relatively smaller position still so probably not so much of a concern right now.
The portfolio continues to be range-bound this year as volatility continues to push the market up and down without any real good direction.
This month, the portfolio closes at $508,381 but the value means nothing significant and just another day at the office desk. I believe the true value of the portfolio based on the current holding is closer to a $1m so we just have to be patient and wait for the recovery to eventually come.
Meanwhile, I will continue to add on to my positions and/or find a new opportunity should there be anything decent. This will continue to be my strategy going forward.

On a separate note, I am still continuing to find people from all walks of life for me to interview on.
I have so far done two of them and published them on this blog and another one in the pipeline which I am in the midst of drafting. If you have anyone who's interesting and most importantly willing to share, do share them with me.
If you have not followed my social channels, you may want to do so as I frequently post ideas and thoughts in those channels so if you are interested, you may follow me at my Facebook, Instagram or Twitter profile here.

Portfolio