Hyphens Pharma International Ltd (SGX: 1J5) – is a specialty pharmaceutical and consumer healthcare company with a diversified ASEAN footprint. It markets and sells a range of specialty pharmaceutical products in key ASEAN countries through exclusive distributorship or licensing agreements with brand principals mainly from Europe and United States. It also develops, markets, and sells its own proprietary range of dermatological products, health supplement products as well as medical devices and generic drugs with its acquisition of Novem Group late last year. In addition, it operates a medical hypermart to supply pharmaceutical products and medical supplies for healthcare professionals, healthcare institutions, and retail pharmacies and an online e-pharmacy for doctors to prescribe and have medications delivered to their patients' homes.
Some of Hyphens' products like Ocean Health, Sterimar, and Vivomixx are familiar household names which I have been using them personally for myself and my family.
In fact, it is also a company which I wrote before back in 2020 after attending a previous session with CEO, Mr. Lim See Wah and CFO, Ms. Fang Lee Wei (although she has resigned but will still be with the company until 13 Jun 2022). If you are interested, you can read it here.
The Group has announced a rather impressive earnings result for the first quarter of 2022.
Total revenue grew by 18.5% from $33m the previous period to $39.2m in this period. The increase is contributed by a few factors:
Revenue from specialty pharma principals segment increased by 24.4%, with increased demand in Vietnam and Malaysia along with sales contribution from Novem.
Proprietary brands segment such as Ceradan dermatological products, Ocean Health supplement products and Novem nutraceutical products grew by 12.8%.
Revenue from medical hypermart and digital segment increased by 10.9% with additional sales contribution from Novem.

Financial metrics such as Gross Profit and Net Profit are also up 23.9% and 49.7% respectively with Gross Profit Margin improving to 38.4% in this quarter (vs. 36.7% in previous quarter).
To add to the positive Q1 earning news announced earlier, the Group also made announcement on the 27th May that the Board of Directors ("Board") of Hyphens Pharma International Limited has announced that its wholly-owned subsidiaries, DocMed Technology Pte. Ltd ("DocMed") and Pan-Malayan Pharmaceuticals Pte Ltd ("PMP"), have entered into a subscription agreement with Metro ARC Investments Pte. Ltd. ("Investors"), a wholly-owned subsidiary of Metro Holdings Limited, pursuant to which the Investor will invest SGD 6,000,000 (the "Consideration") in DocMed through the subscription of new series A preference shares in the capital of DocMed ("DocMed Preference Shares") which will take place subject to the fulfilment of certain conditions under the Subscription Agreement ("Subscription").
Upon completion of the Restructuring, the Group's effective shareholdings in DocMed and PMP will be diluted from 100.00% to 89.76% so what this means is that the $6m investment consideration is approximately a 10% stake in these two subsidiaries.
DocMed plans to use the investment to further its growth plans, which include developing an integrated healthtech platform, incorporating various healthtech solutions to cater to healthcare stakeholders in Singapore and the APAC region.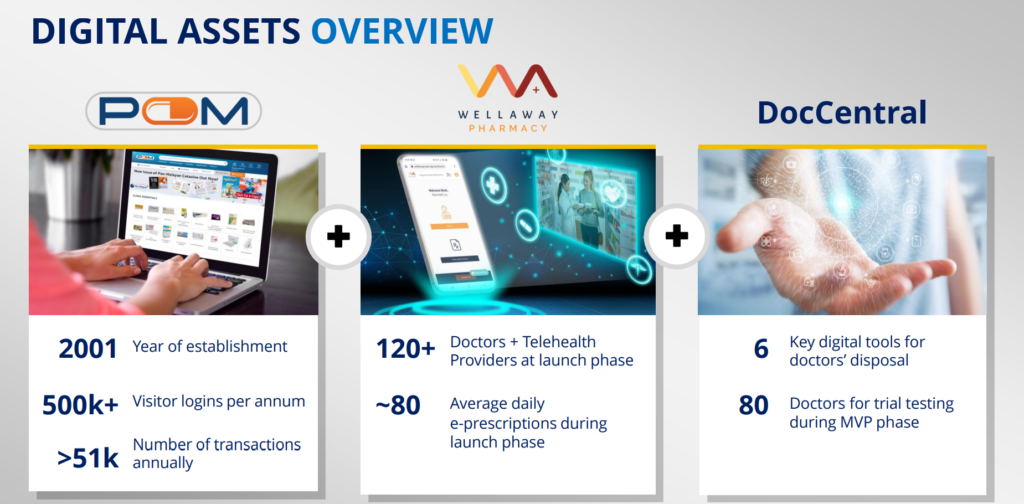 Before we delve into the valuation, we should take a look in the context of DocMed Technology and how much contribution it brings to the overall Group's revenue.
To give a little context on DocMed first – it is a wholly owned subsidiary of Hyphens Pharma International that is incorporated in Oct 2021 for the purpose of investment holding and development of an integrated digital healthtech platform with various healthtech solutions to cater to various healthcare stakeholders in Singapore and the region.
This segment contributes approximately one-third or 33% of the Group's total revenue in FY21.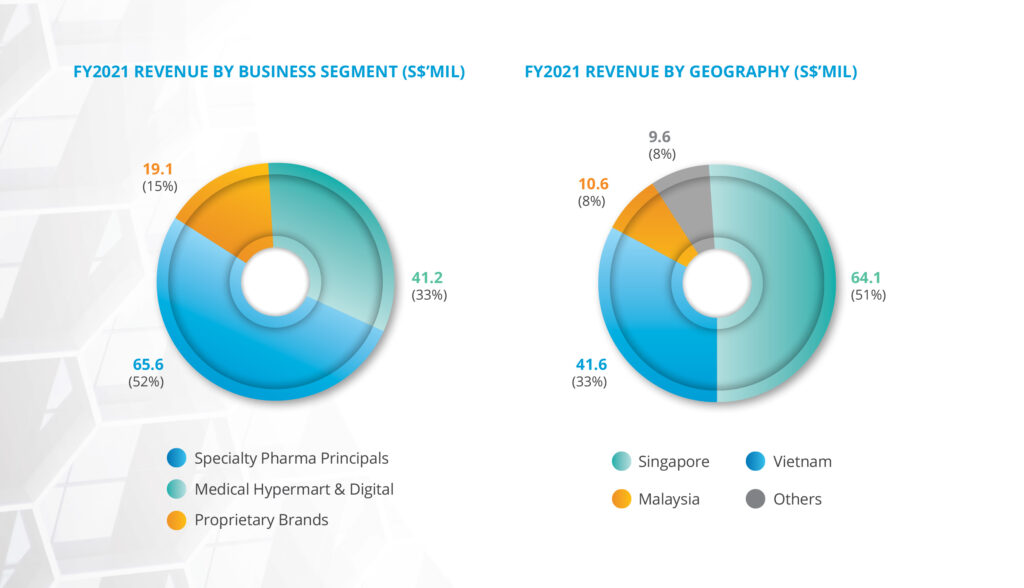 The subscription of the SGD 6m under the new series A preference shares in the capital of DocMed by Metro Arc Investments Pte Ltd at ~10% stake means that it values the DocMed business at SGD 60m.
Now, since the current market cap of the company is at $91m (as of 1st Jun 2022), a quick back-envelope calculation means that the rest of the business ex. medical hypermart and digital is valued only at SGD 31m – which doesn't make it any sense.
From where I am looking at, it shows that the company is undervalued from this perspective and this gives the business potential upside especially now that one segment of the business have been unlocked.
Even if we look at this company from a traditional valuation perspective, at a current share price of $0.30 or a market cap of $91m, it is currently valued at 13.2x Price to Earnings.
Do note that the company still has $19.5m worth of net cash, or 6.5 cents, so we are looking at ~ 10x enterprise value multiple.
For an enterprise to EBITDA multiple, we are looking at around 8x – which is much lower than its peers.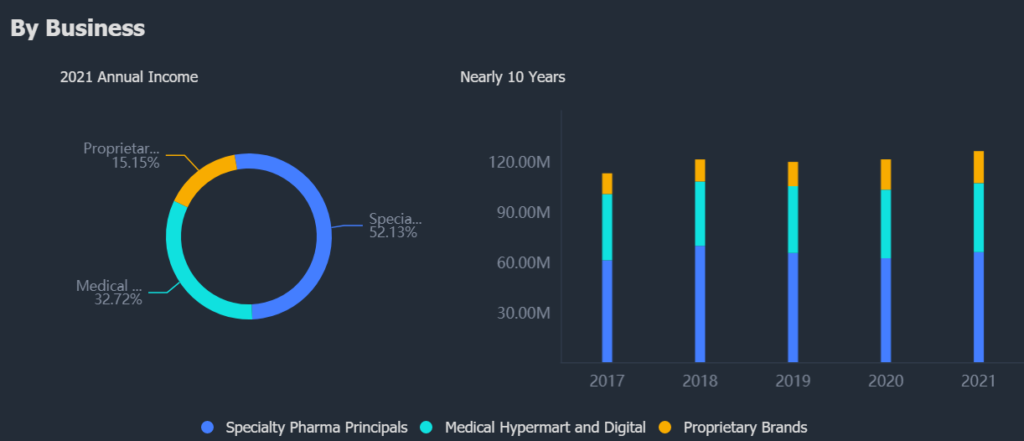 The company has been historically able to generate a double digit growth in the teens with the exception of Covid in FY2020 so for the purpose of DCF I will be using a 12% growth rate for the next 5 years, a discount rate of 9-10% and a cashflow multiple of 15x.
Based on the DCF computation, I get an intrinsic value of $0.48 – which represents an upside of 60% from the current share price. Even if we ascribe a lower multiple at 12x, we still get an intrinsic value of $0.41.

The recent positive Q1 earnings announced as well as the unlocking value of the DocMed transactions have given a lot of consideration to think about.
Investors who are looking for value play in the pharmaceutical sectors may want to check it out and study a little bit more in detail.
I like it particularly given that the company is expanding into the digital healthtech of the future – innovations which are designed to boost efficiency and combine technologies in ways that can cater to healthcare.
If you are interested to find out further, do check their investor relations page, their annual reports as well as their corporate LinkedIn page. Investors can get the latest updates on Hyphens, like the Smartkarma Corporate Webinar which is happening at 5pm SGT today.

Stock Analysis