Ahh… Sep school holiday is finally here and depending on which role you play, you will either be excited or busy trying to juggle in between work and kids at home.
My kids are really excited and looking forward to the long break while my wife and I know that we are in deep trouble trying to synchronize and manage our time handling the kids at home.
Thankfully, we are in a world now where there are entertainments and games and unlike some countries where they restrict the amount of gaming hours for minors (pun intended), we are pretty flexible about it when it comes to relaxing and playing time during school break. We just need to monitor that it is not being done overboard.
Let's start with the reward first.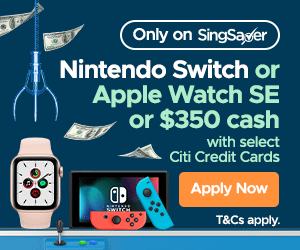 As an eligible new user, when you sign-up for any of the Citi Credit Card from the 1-15 September mentioned in the lists below, you will be entitled to a free gift – either Nintendo Switch (worth $499) or Apple Watch SE (worth $419) or you can simply choose for a $350 cash that will be credited to you via Paynow upon meeting the minimum spending requirement.
The caveat for the minimum spending requirement is a $500 within 30 days of card approval.
For existing card user of the issuing bank, you will only be entitled to $30 cash with no minimum spend.
If you'd like to read the terms and conditions in more detail, you can refer to them here.
Personally, I think they have leveled up the rewards since the recent years as I have only recalled receiving a one night staycation when I signed up for my own card a few years back.
Make sure you don't miss out on the deals!
This is one card which I highly recommend if you are a Miles lover like myself.
Obviously, with COVID dominating the headline over the past 2 years, there has been a divided camp for cashback over miles but if you believe that travel is something that would recover over time, your miles could be put to a good use by then.
Furthermore, in case you are not aware, you'd be able to use some of your accumulated miles for other purchases such as KrisShop or Pelago – a Singapore Airlines backed venture start-up company to purchase activities.
Annual Fee Waiver
+1.2 miles per S$1 spent locally
+2 miles per S$1 spent in foreign currency
+2 free airport lounge visits per year to over 1300 Priority Pass lounges worldwide
Miles eligibility on rent, condo management fees, school fees, taxes and bills via Citi PayAll
Up to $1million travel insurance coverage
This is the other cards which I highly recommend for almost all other Online Purchases that I've made.
Like most people who had to stay home during this pandemic period, I would frequent most online merchants when it comes to ordering for food, groceries and other things. Some of my favorite includes the likes of Grabfood, Food Panda, Lazada, Shopee, etc.
You get the most reward when you purchase online with this card because they give you 10x rewards which translates into 4 miles per S$1 spent – as compared to all other cards. These points can then be used to convert into either cash rewards or miles separately.
10x rewards points (4 miles per S$1) spent on online spending – including fashion apparels, online groceries, food delivery, ride hailing apps and many more. The only exception is Travel booking
1x reward point for every S$1 spent on all other purchases, including offline
No minimum spending
Conversion Rates example are as follows:-

25,000 points = 10,000 miles
4,400 points = $10 cash rebates
I haven't had to use this cashback card yet myself but this is one of the best Citi's product on cashback card if you are into cashback rewards and not miles.
You get an upward cashback of 6% and 8% respectively for dining and grocery shopping at major outlets and 0.25% for all the other purchases.
+6% cashback on dining including restaurants, cafes, fast food eateries, and caterers
+8% cashback on grocery shopping, both online and at major supermarkets
Up to 20.88% savings at ESSO and Shell, inclusive of 8% cashback for petrol spending
Up to $1million travel insurance coverage
+0.25% cashback for all other spending
Unfortunately, there is still some minor administrative last bit that you have to do to redeem your rewards but I promise it's not rocket science or anything.
To redeem your rewards:
Once you apply to the desired credit card of your choice, you will receive an application form sent to your email (do remember to check your junk)
Complete the application form and note the application reference number
Once the application is approved, check your email for the reward redemption instructions from SingSaver
Sign up for an Account on SingSaver website to obtain the redemption form
Fill up the form with your application reference number and send it back to them at [email protected]
Wait for your gifts/rewards
Disclaimer: This post contains affiliate links as part of collaboration with SingSaver. However, all information and opinions stated are purely mine and should be taken with a pinch of salt, sugar and a little pepper!