It's the very beginning of the New Year and it has been raining throughout the weekends so it would be an appropriate time to look for potential gems that could start help us generate returns starting next week when the market reopens.
Zoom Video Communications Inc. (Nasdaq: ZM) has fallen by about 42.7% from the peak when it hits $588.84 on the 19th Oct 2020 to the current price of just $337.32 today.
Probably inappropriate to say "just" since the company has risen by about 5x fold since the start of 2020.
This will just be a quick analysis to see where if there's an opportunity next week.
Financials
The company reported its third-quarter fiscal 2021 earnings which generated 99 cents/share bottom line.
Sales revenue hits $695m with strong year on year performance due to new customer subscriptions and more traction of market share. Existing customer subscription revenues also grew 20% year on year.
Enterprise customers with those having more than 10 employees were up 485% year on year to 434k customers. Net dollar expansion rate continues to impress at above 130% for the 10th consecutive quarter.
Rakuten and Peloton were amongst the names of enterprise customers added in the quarter.
Operating metrics and productivity starts to show by decreasing OPEX figures during the quarter.
R&D expenses as an overall % of revenues decreased by 510 basis points year on year to 3.2%.
Sales & Marketing expenses as an overall % of revenues decreased by 3130 basis points year on year to just 18.2%.
Other G&A expenses as an overall % of revenues decreased by 290 basis points to 9.4%.
Free cash flow generated from the quarter was $388m, and the company has cash equivalents of about $1.87b, which is nearly 5x the amounts of FCF generated for the quarter.
The company increased its guidance of sales revenues of $2.58b, which is up from the previous $2.38b expected. Non-GAAP earnings are expected to be around $2.86/share, which translates to about 117x PER.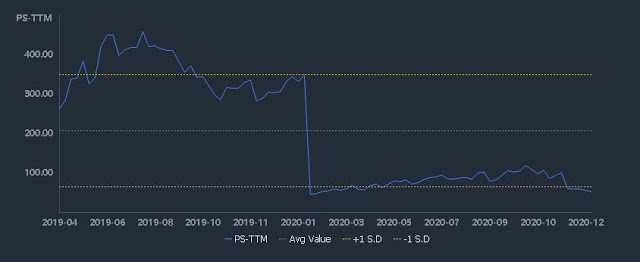 Charts
ZM is setting up nicely into the perfect zone very shortly.
The selldown in the past recent weeks has been somewhat overdone in my opinion, most likely due to the selling pressure because of the offloading of shares from the CEO. There is also a rotation of recovery play stocks in which ZM is likely to have an inverse relation.
Nevertheless, the company is still growing and revising its positive guidance earnings which I believe the stock will find its floor soon.
CCI5 is currently at -118 while RSI14 is just at 28.9.
The company is likely to fill the gap at around $325-$327, which will coincide nicely with the 200 days Moving Average. If that breaks, the next strong support will be around $300 which coincides with the candles before the gap up at the end of August.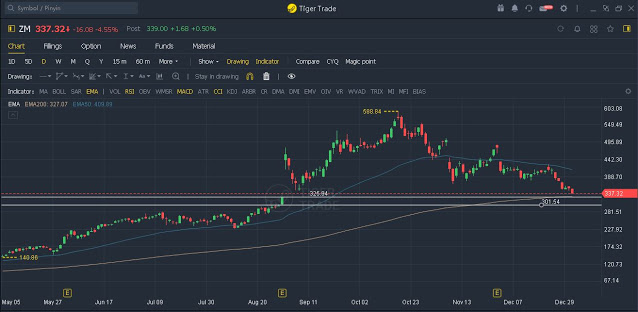 How I am Likely To Position My Play
I am likely to sell some short term (8 Jan / 21 Jan) put options at below $325 strike price and also at around $300 mark while waiting for the share price to hit there. In my opinion, the selling has been somewhat overdone so we might take a few good weeks right before the earnings to reach there while the options gave a good platform to generate some income while waiting. Premiums are solid at the moment given how much the share price has fallen in past recent weeks which pushes up the IV.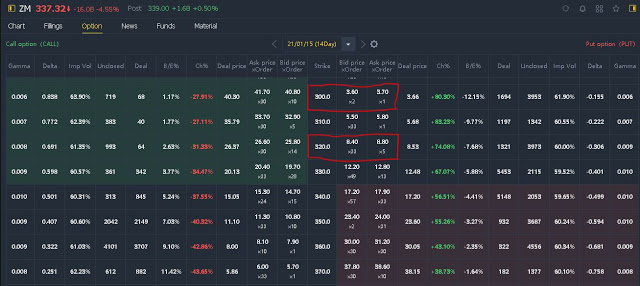 At the $300 mark, I am likely to take a long position through my CFD if and that happens before the earnings.
With more countries starting to impose another re-lockdown, we could be in for a slow recovery and cautious play here, which will likely benefit the likes of ZM back into the scenery again.
Thanks for reading.

Stock Analysis