Salesforce Inc. is a leading dominant software-as-a-service (SaaS) player in the CRM market space.
The company has grown over the years and today they have product offerings in these four core verticals, gaining 18.4% of Global CRM market share in 2019 by sales revenue.
Sales Cloud
Service Cloud
Salesforce
Marketing and E-commerce Cloud
The other challengers are in single digit which is led by SAP, Oracle, Microsoft, and Adobe.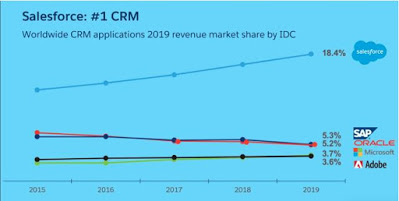 The company has a large and growing addressable market (TAM) amounting to $176 Billion spanning from FY2020 to FY2024. The 4 years CAGR is expected to grow at 14% per annum across many services platform.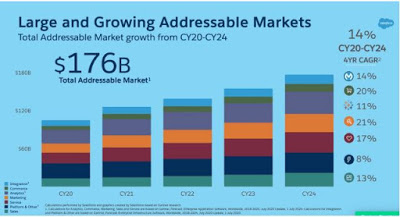 Financial Analysis
Salesforce has been doing well, growing its topline revenue from just $6.7b in 2016 to over $17.1b in 2020, which translates into a CAGR of around 30% per annum. The trajectory forecast into the next 4-5 years is that the company is likely to grow at a slower rate but still within the respectable 20-25%.
Operating margin for Q3 was at 19.8% – best ever record!
The company also has a strong balance sheet with over $27b in net cash right before the acquisition of Slack.
The acquisition of slack in December 2020 recently was massive, as the company forks out $27.7b to acquire a work messaging app company they think would be massive.
Salesforce Co-Founder and CEO Marc Benioff were bullish about the acquisition and he thinks there are synergies for both companies that could shape the future of enterprise software and transform the way everyone works in the all-digital, work from anywhere world.
This is a direct challenge face to face to fence off competition from its most direct competitors, Microsoft with its Teams product.
The market clearly didn't quite like the deal, and the market showed vengeance through a sell-off from a high of $284 to the current $221, representing a 28% fall from the peak.
I believe this is just a short-term knee-jerk over-reaction from the market as I believe the deal will continue to be earnings accretive as the deals will be funded via internal cash and debt. Also, Slack is still growing at high double-digit and the acquisition allows Salesforce to increase its new customer acquiring and expand its direct customer facing volume.
At the current price of $221, this represents a P/Sales of just under 10x, and I believe this is a decent valuation for a company that's still growing at a sub-par 20% topline over the next few years.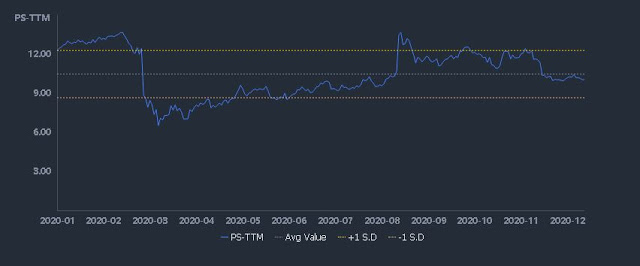 Charts
CRM is heading into a beautiful set-up.
Immediate strong 200 days moving average support is at $215, and the share price tested this level twice recently on the 2nd December 2020 and 4th January 2021. On both occasions, the intra-day movement hits the $215 support level before bouncing off and closing at above $220.
The support level of $215 also coincides with the gap fill on the 25th August 2020. The next immediate support is at $210 right before the 25th August 2020.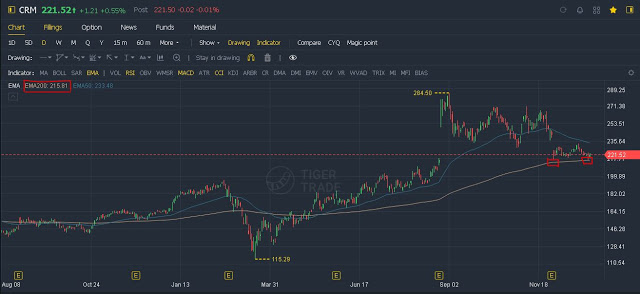 RSI continues to be oversold at below 40.
MACD also crosses the signal red line, indicating crossover and bullish confirmation (ok, I'm still adapting on this part of divergence).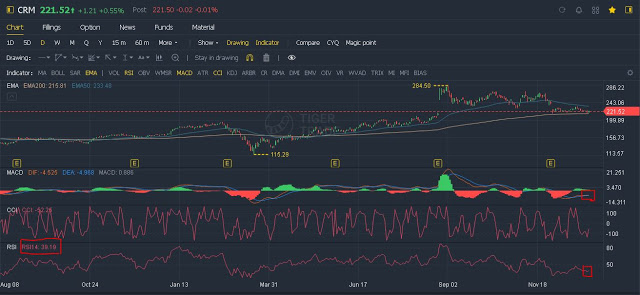 How I am Likely To Position My Play
I have opened the previous sell put positions at between $207 to $215 on several couples of occasions – two positions of the contracts have expired on the 31 December 2020, and another two positions will expire on the upcoming 8th January 2021 (still currently open).
The next projected full-year earnings are estimated to come in early March 2021 so we are likely to see consolidation for a while within these levels without any serious attempt at breaking up or down.
15 January (9 more days) put contracts at a strike price of $215 is available at $2.29 premium for 1 contract. This represents a $2.29/$215 = 1.06% return over a period of 9 days or 42% return annualized.
If you'd like something "safer", the $210 strike price is also available at $1.29 while we let the market dictates the next move.
There's also the longer runway for the 22nd Jan, 29th Jan, 5th Feb if you feel more confident about the long term prospect of the company.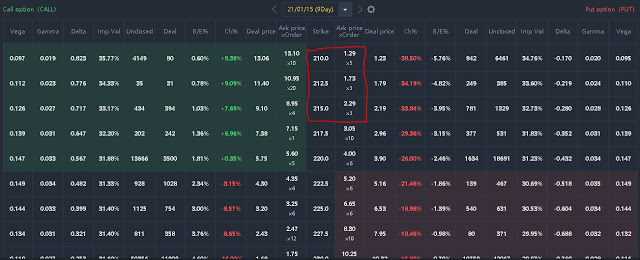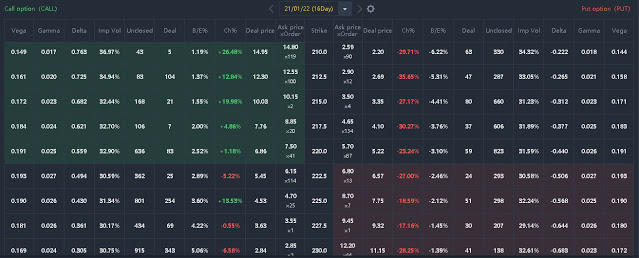 I'm likely to take a direct long position on the company through my CFD should the price hits $215 during the intra-day movement for better risk-reward, and likely to put a stop-loss below the $210 mark.
I'm still experimenting on some of these in the last few months myself, so please do your own due diligence.
The market can suddenly turn south and wipe out the strategy you would have, whether long or short.
Thanks for reading.

Options
,
Stock Analysis