The COVID-19 pandemic has significantly disrupted both working practices and life in general and many of us have been adjusting to this new working world and lifestyle. We have gotten used to working from home for extended periods of time and are now relying on digital ways to complete our daily errands and tasks.
Traditional businesses were impacted as well and many companies took this opportunity to pivot their operations and automate processes as strategies were redefined to meet the increasing need for a digital transformation.
Many of the technology companies that we were familiar with come from the United States, particularly Silicon Valley in the past twenty years. However, in recent years, the Chinese have also increased their technological research and absorption and have strengthened their digital presence globally.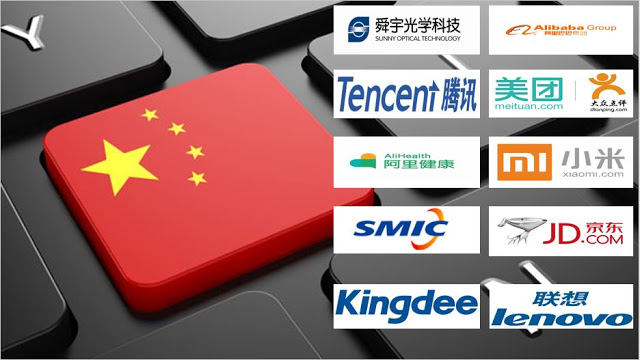 How Hang Seng TECH Index Companies Performed During COVID-19
Alibaba, Tencent, Xiaomi, Lenovo, and JD.com are some of the Chinese technology companies that have become very popular and are tracked by the Hang Seng TECH Index.
The Hang Seng Tech Index which represents the 30 largest technology companies by market capitalization listed on the Hong Kong Stock Exchange was launched on the 27th July 2020.
Since its inception till 25 November 2020, the Hang Seng TECH Index has gained nearly 20%, outperforming Hang Seng Index, NASDAQ, and Straits Times Index during the same period.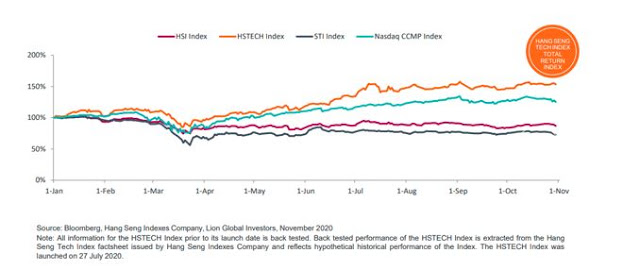 How Investors Can Invest In Tech Companies Listed on the HKEX
For those who are attracted by the growth in the technology sector, how can they get a piece of the pie?
An investor could attempt to build their own portfolio of technology companies by purchasing multiple stocks, for instance, Alibaba Group Holding Ltd (HKG: 9988), JD.com Inc (HKG: 9618), and Meituan Dianping (HKG: 3690).
However, such an approach will incur multiple fees.
In addition, if an investor does not diversify across the sectors, there may also be a risk of over-concentration on a particular stock or counter which is risky for the portfolio.
Hence, some investors will choose to invest in ETFs instead which gives you a basket of various companies, and thus by buying ETFs, one would already be diversifying their portfolio right away.
However, investors still need to take note that if the ETFs are comprised of companies that are in similar businesses, then they may all be susceptible to the same economic market or political occurrences that will affect that sector or industry in which case then the ETF's performance may be negatively affected.
Accessing the Hang SengTECH Index Locally
Local investors who are interested in the Hang Seng TECH Index would be glad to know that the Lion Global Investors (LGI) and OCBC Securities have launched the new Lion-OCBC Securities Hang Seng TECH ETF that will be listed on the Singapore Exchange and can be traded using cash and/or SRS.
The ETF will similarly comprise the 30 largest technology companies listed on the Hong Kong Exchange, including names that we are familiar with such as Alibaba Group Holdings, Meituan Dianping, Kingdee International, Netease Inc., and many more.
It will be regularly managed through quarterly rebalancing with a maximum cap of 8% allocation for each company during rebalancing and its fast entry mechanism will capture any new high profile entrants as IPOs will be added right after the close of their first trading day if their market capitalization ranks among the Top 10 of the existing constituents.
The ETF is also classified as an Excluded Investment Product (EIP), which means you do not need to pass any Customer Account Review (CAR) declaration to trade it. Furthermore, with a small trading board lot size of just 10 units, this makes the ETF relatively easy to start trading.
You can start buying (and selling) the ETF from 10 December 2020 onwards. It is available in both SGD (under the stock code "HST") and USD (under the stock code "HSS").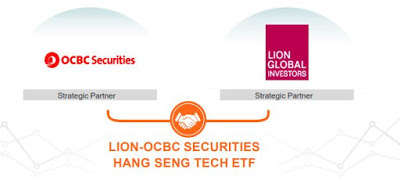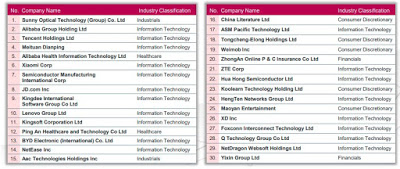 Conclusion
The Lion-OCBC Securities Hang Seng TECH ETF is one that will be high on the agenda of many Singaporean investors as the technology sector heats up with the accelerated adoption of technological changes post-COVID.
To find out more about the Lion-OCBC Securities Hang Seng TECH ETF, please visit OCBC Securities Website.
Disclaimer: This is a sponsored
collaboration article with OCBC Securities.
Trading in securities, futures and/or
leveraged foreign exchange and borrowing to finance the trading of securities
(leveraging/gearing) can be very risky, and you may lose all or more than the
amount invested or deposited. Where necessary, please seek advice from an
independent financial adviser regarding the suitability of any trade or
investment product taking into account your investment objectives, financial
situation or particular needs before making a commitment to trade or purchase
the investment product. You should consider carefully and exercise caution in
making any trading decision whether or not you have received advice from any
financial adviser. If you choose not to seek independent financial advice,
please consider whether the trade or product in question is suitable for you.
This ETF is subjected to the
following principal risks including but not limited to market risk, index
sector risks, concentration risk, tracking error risk, foreign exchange risk
and risk factors relating to the index. Some or all of the risks may adversely
affect the Fund's Net Asset Value, yield, total return and/or its ability to
achieve its investment objective. You should note the risk factors associated
with investing in the ETF. The statements in the prospectus are intended to be
summaries of some of these risks. They are by no means exhaustive and they do
not offer advice on the suitability of investing in the ETF. You should read
the prospectus and carefully consider the risk factors described together with
all of the other information included in the prospectus before deciding whether
to invest in the ETF.
All
views expressed here belong to and are independent opinions of the writer and
are for information purposes only. They do not take into account the specific
objectives, financial situation or particular needs of any particular person.
You should not make any decisions without independently verifying or assessing
the contents. OCBC Securities Private Limited ("OCBC Securities")
does not endorse and makes no representation or warranty whatsoever in respect
of any view expressed here and shall not be responsible for any loss or damage
whatsoever arising, directly or indirectly, howsoever as a result of any person
acting on any view expressed here.
This advertisement has not been
reviewed by the Monetary Authority of Singapore.

Funds