The pandemic we are experiencing today has pushed interest rates to record low across the globe, with some nations already headed into negative interest rates.
For homeowners, this is a blessing in disguise because the fall in home loan rates means owners will get to save more on interest payments.
3M Sibor has dropped significantly from the start of the year from 1.774% to 0.406% today.
For homeowners who took the floating rate package prior to the pandemic, you should already see pretty significant savings in the interest you pay every month. In my case, I have already seen a lower monthly repayment of about $900 in interest payments since the start of the year.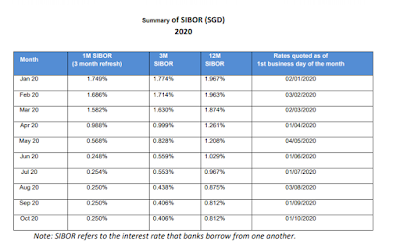 With Sibor plunging to record lows, it has been difficult for banks to earn any sort of margins from their customers, hence in recent months, they have reacted by coming up with new packages that increase the incremental margins that they charge to customers.
For instance, one of the DBS home rate packages today is offering FHR24 + 0.60%, with the FHR24 currently at 0.93%.
DBS and Maybank have been one of the pioneers in offering a fixed home rate that is pegged to fixed deposits. In the past few years where interest rates remain low, I dislike this arrangement because fixed home rate changes are indiscretion of the bank and it doesn't usually provide benefits as much as the floating rate changes.
DBS has another package that is offering at a 1.50% fixed rate for the next 5 years, essentially locking your commitment for the next foreseeable future post-pandemic, where interest rates are likely to revert back higher than today.
SCB Home Rate Promotion Below 1%
This week, SCB has come up with a promotional FDR loan package that lowered their charged margins from the earlier 0.55% to 0.28%.
With the FDR8 currently at 0.72%, this means that their overall home rates are at 1% / annum for the next 3 years, and 1.40% thereafter from year 4 onwards.
Lock-in periods are for 2 years so you are free to refinance for better rates (if there are any) after the lock-in period.
Do note for refinancing, they require a minimum loan of $500k.

FDR Package at 1%
If you are interested to explore floating rates, SCB has also promotional rates for the 3M SIBOR + 0.58% charged margins, which is currently in your favor as SIBOR hits a record low in September.
This means that the overall rates are at 0.99% / annum for the next 2 years, which in my opinion is very attractive given the current situation. You should refinance after the 3rd year onwards because the charged margins are too high.

3M SIBOR package for commercial
Final Thoughts
Personally, I find the current SCB promotional rates one of the most attractive amongst all the other banks I've considered.
This is due to the fact that I'm favoring the floating rate more than a fixed-rate right now. I think interest rates will continue to remain low in the next 6 months at least.
We also took our loans with SCB on the floating rate package last year when we bought a new home.
With SIBOR now trending to record lows, we found what they were offering attractive, both in terms of rates and flexibility to refinance at a later stage.
If you are interested to purchase a new property or refinance your existing loan, I think this may be a good time to do so as you are able to lock in the competitive margins offered by the banks.
You can compare the various rates by filling in your requirement here.
If you are still undecided, I am also more than happy to offer my perspective. You may drop me an email and I'll find a time to reply to the question you have.
Edit (7th Oct): I was being informed that only the FDR package (FDR36 + 0.28% = 1%) and 3M Sibor package (3M SIBOR + 0.65% = 1.057%) are applicable to residential. The above SIBOR package illustration for the 3M SIBOR + 0.58% = 0.99% are meant for commercial properties.
Thanks for reading.

Uncategorized