The SG Active Trading Tournament 2020 is one of Singapore's most anticipated trading tournament and it is back this year.
This is a special trading tournament organized jointly by Investing Note and Societe Generale, together with SGX that focuses on the trading of Daily Leverage Certificates (DLCs). For new joiners who are not familiar with the product, it is essentially an exchange-traded financial product that magnifies the leverage exposure to key Asian benchmark and individual stocks such as Wilmar, DBS, Tencent.
You can read some of the tutorials here on some of the DLCs trading strategies.
While DLCs are considered leveraged products, they are listed on the cash market of SGX, and because of that, there is no risk of a margin call. This could suit the appetite of some investors who would like to magnify their positions without having the risk associated with margin calls.
The entire tournament period runs for about 1.5 months from the 10th of September to the 23rd of October 2020. The details of the schedule are further appended into:
Elimination Rounds: 10th September – 30th September 2020
Final Round: 12th October – 23rd October 2020
To register, click here.

How I Fared In The Last 2 Tournaments
I have participated in the last 2 tournaments conducted in 2018 and 2019.
In 2018, I managed to come in 2nd place in a heavily contested 136 participants competing for the main prize.
I was tossed on the last day by Thebearprowl, who leaped into the 1st position on the very last day of trading. We became good friends since until today.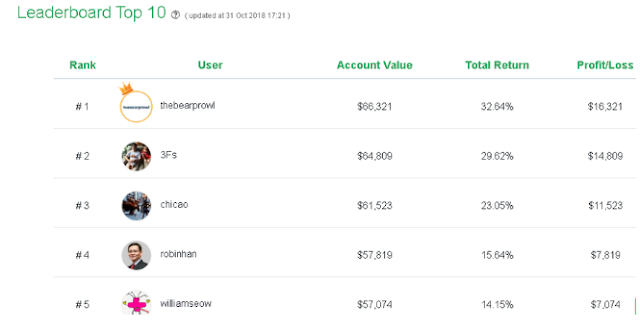 2018 Trading Tournament
In 2019, I came in 246th position with an overall 5.8% return (Geez, everybody is so damn good).
If my memory served me correctly, there was a twist in the leaderboard tournament in the very last few days when Temasek announced that it will do partial offer to Keppel Corp which sends its price flying high the next day. Those that are holding DLC Keppel long position goes straight into the leaderboard position.
So there's a real good chance that you may come out on top based on any single position you take.
Furthermore, tech stocks have lately been on a tear run as well, so it might pay off to have them in your portfolio as well 😉

2019 Trading Tournament
I think the tournament is a good simulation for learning and understanding how the DLCs product works. It follows a real-live trading simulation that are based on each day's closing price, so you can see how you perform and the emotional aspect of handling it.
So do join the tournament by clicking here and I'll see you at the top with the prizes.
Thanks for reading.

Uncategorized