No. of
Shares

Market
Price (SGD)

Total
Value (SGD) based on market price

Allocation
%
I wanted to do a quick update this week as I have been extremely busy with work and other engagement that's on my plate in the past few weeks that I don't have much time to write and update on the blog.
With the long weekend coming due to election day (public holiday) tomorrow, I am really looking forward to a much needful rest.
After a strong run up which we've seen in the past couple of months, the portfolio has taken a dip this month due to the recent volatility of a potential second wave hitting various grounds which has also impacted the portfolio components.
The biggest change to the portfolio was the divestment of both Lendlease and CDL Hospitality Trust. After the shares surged strongly on the opening news of phases 1 and 2, I managed to offload them to lock in some profits as I feel that the market may have priced them too optimistically at this point. I split my divestment for both the Reits into two tranches and ended up divesting them at an average price of 73 cents for Lendlease and $1.10 for CDLHT. Since then, Lendlease, in particular, has gone further up to its high of 76 cents before retreating to where it is now somewhere at 66 cents. I may be interested to look at this again should it drops in the 63 to 64 cents range.
On the purchase side, I managed to purchase Wilmar on two tranches with an average price of $4.16 after it announces the filing of YKA IPO in SZH market. The Chinese market has been on a strong bullish run this year and with sentiments high, they might be able to fetch a good valuation to unlock the value in China's plantation side of the business. With Wilmar also to announce its 2nd quarter results sometime in August, I am confident that this will be a bountiful year for the company with its post strong results and the unlocking of the business.
On the other purchase, I also added Comfortdelgro with an average price of $1.61 which the investment is currently underwater due to the company issuing profit guidance on its next quarterly result earnings in August. Still, I like the fact that the company is finally doing some M&A partnership with its other two France counterparts on the tender bid for the rail project in France. This is a good diversification away from their core taxi business which is concentrated mainly in Singapore and looks to struggle in the near term.
Last, but not least, I have been wanting to add a bit of e-commerce and tech plays into the portfolio so I bought in a small bit of
Baba
at an average price of HKD213. Baba had a strong surge in today's trading due to the announcement of a potential listing of its
financial arm
.
On my speculative plays, I have divested all my holdings including Wirecard at 20% loss, DSS at 25% gain, and SED at 75% gains. These are all small speculative positions so monies are easy to come and easy to go, plenty of speculative derivative nature inside.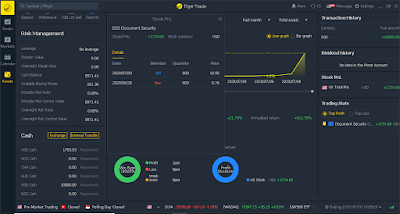 2020 Networth Update
The portfolio has gone down from the previous month of $216,155 to $201,556 this month due to the number of factors.
Apart from the general weakness of the market which has impacted some of the companies in the portfolio, I have also made a few bad trades which resulted in realized losses like Wirecard and DSS and unrealized loss such as CDG.
Second, Jun is the start of the month where I have received a 30% pay cut from my income due to the tightening of the cashflow so this has resulted in negative cash flow for the month for me after netting all expenses. In addition, we have to also top up our children's education fees for Q3 plus a couple of other expenses here and there which makes up what to be a really tough month in Jun and likely the next 2 to 3 months ahead.
Things should look much better from Q4 onwards, so I am really hoping to survive this quarter and hope for a good restart from Q4 onwards. On the goal front, I am still targetting to achieve a net worth portfolio of $250k by the end of the year so I think we'll likely see a strong upsurge back with a couple of luck behind me.

So that's a quick update from my end.
I hope everyone stays safe and vigilant in the midst of all the reopening and be also vigilant of what's to come in the next couple of months as we brave a new world ahead.
Back to work now and c ya!
Thanks for reading.

Uncategorized