This is another round of trying to look into more related companies in the tech space, something which I have not managed to do in the past.
This time, I'm looking at Datadog, an organization which took a big leap of faith since it began to introduce its cloud-scale monitoring service in 2017 to a wide range of diverse clientele.
In a business landscape where competition is fierce and time between development and deployment is faster than before, it pays for companies to do everything in their power to ensure that their software delivers a steady baseline of performance 24/7, so that any cloud based software or web based applications are not disrupted, that's where APM (Application Performance Management) comes in.
This includes the likes of load testing, synthetic monitoring, real-user interaction and root-cause analysis to ensure things run smoothly in between any end to end users and minimal disruptions are applied to the business.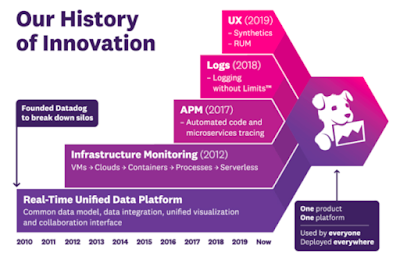 What really sells for them is its ability to integrate with many other cloud applications, provide monitoring of servers, databases, tools and services, through a SaaS-based data analytics platform.
The comprehensive backend system was built using a number of open and closed source technologies with API integrations that are able to support multiple cloud service providers such as Amazon Web Services (AWS), Microsoft Azure, Google Cloud, Red Hat and many more. Today, the company supports over 400 integrations out-of-the-box.

Financials
One look at their financials and you can easily see why the market love them.
The company has an impressive set of turnover growth in the last 13 quarters from FY2017 to Q1 FY2020 with revenue going from as low as $25m back in Q1 2017 to $131m in Q1 2020.
With primary COGS being network, delivery and maintenance costs, SaaS companies like Datadog tends to achieve high gross margins, typically in the range of between 77% to 80% once the company reach enough scale for them to grow their customer base vertically.
Unlike traditional software companies that had to spend on a variety of technology stacks and infrastructure costs (i.e operating systems, servers, databases), most SaaS companies are not required to support those as they tap on third party integrations to do so.
Most of its costs are spent on R&D, which is expensed upfront that made up between 27% to 32% of its overall turnover, enabling the organization to focus on the next phase of growth through innovation and new enabler.
Cost of Acquisition (CAC) remains an integral part of any business as it continues to grow its sticky customer base at a lower marginal interval as part of the overall important unit economics to boost its lifetime value of the customer.
SG&A costs are the people's and other general costs that made up of the other 10% of the costs.
The company had a solid reporting unit economic when it comes to dollar-based net retention rate, which was in the range of 146% during IPO and still managed to rake in above 130% in Q1 FY2020 for the 10th consecutive quarters, which is a strong testament of how sticky their customer profile is.

Valuation


For a company that has only been profitable for one quarter in Q1 FY2020, we will not be able to rely on the price to earnings multiple accurately to come up with what the company is worth for.
Using a backward envelope method of valuing a SaaS company, we will base our computation using the market capitalization worth of $24.3 billion, which translates to its latest share price of about $75/share.
If we divide this by the revenue they generate in the last 12 trailing months from Q1FY2019 to Q1FY2020, this implies a turnover multiples of close to 36x, which signals to the public that either the share price is overvalued or the company is growing at a solar-rapid pace than what the market is expecting them to grow at.
For purpose of reference, I have appended a list of SaaS company's market cap and its enterprise value.
To justify a range of multiples based on the publicly listed SaaS companies, the market is expecting the company to grow at between 160% to 180% year on year, which sorts of ridicule the current overheated tech market we have today in Nasdaq.
For Datadog, they grew their topline from USD70m in Q1 FY2019 to USD131m in Q1 FY2020, which almost double (100% increase). Number of subscribers with $100k ARR have also risen from 453 in 2018 to 858 in 2019 while subscribers in the $1m ARR category rises from 29 in 2018 to 50 in 2019.
Those impressive growth stats justify the companies at best 20x to 22x multiples, while at 36x the market may be pushing it too far. Perhaps a pullback will do justification for that, like what we've seen when the market fizzled back in March.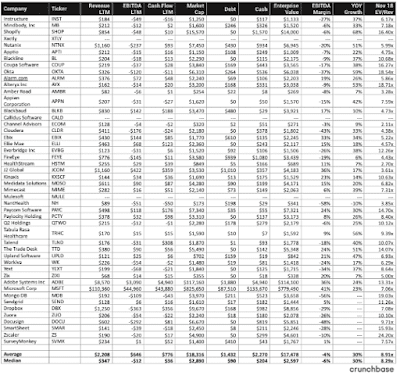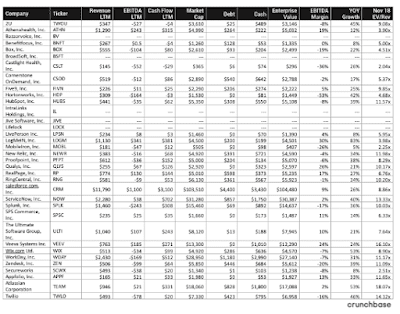 Conclusion
I do think that the company has an interesting business and product offerings to watch out for that is able to capture more market share for them to grow.
There are also imminent growth plans from both the organic and inorganic as the company looks for its next phase of growth in this new era of cloud technology.
However, the current valuations make them somewhat vulnerable to a potential crash in the market and a bit too rich for my liking at the moment despite their impressive growth year on year and back to back.
I'll continue to monitor their development and progress in this space while waiting for its valuation to subside before entering.
Thanks for reading.

Uncategorized