One of the most anticipated and largest REITs events of the year is back in full force once again – with this year's REITs Symposium to be held on the 20th of May 2023 on a fully physical event (last year was a hybrid event with the physically organized at the Suntec Convention Hall while at the same time broadcasted LIVE simultaneously to online viewers).
The event is here to address some of the most pressing issues we are facing today with the likes of interest rates, inflation, slowdown in economy (stagflation) and various market sentiments. During the event, the presenter will also seek to address the following:
Amidst the chaos, how is each REIT sector being resillient?
What will happen to unitholders should interest rate remains high?
How will REIT managers adjust to the new norm of higher interest rates?
Where are the opportunities ahead?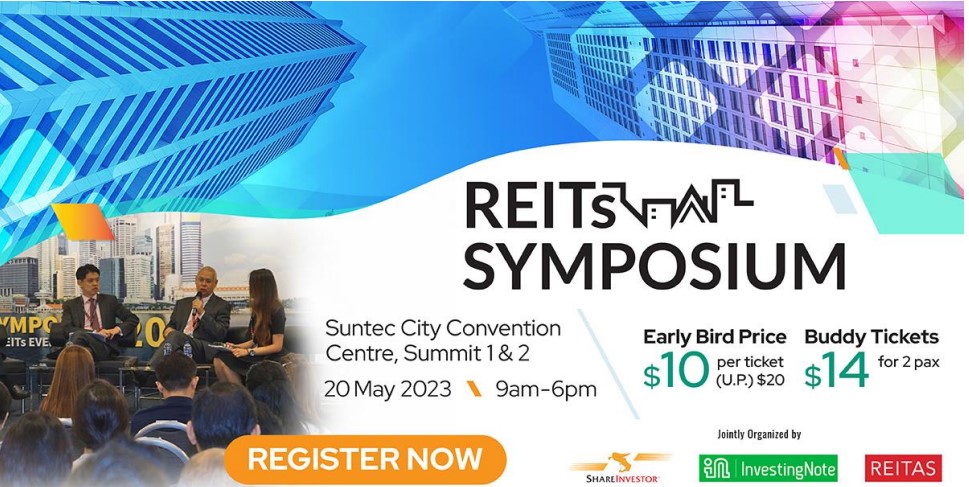 Jointly Organized by InvestingNote, ShareInvestor and the REIT Association of Singapore (REITAS), this event will encompass an exciting line up of anticipated events, including:
Presentations by REITs
Interviews & Live Chat with Key Management of REITs
Outlook & REITs Trends
Lucky Draw for participants
Fun booths
Technical Analysis Zone
Influencer and Blogger Meet-ups
Spot-the-difference Challenge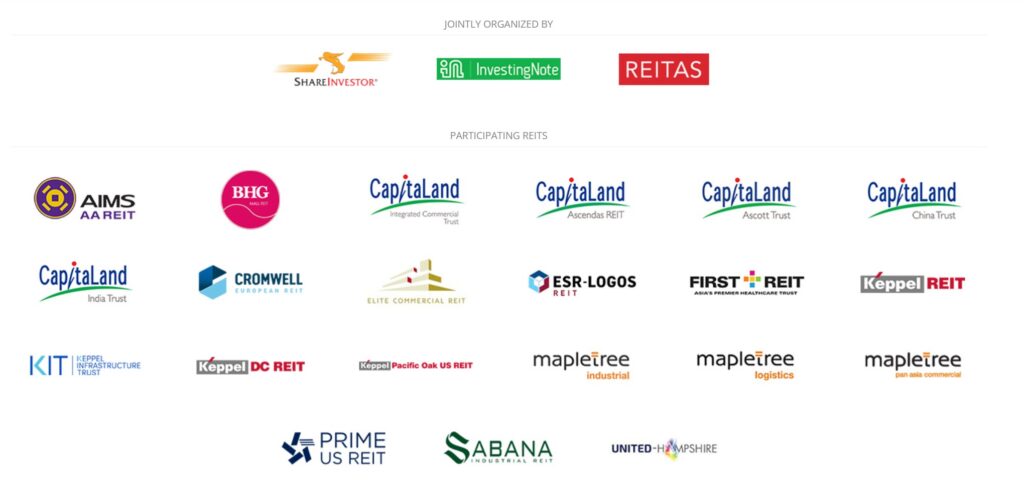 Also, you can look forward to the influencer and blogger meet-ups at their respective booth:
The Joyful Investors, Veteran Community Contributor
From 12.15PM – 1.00PM
Meet Hazelle, Keith and Kathy from The Joyful Investors at our ShareInvestor Booth, as they share their insights on building their REITs portfolio, with their simple and joyful principles on investing.
Dan Chang, Veteran Trading Representative, SGX Academy Speaker
From 1.30PM – 3.00PM
Meet Dan, as he identifies entry opportunities for REITs using Technical Analysis. With more than 20 years of experience (and counting) in the equity market, he has assisted many investors and traders in navigating the turbulent stock market, which enabled them to make informed investment decisions.
Mark your calendar and remember to get your tickets asap.
Location: Suntec Convention Centre Hall, Summit 1 & 2 (Level 3)
Date & Time: May 20, Sat, 9.00AM – 6.00PM
The special $5 promo code for anyone who's keen to sign-up (first 20pax): RS233F

Personal Finance
,
Products