Elite Commercial Reit (SGX: MXNU) debuted its IPO at £0.68 back in February 2020 right before Covid struck.
If you had held this REIT from IPO right until now, you would probably just sit slightly underwater as it has given out £0.15 from dividends so far. Not too bad if you ask me given how many tough the environment is for REITs in the past three years. In fact, most REITs are probably under-performing in the past 3 years, so it has been a common theme for everyone out there.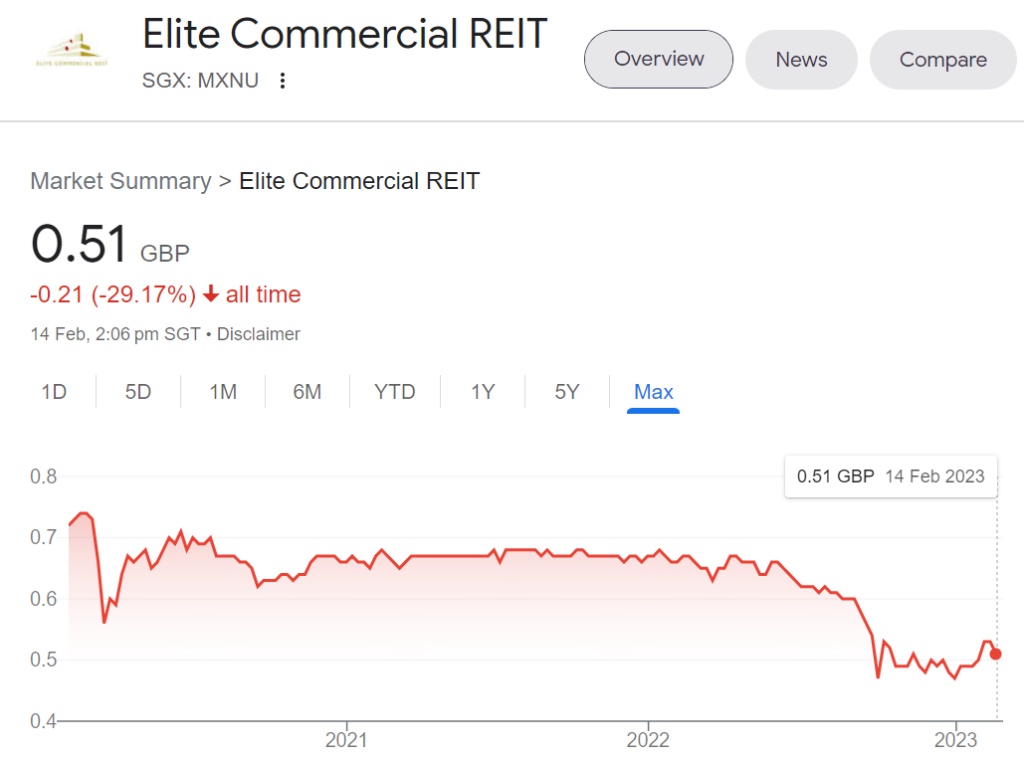 Elite Commercial REIT announced its full year results this morning.
Comparing it to the previous year in 2021, revenue has increased from the result of higher rental escalation. However, costs of borrowing and other opex have increased due to macro factors, which led to a decline in the overall distribution DPU from £5.43 to £4.81.
At today's current price, it represents a 9% dividend yield for investors.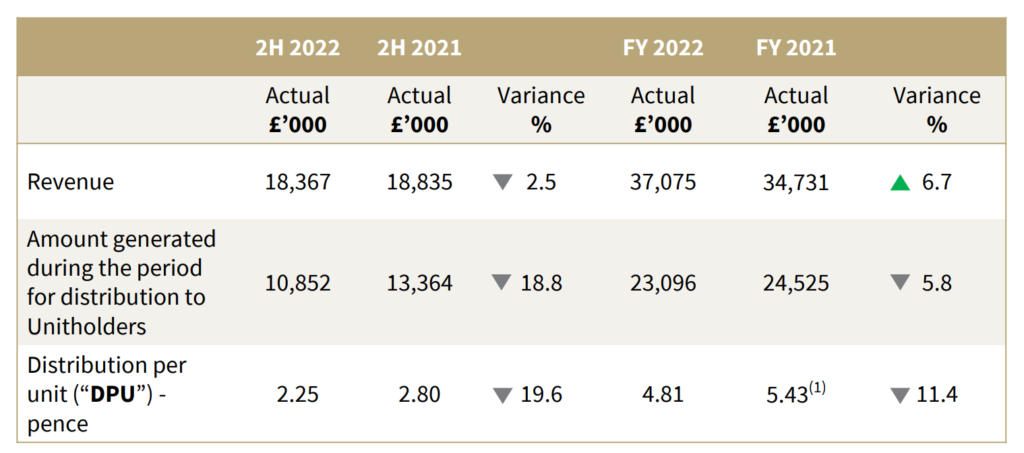 Gearing ratio has increased this year to 45.8% with about £40m of available debt headroom to hit the 50% cap. £40m is a long way to go and unless the macro factors continue to worsen from here, I don't see their asset valuations dropping by another £40m from the current of £466m (they already dropped from the previous year of £500m last year.
So, I think they will be safe in this aspect.
They also have a huge refinancing due in 2024-2025, and this might work in their favour if inflation starts to come down rapidly from here. In fact, they have projected for inflation to drop to 1.5% in 2024 and 0.5 in 2025.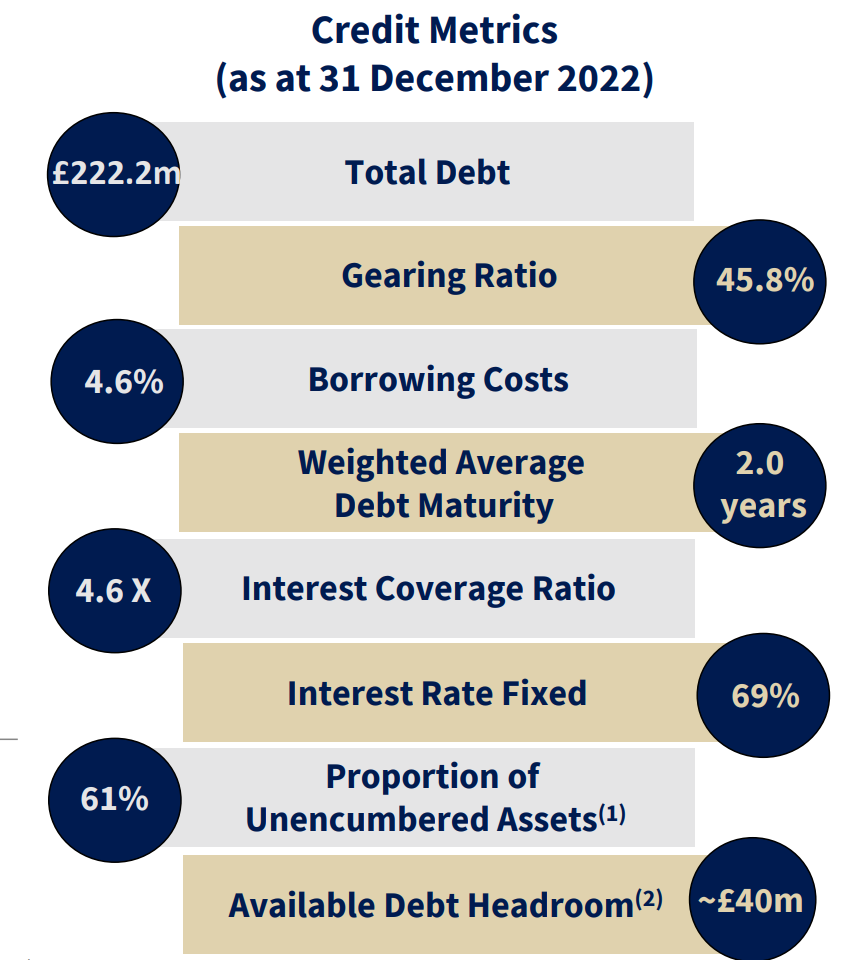 As investors, we want to know the future outlook of the company and if things are going to improve from here.
First, as mentioned above, I think they will be able to lower their borrowing costs with their refinancing due in 2024-2025. Maybe we won't see it as much yet in the near term in this FY2023, but slightly mid to longer term we should be able to see it come progressively down.
Second, the majority of the assets will get a rental uplift when they review the rental clauses for its tenant in April 2023.
Out of the total 155 assets, 134 assets will see a rental uplift in this financial year, which will be CPI-linked escalation based. 11 of the assets will see a rental reduction, while 12 of the assets will be vacant. Overall, the company expects the positive to negate the reduction and vacancies.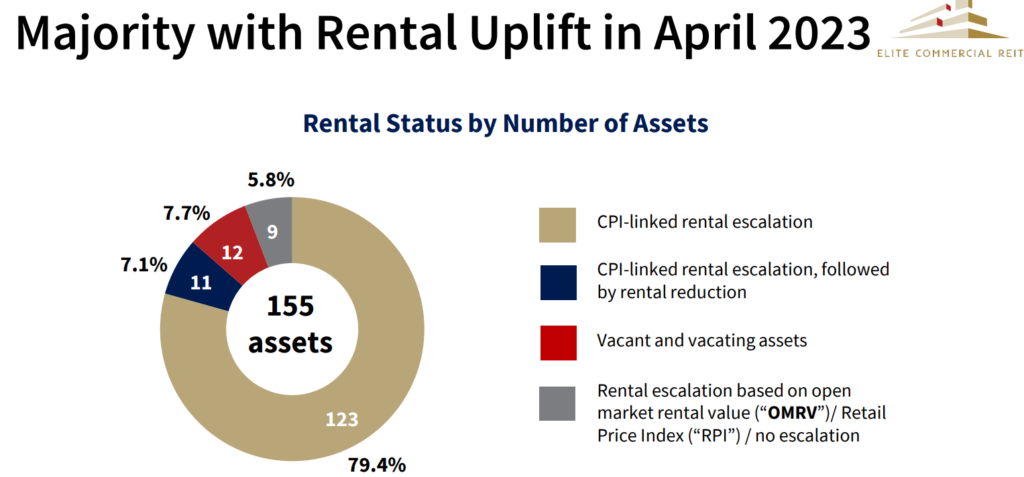 While the REIT has a natural hedge on GBP on its own, many of the shareholders who own this REIT might be concerned of the forex movement between GBP and SGD and looking at the past 5 years, it should be a cause for concern especially if GBP continues to weaken against SGD.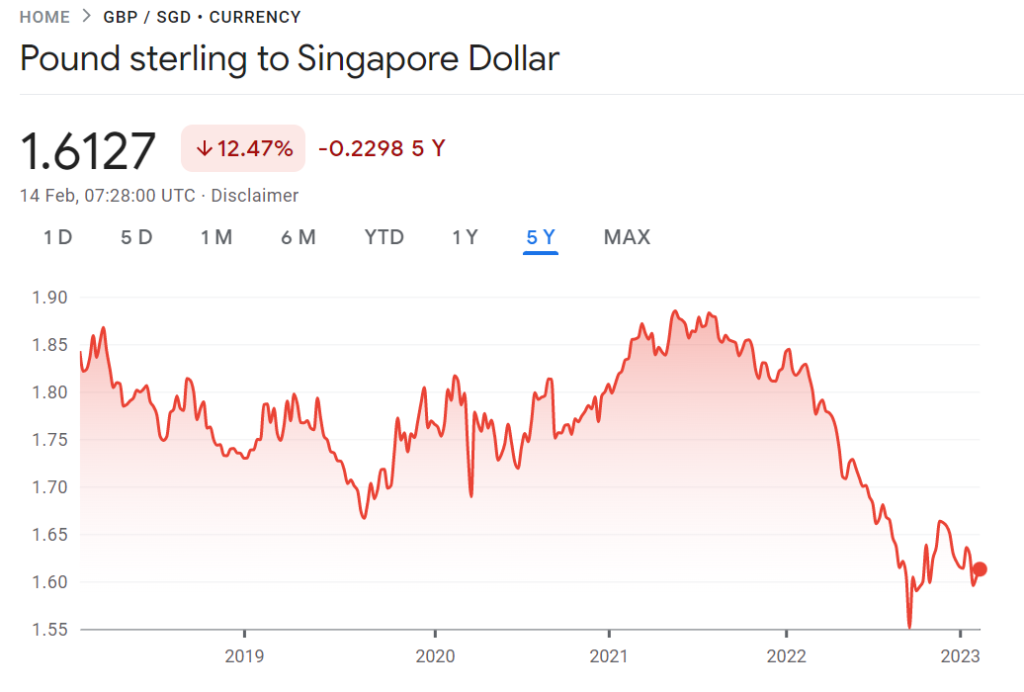 Overall, I am vested in this REIT and will continue to be vested in this as I think it continues to be resilient in the midst of uncertain economic factors for the past 2-3 years.
If you have not followed my social channels, you may want to do so as I frequently post ideas and thoughts in those channels so if you are interested, you may follow me at my Facebook, Instagram or Twitter profile here.

Stock Analysis