Year 2022 will be remembered as the year that many tech companies and stocks crash down.
A brew of macro headwinds with the likes of higher interest rates and slower growth put a heavy pressure on companies to perform in this difficult environment. As a result, many companies reported slower earnings growth, and several names have to cut jobs in order to protect their operating margins.
The share price of many of these companies retreated soon after.
However, this does not dent and impact the performance of this emerging digital tech innovator – Impinj Inc. (Nasdaq: PI).
Shares of Impinj are up by about 30% this year alone in 2022.
Previously, the company's share performance has surged by 78%, 62%, and 112% in the last 3 respective years and it is up by 415% in the past 5 years.
Still, the company is just worth at about $3b, so there will be more room to grow for this company as the world continues to evolve around digital technology and internet of things.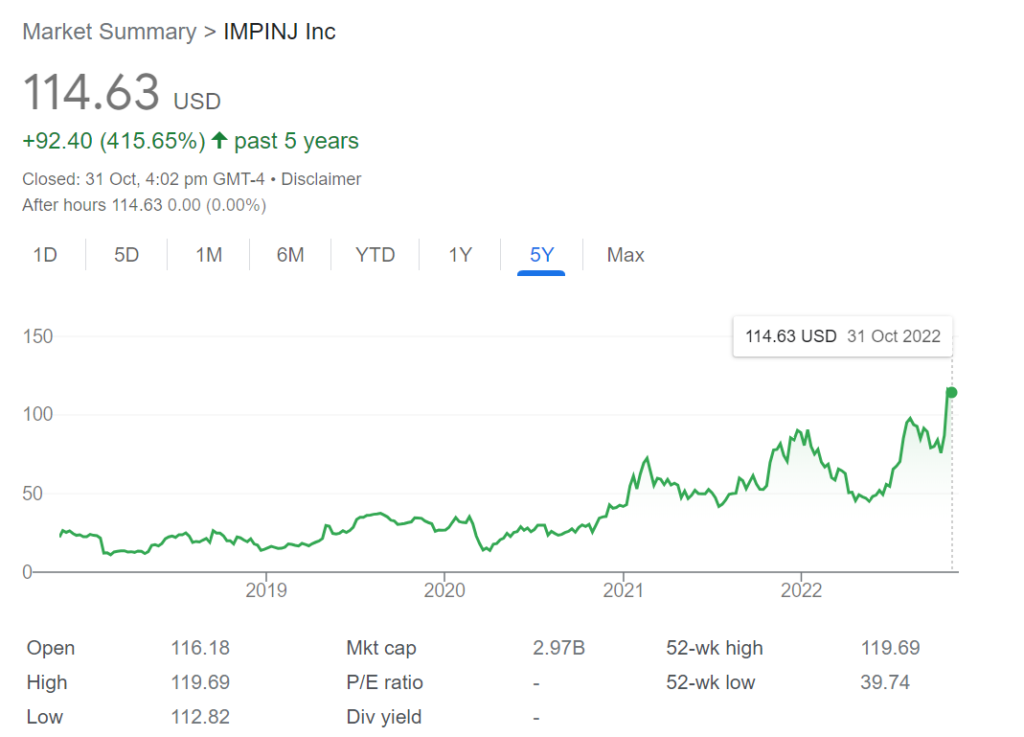 To put it simply, Impink is a bridge between physical and digital worlds.
The company makes radio frequency identification chips that get placed on trillions of consumer products which allows for real-time wireless communication between physical things and online systems.
For instance, retail businesses like clothing and apparels can instantly analyse and optimize inventory levels. For logistic companies, it can track shipments in real-time. RFID tags can be placed on baggage, so customers no longer have to lose their items when traveling.
It's cloud-based Radio identification platform ("RAIN") have increased connectivity among many of us, most of which we do not realise on our own, but it is behind the scenes that makes it work.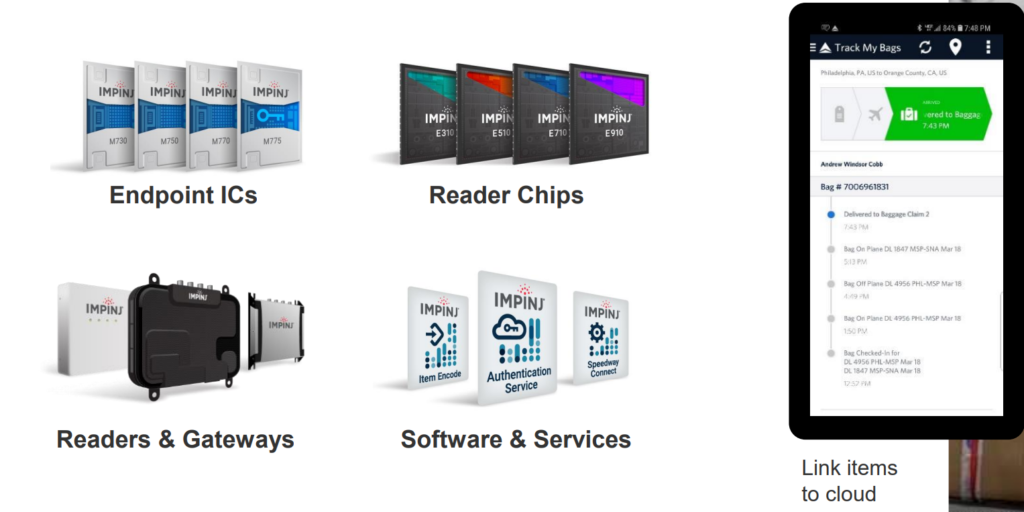 From 2015 to 2021, Impinj have grown its sales at an ~16% annual compounded rate.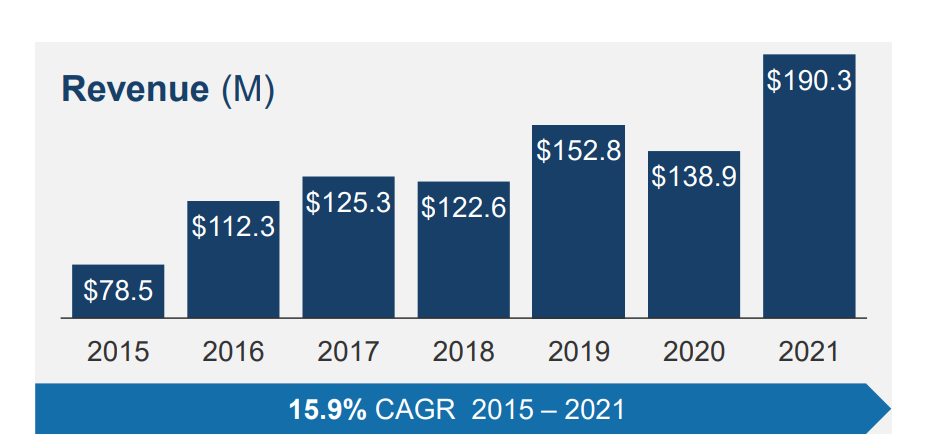 Even at the current macro headwinds trajectory, year to date sales have not slowed and instead grown double to 32%.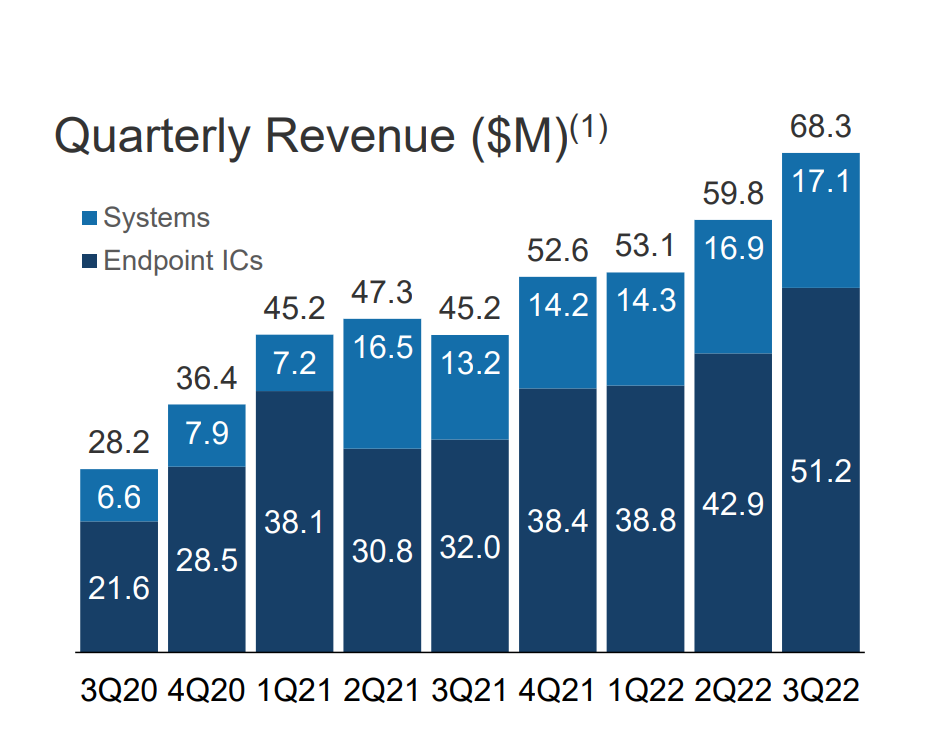 Both of its core offerings – endpoints and readers posted record high revenue. Total revenue increased 51% year on year and bottom line swung from a loss of $0.04 EPS to $0.34 in this quarter.
While most companies are cutting expenses in order to reduce their operating expenses and strengthen their margins, Impinj's margins are expanding organically. In its latest Q3 earnings, gross margins increased from 50.9% the previous period to 54.8% in this quarter.
The company has also start generating positive Free Cash Flow from Q2 onwards and in Q3 it ballooned to over $12.2m in FCF.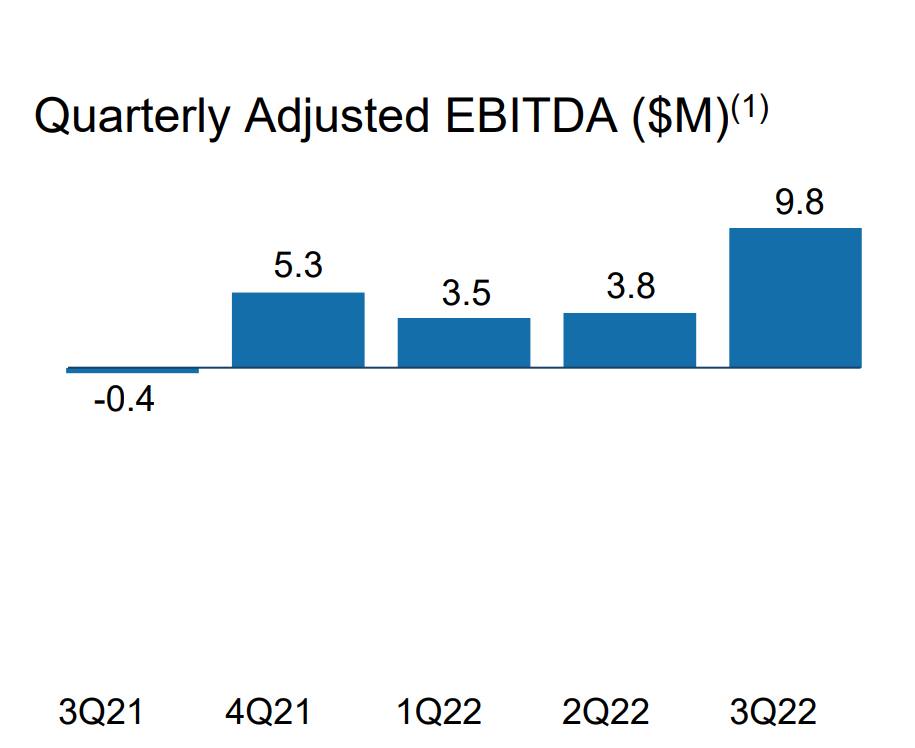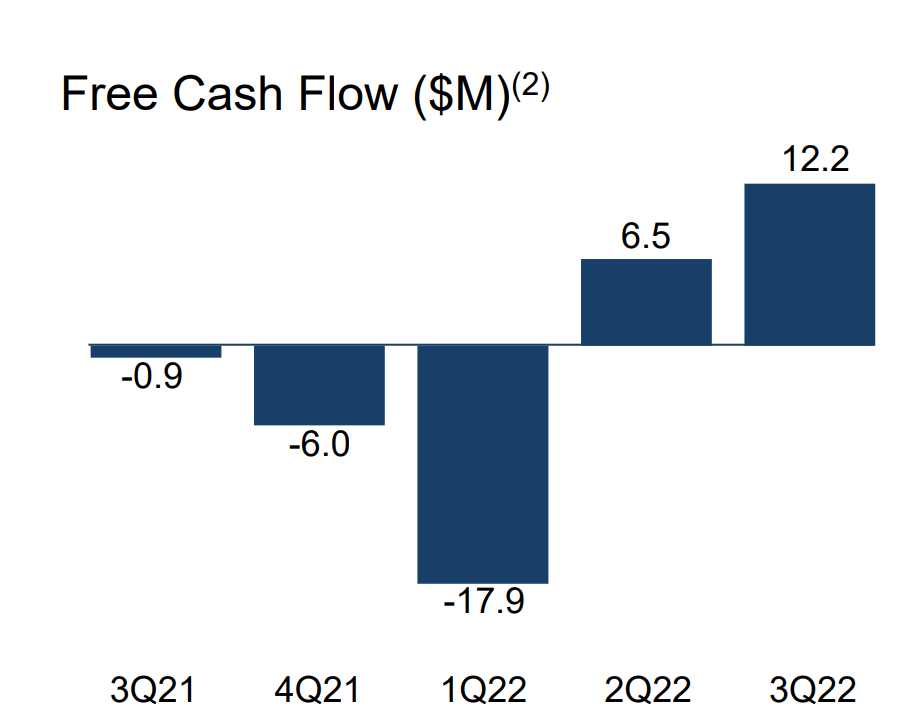 The company's order backlog remains strong, and management believes it will ride through this rising demand over the next few years.
From a balance sheet point of view, the company has no major long-term obligation due in the next 12 months. The company has $182m in cash equivalent and $280m in long term debt which they are managing prudently.
Management remains upbeat about its Q4 outlook, and you can it grow from every angle of their financials stature.

Growth is projected to escalate based on next quarter outlook and next year growth trajectory.
Impinj's products and services should gain momentum in demand and with the company estimates that it has tapped only 0.3% of the world's connectable items, it sees a large TAM to tap onto.
Will keep a look on its development.
If you have not followed my social channels, you may want to do so as I frequently post ideas and thoughts in those channels so if you are interested, you may follow me at my Facebook, Instagram or Twitter profile here.

Stock Analysis