Investing Note's Annual Virtual Trading Tournament is here once again and now open for registration.
This year, the tournament is held in partnership with UBS and SGX.
As with past previous tournaments, this event focuses on the trading of the Daily Leverage Certificates (DLCs) to test the limit of the participants' skills to the maximum.
For those who are not aware, DLCs are essentially exchange-traded leveraged financial products that enable investors to take a leveraged exposure to an underlying asset, such as an equity index or a single stock. On each trading day, the DLCs would replicate the performance of the underlying asset versus its previous day closing level with a fixed leverage factor of up to 7x.
So regardless of whether you're holding Long or Short views on the market, you'd be able to profit from taking the respective DLCs position in the market.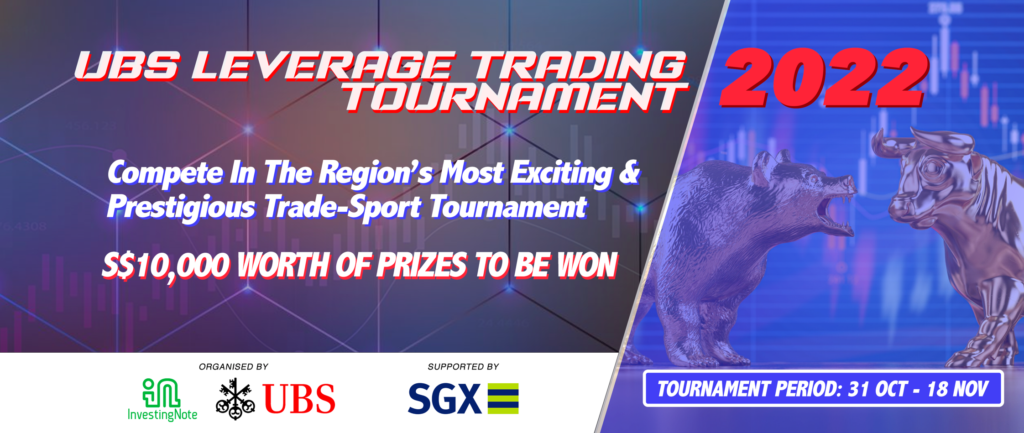 To join the tournament, you may now register your interest and participation in this link here.
With these prizes up for grabs – up to S$10,000 in total!
– 1x Apple TV 4K Setup Winner (worth $400)
– 1x Samsung 27" Essential Curve Monitor Winner (worth $400)
– 1x Nintendo Switch OLED Console Winner (worth $400)
1st Place: S$4,000
2nd Place: S$2,000
3rd Place: S$1,000
$60 CapitaLand Vouchers for Daily Top Trade Winners
$30 CapitaLand Vouchers for 30x winners will be selected randomly amongst registered participants,
who made at least 3 times during the Tournament period – the more you trade, the more chances

Products