This is a follow-up from the previous part 1 of the article where we mentioned that we'll be moving out back to our place next month. You can find that article link here.
So after we made our decision to move back, we quickly contacted our routinely familiar agent to list our current place for marketing. Back then, we weren't sure of the demand situation so we made it a point to open it both for sale and for rent.
As you might know, the rental market has been in buoyant mode since the easing of Covid-19 restrictions and borders, and no thanks due to inflation and rising demand (expats coming over) – the rental market has also been on one way direction since then.
To give you some context on how the rental market for private properties have performed in recent years:
Jun 2022 rents increased by 2.1% month on month from May 2022.
CCR, RCR, and OCR rents increased by 2.2%, 2.4% and 1.7% respectively.
Jun 2022 rents increased by a staggering 21.1% year on year from Jun 2021.
CCR, RCR, and OCR rents increased by 18.6%, 21.3%, and 22.8% respectively.
Rental volumes increased by 4.7% month on month – from 3,989 units in May 2022 to 4,175 units in Jun 2022.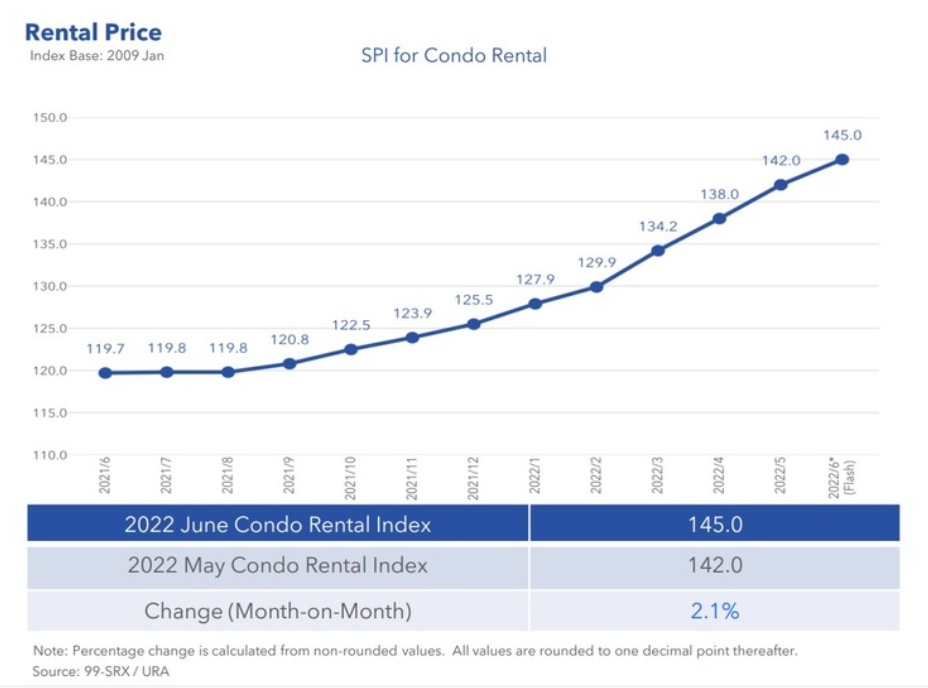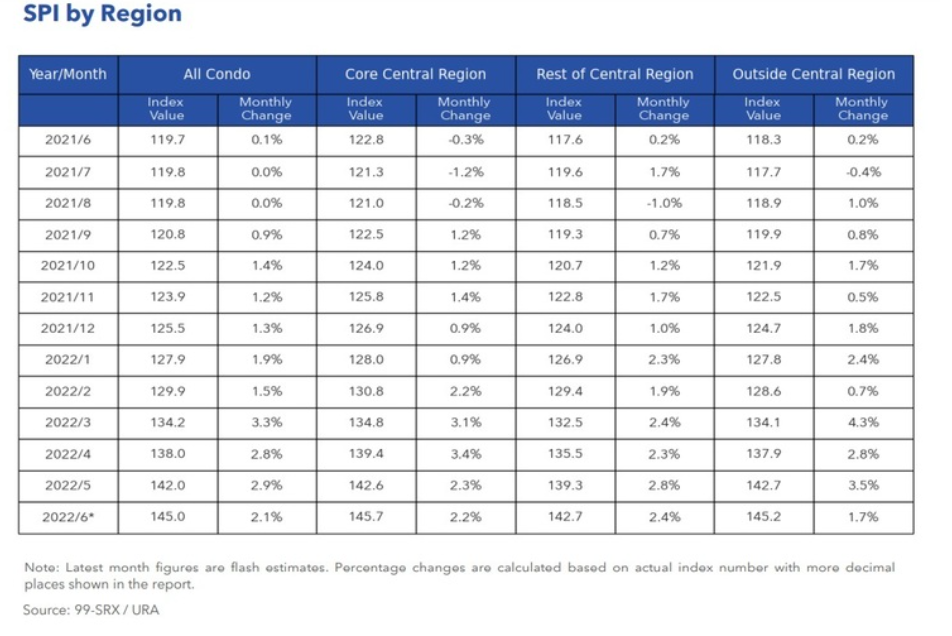 Resale price has also been on a one direction uptrend since the lifting of the restrictions and borders opening up, and they are accelerating in the past recent months.
This is despite the additional cooling measures that were introduced, which mainly affected the foreigners.
Again, to summarize the context for how well private properties have performed in a resale market:
Jun 2022 resale prices increased by 0.8% month on month from May 2022.
CCR, RCR, and OCR prices increased by 0.8%, 1.9%, and 0.3% respectively in Jun 2022.
Jun 2022 resale prices increased by an impressive 9.4% year on year from Jun 2021.
CCR, RCR, and OCR prices increased by 5.6%, 8.8%, and 10.9% respectively.
Volumes for the resale transactions fell in Jun 2022, but this was mostly attributed by the slowdown due to school holiday.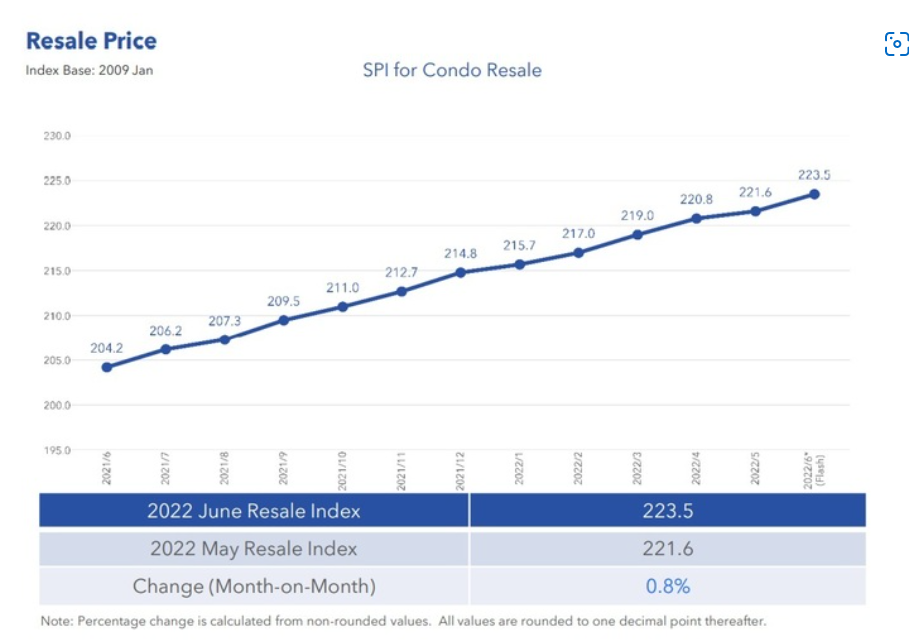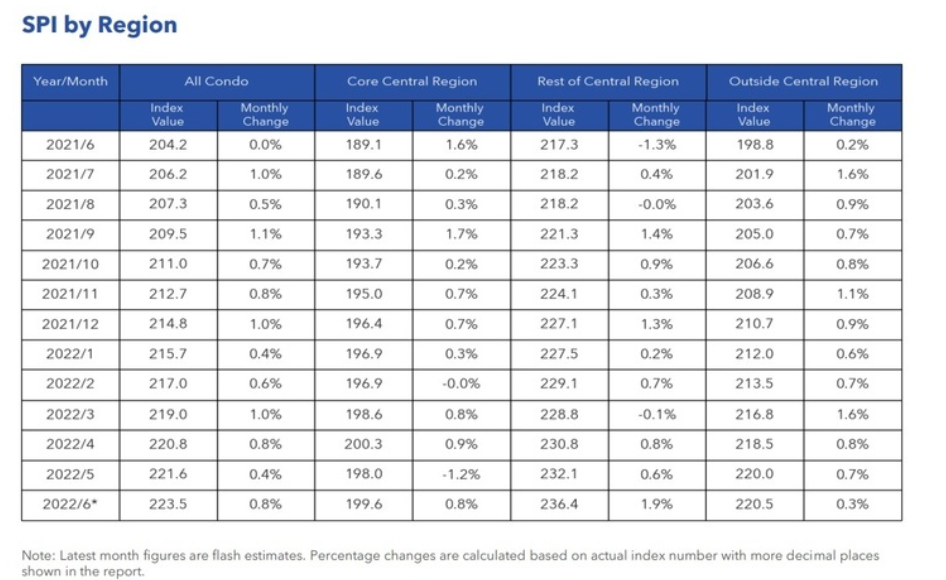 SRX also published a nice chart of the overall median range for both unlevered and levered returns for private properties resale, and the returns are just insane.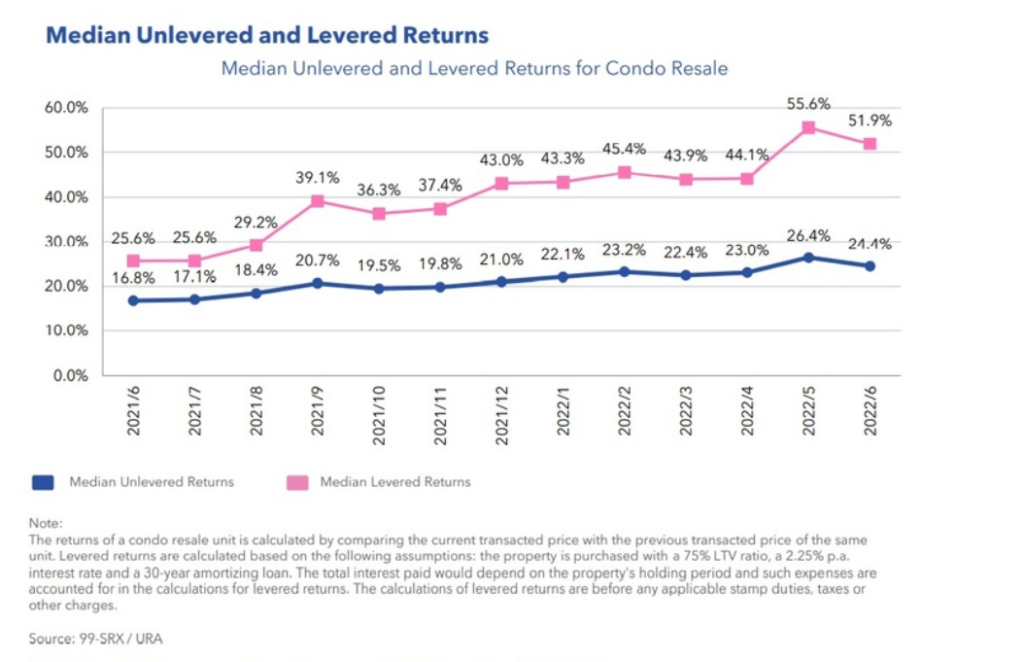 We had a total of 11 Groups that went for the viewing over the first week of listing – 6 of them were potential buyers and 5 of them were potential tenants.
My agent implemented a strategy for the viewing where most of the viewings were arranged within almost the same timing block – so it creates a sense of high demand but limited supply.
Before the viewing, my wife and I have cleaned up the place to arrange things very neatly and tidy. We used this opportunity to also dispose many things that were deemed unnecessary for use.
On the day of the viewing, we had many groups coming in at the same interval slot, so the place was pretty crowded at one point.
When my agent was busy explaining to one group, I also helped out by explaining to the other group – and this is where I get most of my insight from the potential buyers and tenants.
For renters, there were many expats who came over to view and were interested – there were Indians, Chinese, British, Scottish and South African Group.
Many of the expats were currently staying at the nearby district – Caribbean Keppel Bay, The Berth, Tanjong Pagar area and they were looking out because their lease are up for renewal and their current landlord has increased their rents by 30-40% range which they thought was crazy. Clearly, we are currently in a landlord / owner market right now so there is very little they can do to negotiate.
For the buyers, all 6 of them who viewed were Singaporean or Singaporean PR themselves.
They are either looking for an upgrade (either from HDB or EC to private) or they are moving because of the proximity to nearby primary school (parents will know how important the 1km restriction rules are).
This move makes sense because HDB and EC price trends have also benefited substantially over the last couple of years so a rising boat lifts all tides in a booming market. Even with interest rates looming higher, the demand for properties continue to remain strong as the expected returns are projected to be higher.
We received many interests and offers from the renters and 2 offers from the serious buyers within the first week of listing.
After a few rounds of negotiation over the next few days, we decided to lock in on the sale as we think it is the best decision for our family.
As we wanted to sell the property only after the 3 years mark is up in order to avoid the selling stamp duty, we had a caveat to only have the OTP exercised after mid Nov this year. With another 12 weeks to the sale of completion, we can only conclude and obtain our equities portion of the money back sometime in Feb/Mar next year.
We made a total profit from this transaction of ~ $230k. This amount is gross so it has not included the incidental fees such as commission, legal fee, valuation, etc.
On an annualized basis, this translates to about 5.5% return per annum but since we did not make full equity payment at one go, our actual leveraged returns are much higher than this.
Given that we had only "invested" for less than 3 years, it is a pretty decent return given on hindsight in all cases.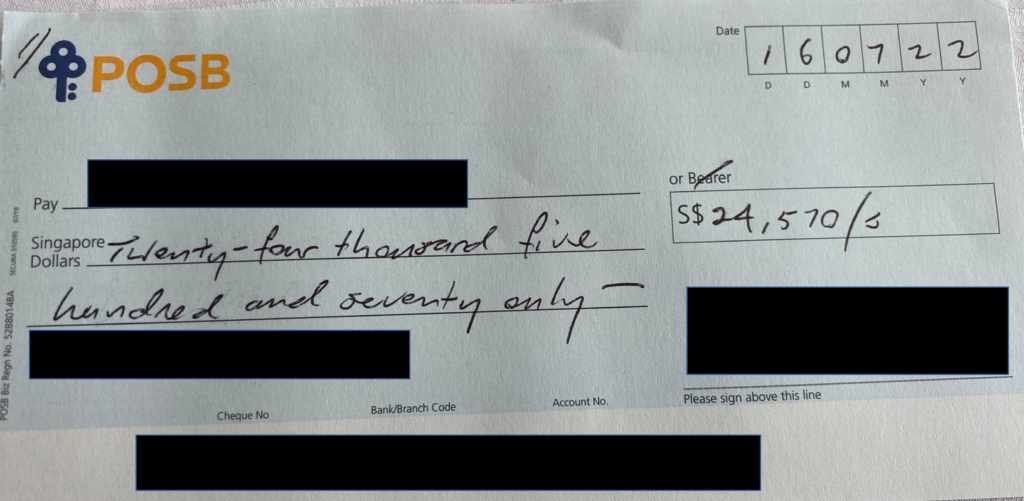 I wanted to give a shoutout to my agent who has been helping me with all the work he has done so far, not just for this transaction but also other transactions in the past.
Having an agent who can close the deal is important, but having one who is also willing to put in extra effort in helping you deal with tenants and other things is a separate thing altogether.
Do note that an agent only receives commission when he or she closes the deal, but when he or she is willing to take extra steps to help you with other things, that build relationship over the long term.
I have used my agent for rent, buy and sell transactions and for each every time, not only did he manage to close a good deal but also help out when there are things that needed to be done.
He also charges a special rate for sellers who are looking to sell their property – a typical agent charges 2% commission but he only charges half for a direct buyer. In my case above since it is a direct buyer, I get to only fork out a 1% commission instead of 2% and this helps me save easily another $10-$20k worth of fees.
If you are interested in engaging him to buy, sell or rent out your properties, do drop me an email and I can forward you his contact details.
If you are interested in my property series, I have a page dedicated to this. Do keep a lookout for more home and property series in the future.
If you have not followed my social channels, you may want to do so as I frequently post ideas and thoughts in those channels so if you are interested, you may follow me at my Facebook, Instagram or Twitter profile here.

Property