Sometime around this time last year, I wrote an article on Syfe Investment Portfolio highlighting the Core Portfolio which provides investors with a balanced mix of equity, bond, and gold ETFs.
If you have bought them, you would fared pretty well above the market average at an annualized return of -8.1% for the past 1-year but up 5.5% for 3 years annualized and 5.6% for 5 years annualized.
*Source is accurate as of 24th May 2022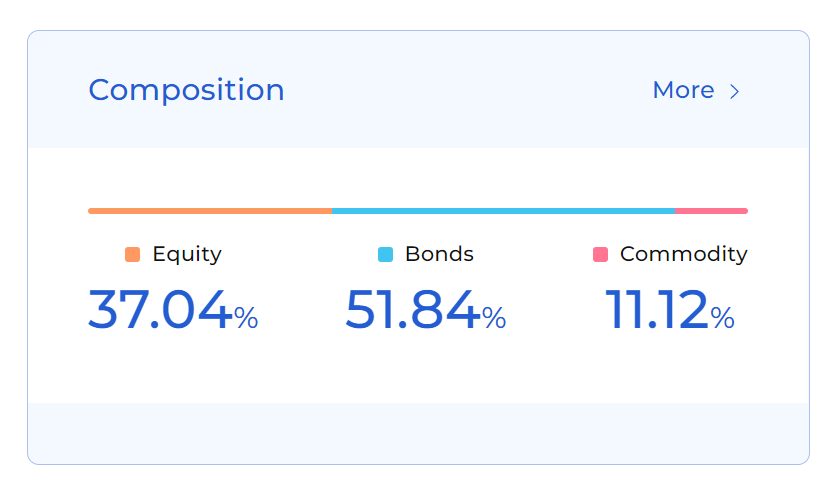 Today, I'll be reviewing Syfe Trade – Syfe's very own first step into brokerage and see what some of their competitive advantages are.
Syfe Trade is a brokerage platform which allows investors to invest in US stocks and ETFs at a low cost.
It proudly claims itself as Singapore's first neobroker – which is a new class of brokerage platforms that aim to revolutionise stock trading through innovative concepts, low fees, and easy to use digital platforms for anyone out there.
In case this is the first time you are hearing about Syfe, the company is licensed and regulated by the Monetary Authority of Singapore ("MAS") under a Capital Markets Services ("CMS") License for conducting retail fund management and brokerage activities so you can be sure that your money will be well safeguarded.
The sub-custodian for US securities is a broker-dealer registered with the SEC, a member of FINRA and a member of the SIPC (Securities Investor Protection Corporation). SIPC protects against the loss of cash and securities held by the customer up to USD500k.
One of the features which immediately struck me as hit a home run is on the fractional shares trading – which as the name itself implies, it means you can now buy any shares at a fraction of a share.
What this means is that it allows investors to get exposure to companies which they may not be able to afford the full share otherwise and this is a game changer for many beginners or young starters who may not have a lot of money to invest in the first place.
Think of it this way – while it is relatively easy to purchase a company like Apple (which currently trades at USD 141.5 at the point of writing), it may not be as straightforward otherwise if you are trying to purchase the likes of Alphabet, Tesla or Booking Holding as all of them require relatively higher capital amount.
For instance, imagine someone who had just graduated and started working. He commands a commendable starting salary of SGD 3,000 which is a good amount for him to get started on investing. After deducting for CPF and saving 15% of his take home income, he is left with around SGD 375 which he chooses to allocate it into investment.
Using the current equivalent exchange rate, this would translate to approximately USD 270 worth.
Now, without the fractional trading feature, the graduate might be able to only purchase 1 share of Apple (or maximum 2 shares of Apple if the shares continue to go down) for his portfolio. He can choose to keep the rest of his unallocated cash in his savings account until he has enough to purchase the next one the following month. Even so, he would have difficulty allocating it to multiple blue-chip companies until he saves enough to buy one.
With fractional shares, he is now able to allocate his USD 270 investment savings into three blue chip companies at USD 90 each.

Apart from being able to buy multi-blue-chip companies, this also allows for diversification so that one is not over-allocated in one or two particular stocks.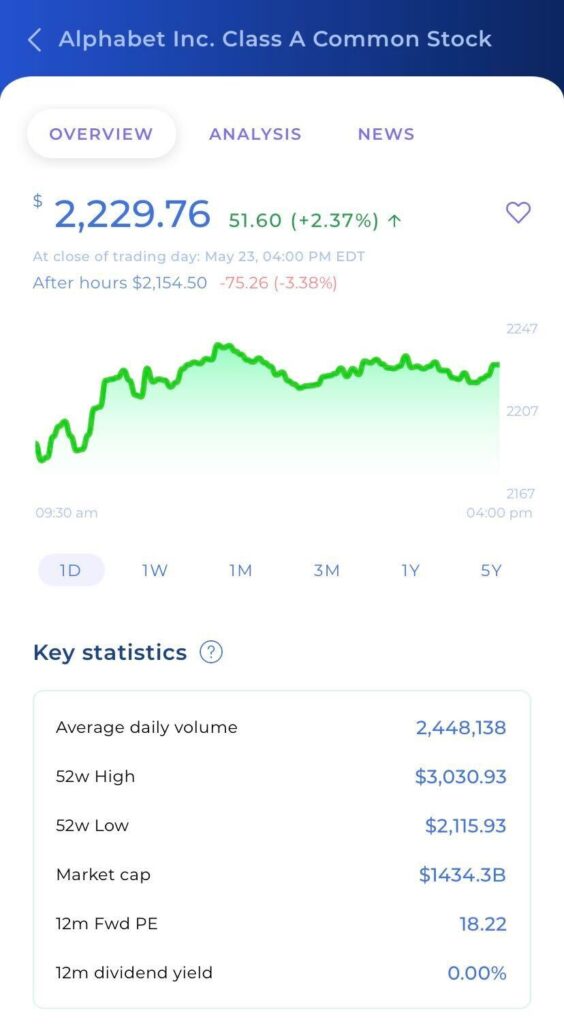 There is a quote which says something like this:
"Many people choose to go for complexity because it is perceived to perform and sell better but it takes a touch of genius to move in the opposite direction."
Simplicity is a great virtue which is under-appreciated by many people because it is perceived to be "lacking" in information when the truth is otherwise.
One thing which I like about the Syfe Trade interface is it looks sleek, clean and easy to use for many beginners especially who is starting out.
It may not have as many information as what the other online brokerages out there provide but sometimes it can be an information overload and you might be better off staying put on the information that you need.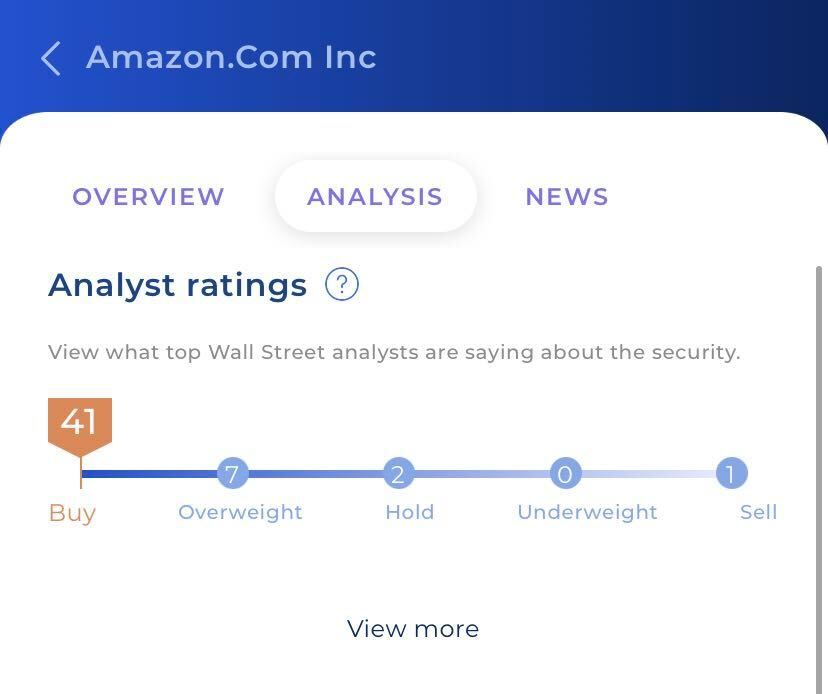 If you need more information, the app also provides other e-commerce competitors details as well as some of the top earnings momentum which you can browse and take a look.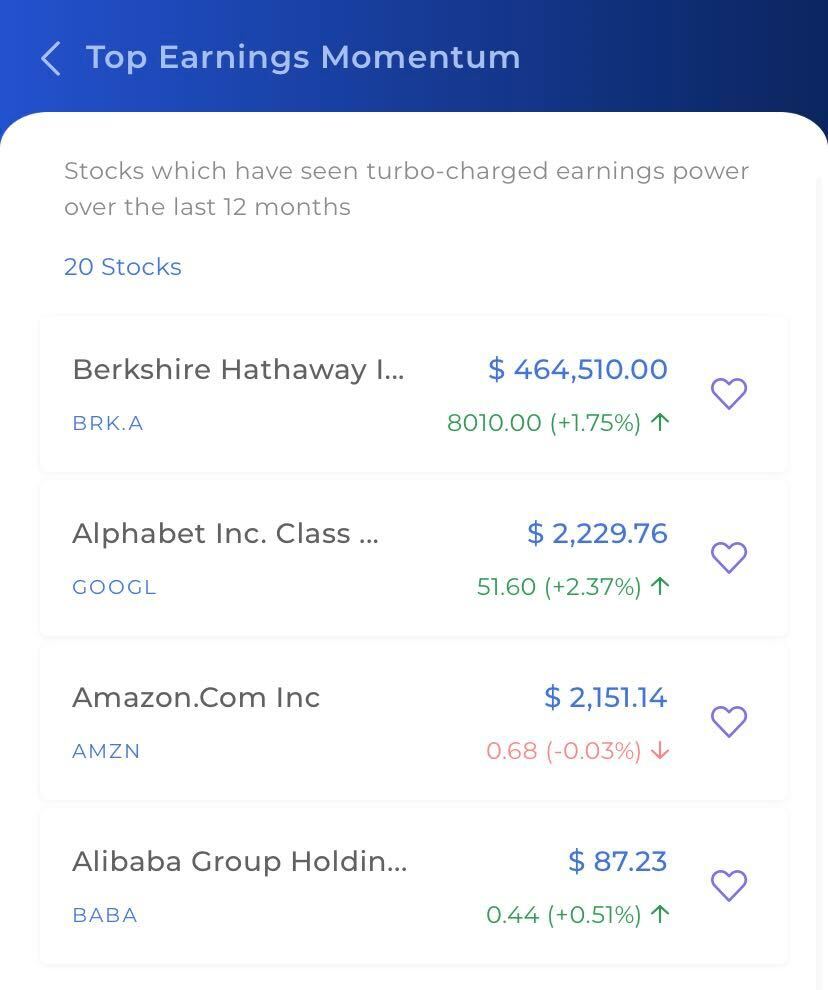 As part of its introductory pricing for users, it is giving 5 free trades per month for the first 3 months, thereafter which it will revert back to the regular pricing of 2 free trades per month.
If you trade more than the free trades limit, then you'd be charged USD 0.99 per trade for the first 3 months period and USD 1.49 for the period after that.
There are other online brokerages which may have offered zero-free commissions but if you are a beginner and do not trade often, the 2 free trades offered per month would be more than sufficient.
There are also no platform fees charged from Syfe so this is another thing that stands out.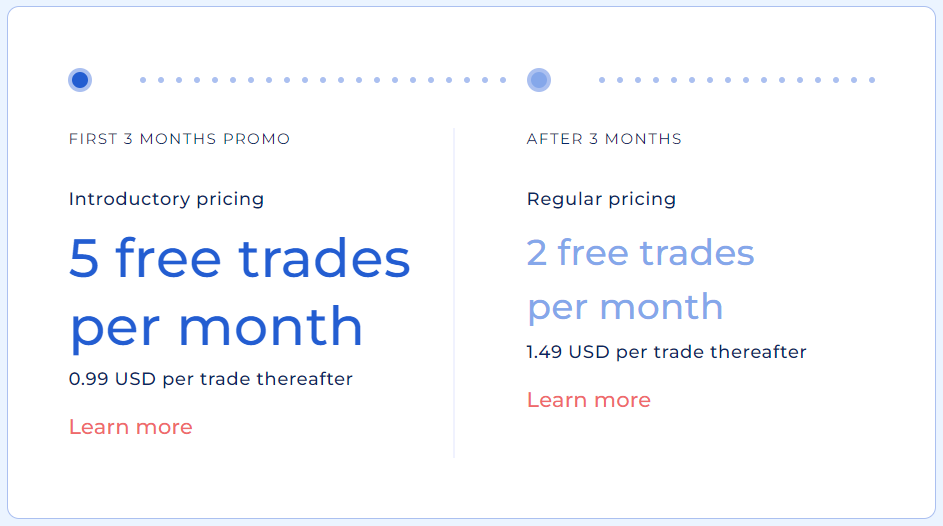 Since Syfe Trade currently caters to only US Stocks and ETFs (as of writing, it does not offer to markets such as Singapore, Hong Kong, Australia, China), users who fund their Syfe Trade account in SGD will need to convert their funds into USD first before buying. A foreign exchange fee applies for such conversions although if you prefer you can always directly fund your account in USD.
I am all in favor for competition advocacy as it compels companies to innovate and bring about the best it can offer to consumers.
There are different brokerages that may appeal to certain type of users and I can definitely see the advantage of Syfe Trade and the consumer profiles it is targeting.
For example, if you are someone who likes simplicity, clean UI and UX interface and at the beginning of your investment journey, then you may like Syfe Trade with its free monthly trades and features such as fractional shares trading.
If you'd like to give it a try, do click on the link here to sign up and use my referral link "3FS" to receive SGD10 additional on top of the SGD60 welcome bonus when you sign up on Syfe Trade.
Disclaimer: This article is written in collaboration with Syfe Pte Ltd. All views expressed in the article are the independent opinions of mine. This article is intended for information purpose only and should not be construed as financial advice. Any reference to an investment's past or potential performance is not an indication of any specific outcome or profit. Always do your own research before investing. Reference to specific securities is meant to illustrate the concept of fractionalization and neither intended nor to be construed as a recommendation or advice to buy any specific security. This article has not been reviewed by the Monetary Authority of Singapore

Brokerage
,
Products