Inflation – also known as the silent assassin of cash or deposits – is raging across the globe.
This phenomenon seems to be a trend everywhere, from the consequences of the excessive money printing from the already buoyant economy of the US to the resilient sector of the UK. For instance, the US inflation for April came in at 8.3% while the CPI for UK rose by 9% in the 12 months to April 2022.
Conventional macro-economic theory would suggest high inflation is usually not a good thing as it is indicative of the spiral demand for goods and services exceeding supply. This means prices would soon increase and clearly this lowers your purchasing power as consumers, as each dollar now buy less than before.
There will be winners and losers in this kind of environment, so it is important to keep in mind what to look out for.
Let's check out who are the typical losers in an inflationary environment (or worse if we are heading into a stagflation):
Depositors and Savers
Retirees living on fixed incomes
Borrowers of Variable floating rates
Exporters
Global economy uncertainty
Traditional savers are clear losers in an inflationary environment.
As prices continue to rise, the purchasing value of money falls, hence the real value of savings decline. Some may argue that savers are beneficiaries from the rise in interest rate deposits, but it is likely to have serious time lag.
Borrowers of variable floating rates for mortgage or personal loan will see higher interest rate incurred and this will impact cashflow negatively.
Exporters will also lose out – as the prices of goods become more expensive than other countries, it will lose its competitiveness in a macro global demand.
I will highlight three different ways you can choose to invest in order to protect yourself in an inflationary environment.
One of the ways to protect your savings against inflation is to invest in an inflation-linked bonds.
This can be done through an Exchange Traded Fund (ETF) such as iShares TIPS Bond ETF (Ticker Symbol: "TIP").
This ETF offers broad-based exposure to sovereign bonds issued by the US Government that adjusts based on certain measures of inflation. It is often used as a way to hedge other asset values against upticks in inflation as inflationary pressures intensify.
The ETF has a comparatively low expense ratio of 0.19%.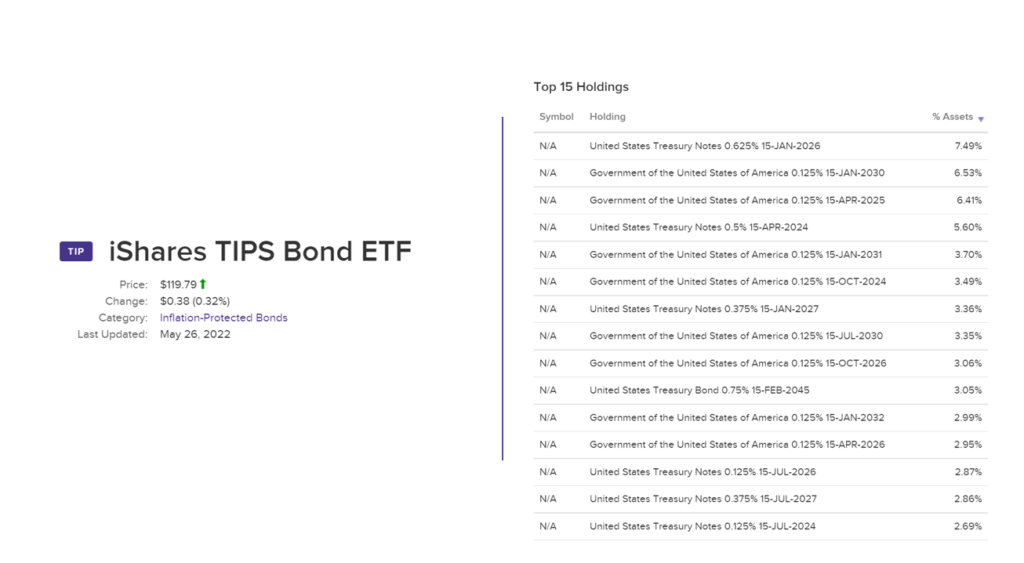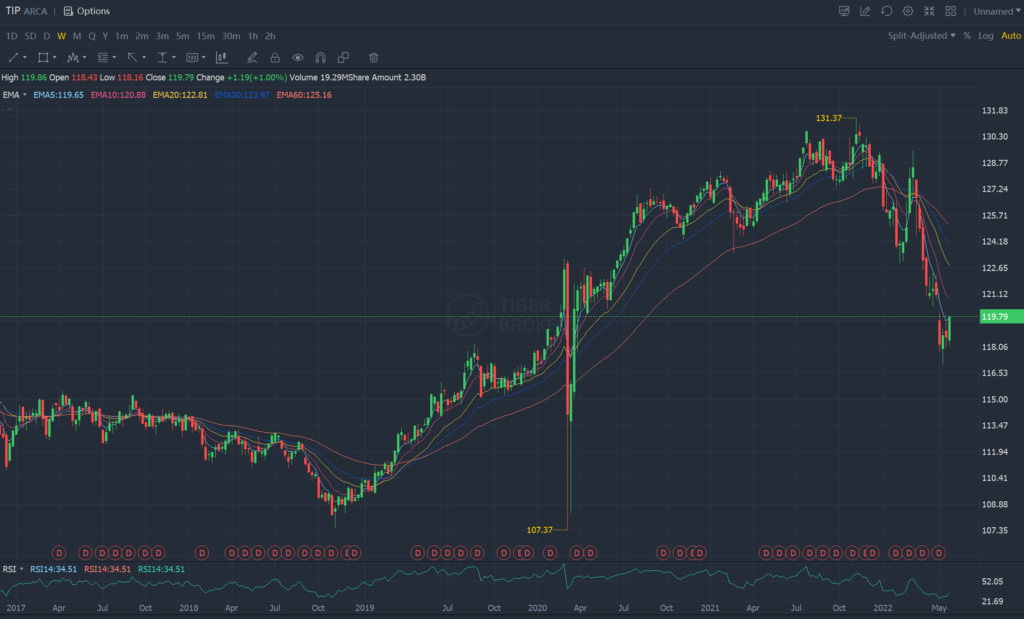 Another way to profit against inflation is to invest in broad commodity products.
Since commodities are basic resources needed in most of the things being produced, the price of commodities has a strong correlation to inflation.
One example of such ETFs is the iPath Bloomberg Commodity Index ETN (Ticker Symbol: "DJP") issued by Barclays Capital.
This ETF offers investors a good exposure to broad-based commodities including energy resources, precious metals, and agriculture. You can see that some of their top 15 holdings includes the likes of natural gas, soybean, aluminium, copper, corn, wheat, sugar and coffee.
This ETF has an expense ratio of 0.7% which is competitive against the other ETFs in the same category.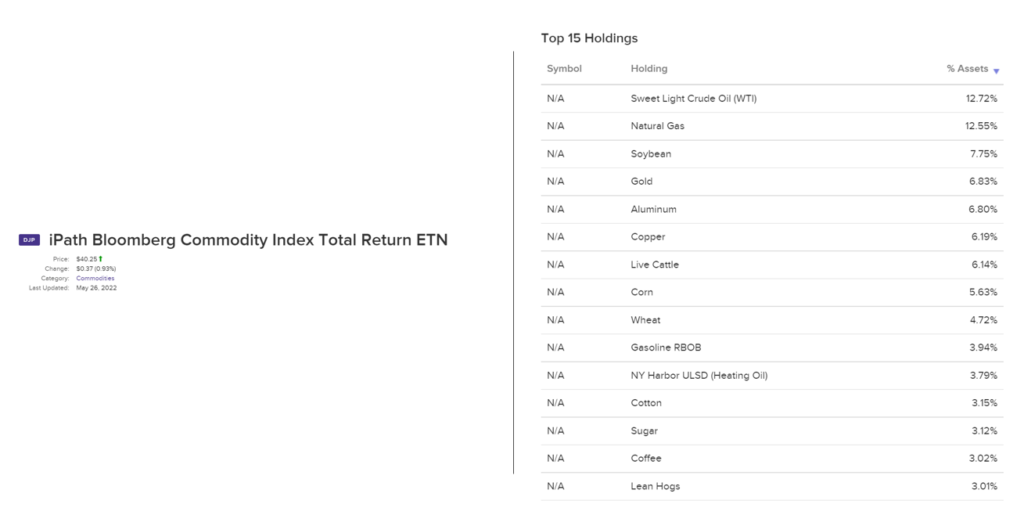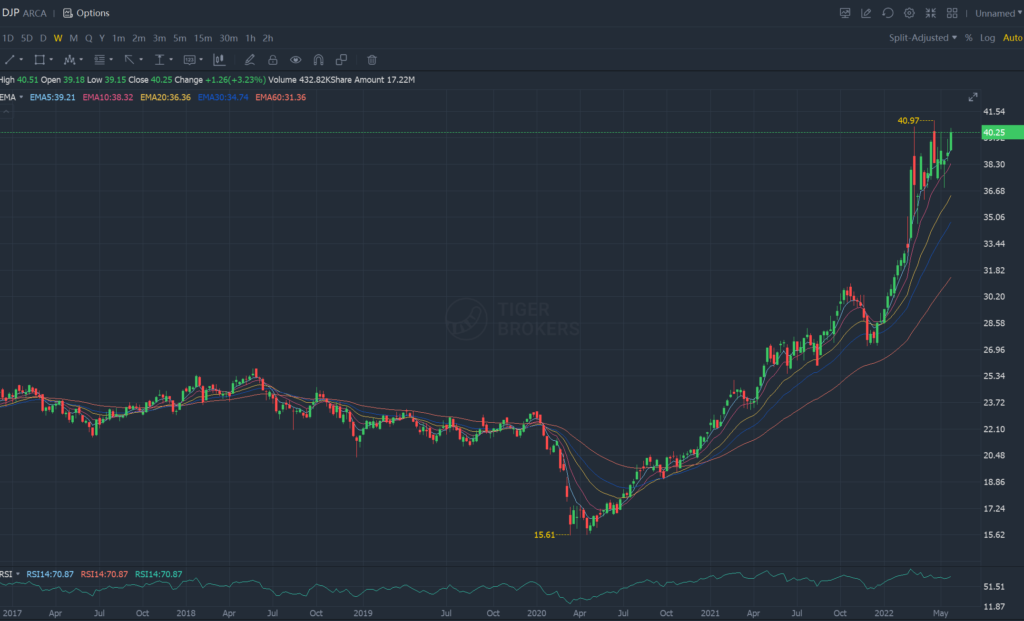 The last most popular cushion hedges against inflation which many have done is investing in precious metals such as Silver and Gold.
Gold has been considered one of the best assets to hedge against inflation and a safe haven to protect against uncertainty.
One way you can get exposure to Gold is to invest in SPDR Gold Shares (Ticker Symbol: "GLD") – one of the most popular ETFs in the world with over $63b AUM.
This ETF tracks the movement of the spot gold price and can be used to establish short term positions as a way of hedging against inflation, dollar weakness or even market uncertainty and heightened volatility. Others may also wish to include gold exposure as part of their long-term multi-asset strategies.
This ETF has a relatively low expense ratio at 0.4%.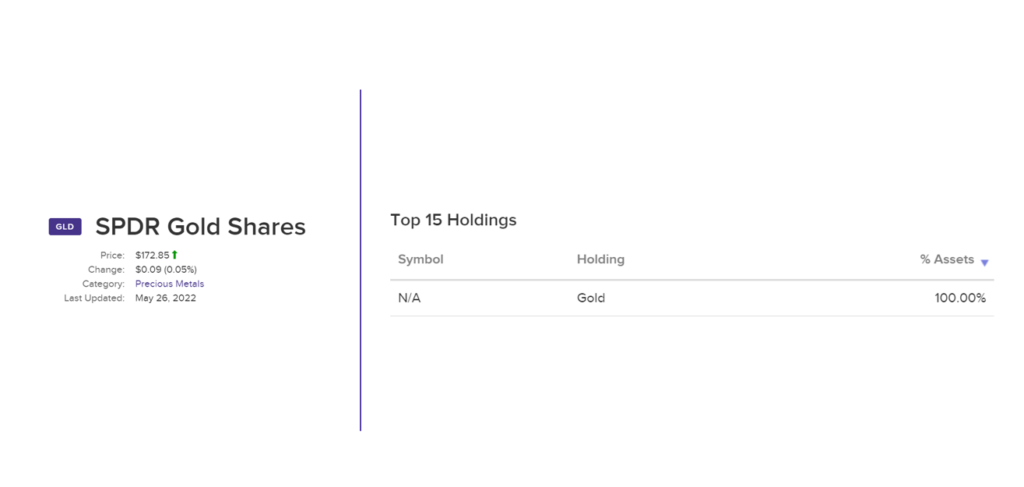 If you are thinking of opening an all-inclusive multi-asset trading platform tailored to meet all your investing needs, then you need to consider Tiger Broker.
As a leading trading platform in Singapore, Tiger places emphasis and focus on delivering the best user experience with cutting-edge technology and innovative ways to make trading accessible and convenient for its users.
A one place stops for investor education and financial literacy, Tiger also has strong and robust community profiles which play a big role in the active discussion in their ecosystem and drive interests amongst fellow investors.
It also has one of the most competitive commission and rate charges for US and HK stocks. In fact, if you sign up today, you get an entitlement of zero commissions for US stock for the first 180 days.
With commission-free trades, Singapore-based users can better capitalise on small price movements in the market and unlock cost savings with more efficient trading using Tiger Broker's trading platform. Investors new to trading can also benefit from access to US market at a lower cost.
Do kindly note though that there are still the platform fee and settlement fee which will be incurred but these are now capped at 0.5% and 7% of the trade value per order.
On top of that, you will also get free share and cash voucher entitlement as a new user – including a chance to win shares such as Tesla or Apple when you deposit a minimum of SGD 2000 into the account.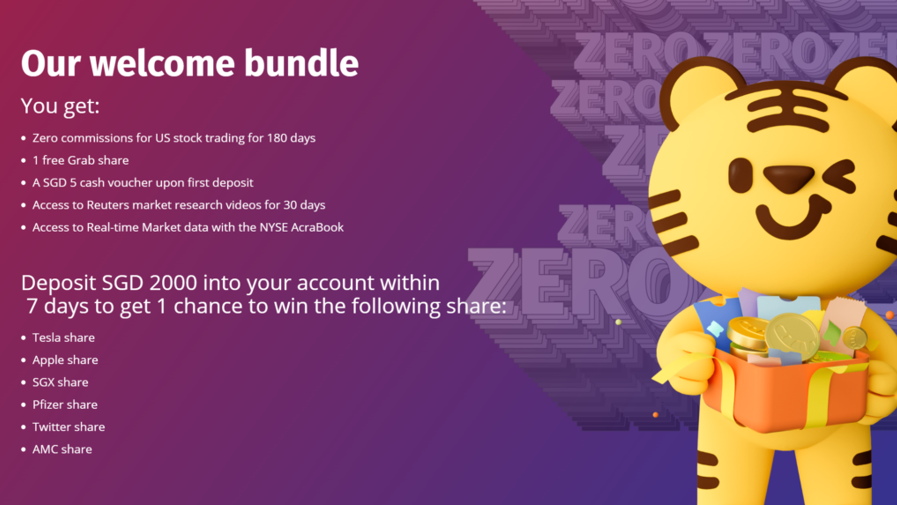 If you like to give it a try and never had a chance to do so, do consider their welcome bundle promotion here.
Against the backdrop of geopolitical and macro-economic uncertainty in 2022, maintaining a diversified portfolio in an inflationary environment has become crucial to investors.
In this article, I have highlighted 3 different ETFs that are potential beneficiaries to a rising inflation environment.
By studying them more in detail, this may help hedge portfolio risks and moderate rising volatility to tide through these uncertain times.
Disclaimer: This article is written in collaboration with Tiger Broker Singapore. All views expressed in the article are independent opinions of mine. This article is intended for information purpose only and should not be construed as financial advice. This article has not been reviewed by the Monetary Authority of Singapore.

Brokerage
,
Funds