I am pretty sure Property Guru (NYSE: PGRU) needs no further introduction in our local SEA context as most of us would be familiar with the company and how it operates.
For some who are not aware, Property Guru began trading on 18th March 2022 this year, raising gross proceeds of approximately USD 254m after previously merging with Bridgetown 2 Holdings Limited.
It debuted on the New York Stock Exchange (NYSE) at USD 8.61 but has since seen lacklustre performance in line with most of the other global markets given heightened market risk and volatility. Since making its debut, it has fallen by 14.2%.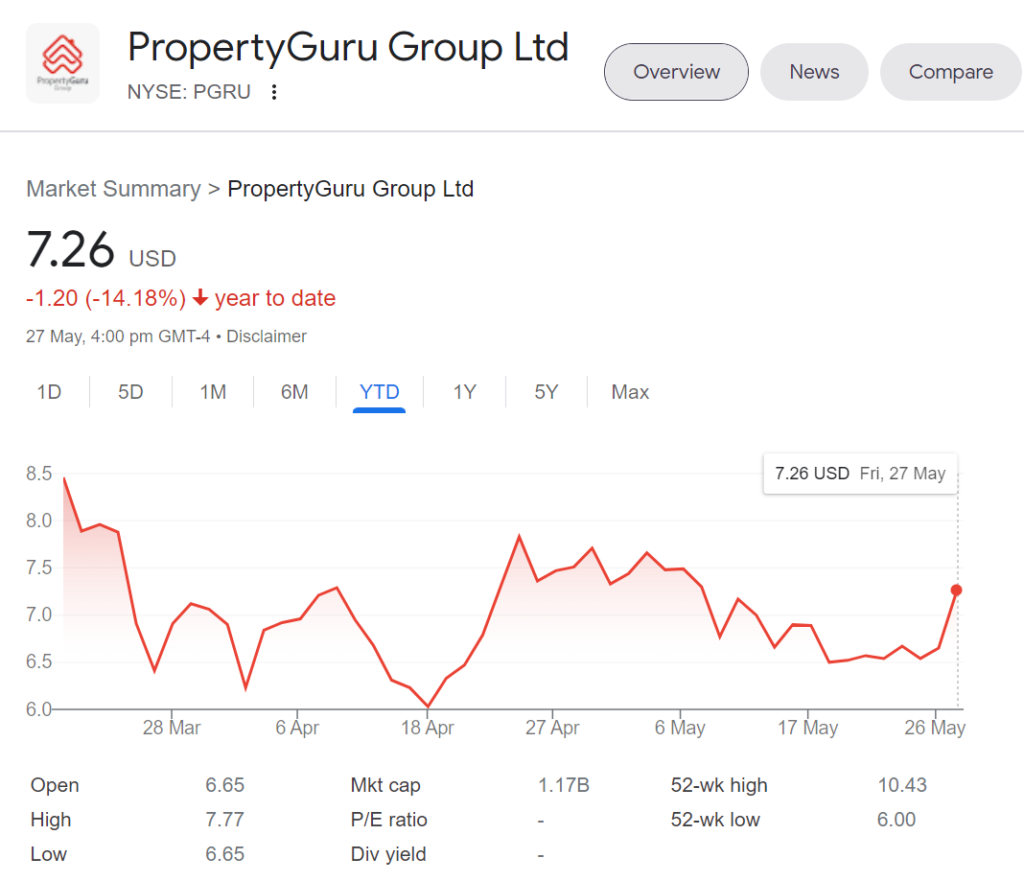 The company made its first earning announcement since going public last week, and being an acquainted user myself in the past, I am curious to see how the company performed for the first quarter Q1 2022.
To summarize the results, this is a brief glance of how they performed:
Total revenue increased 42% YoY to SGD 28.2m.
Marketplaces revenues increased 41.7% YoY to SGD 27.2m, driven by increases across the segmental board which include Singapore, Malaysia, Vietnam and Other Markets.
Adjusted EBITDA turned positive for the quarter at SGD 0.9m.
Net Loss increased to SGD 120.3m but the majority of this expense was related to share listing expense (SGD 104.9m) and legal fees (SGD 18.4m) pertaining to the IPO.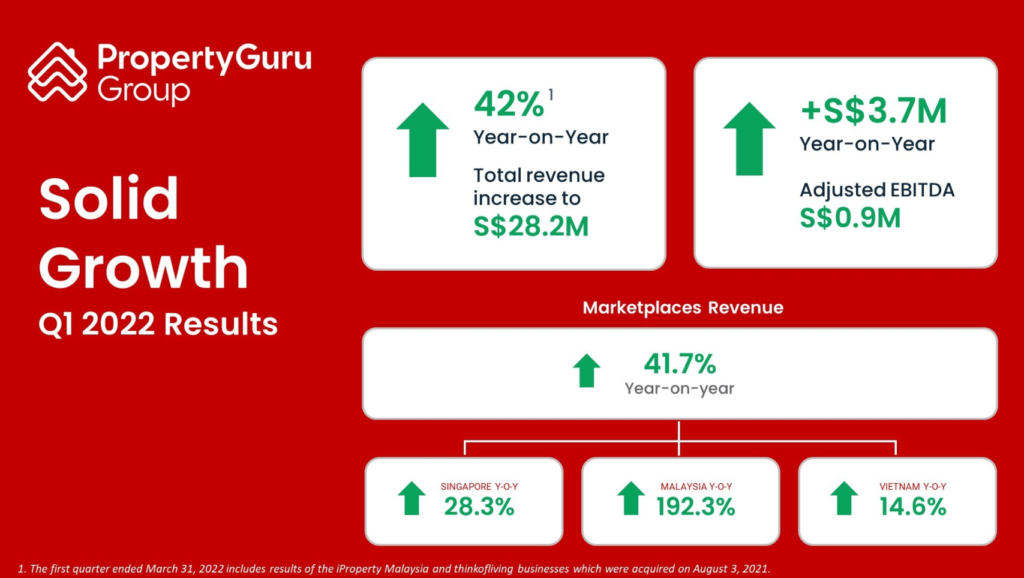 I want to draw particular attention to Malaysia, as that numbers include the post-acquisition of the iProperty business, which they've acquired in August 2021.
EBITDA margin is positive across the three developed and mature markets they have been operating, i.e. Singapore, Malaysia and Vietnam, while still making losses in other markets and also its Fintech division.
The fintech division includes the recent launch of mortgage marketplace including Property Guru Finance in Singapore which I have previously done an article on (you can read it here), and also other acquisition such as MyProperty Data (Malaysia's largest online property data company).
The goal here is to make home financing fully digital in order to make the process seamless for home buyers and this will in turn create additional revenue stream for their agent partners (company takes a cut too of course).
These investments are still in an infant stage so they should be poised to grow higher over the next few years.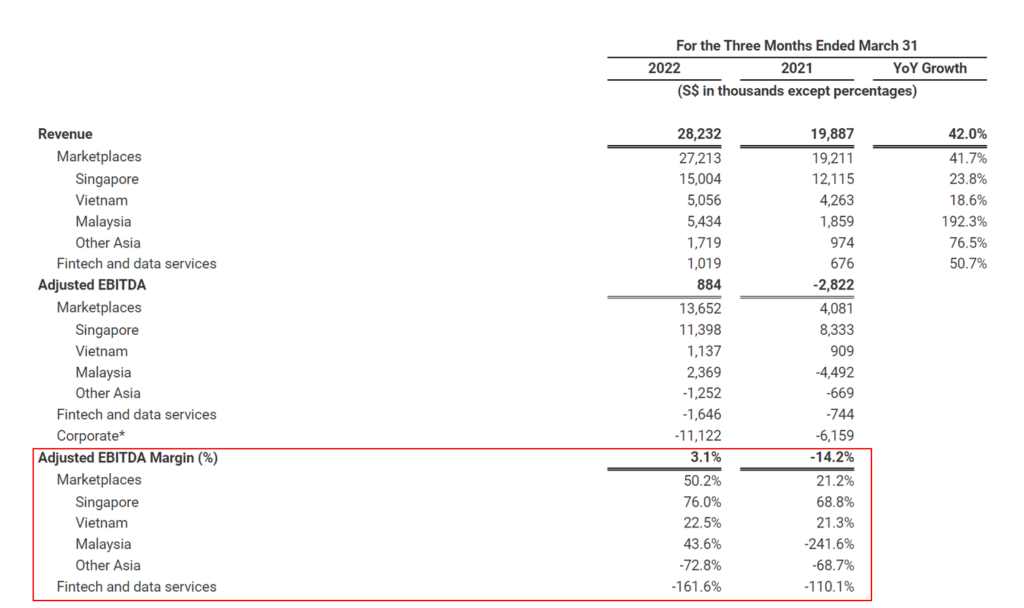 One of the key operating metrics which they did not show in their presentation files but I think is important is the Average Revenue Per Agent (ARPA), which have seen an increase of 25% as compared to the previous period.
The better performance was driven by increase premium product adoption and flow through effects of the subscription price increase in Q4 2021 as demand hots up.
Subscription renewal rate is at 79%.
Another metric which is important to take note is the yield per listing – since this will determine how each listing performs in relation to the views and revenue it brings in.
Average revenue per listing grew by 2.4% YoY as a result of the increase penetration of premium products.
The company has a strong balance sheet since it just raised proceeds not too long ago and it has maintained positive EBITDA, so most of the available cash would be directed at expansion and productivity increase, which should bode well for its operating metrics.

I like what I've seen so far based on the Q1 earnings especially on its operating metrics which have seen an uptick already in this quarter.
Management has guided for SGD 145.1m revenue for full year and an EBITDA of SGD11.4m, which would value its current business ex. cash at 5.5x sales multiple to its Enterprise Value.
If we use an EV to EBITDA multiple, it is at an unattractive value of 70x. Given the company is still in a growing phase, I do not think this is a suitable model to value this company.
Q1 is seasonally a slower quarter due to the Lunar New Year so we should see better uptick in quarters to come. But more importantly, it would be nice to see how the company will be utilizing its cash to move into other markets or segments.

Property
,
Stock Analysis