I attended one very interesting Group Research Project in recent weeks which I wanted to share my thoughts.
The Project was about measuring the correlation between income to expense ratio over happiness level.
I'll explain in a little bit about how this works.
The Group of attendees were selected randomly but selectively through (I suspect) a measure of certain criteria which they need, for example certain profession or a certain income level. So when I was selected, I recalled that I was supposed to reveal my profession as well as how much gross income I am earning as well as bringing home, but I was not asked for the spending part until I was actually in the discussion itself.
The first round (again I can only suspect) was a gathering amongst a certain type of profession and managerial level, so I recall those that were in my group belong to mostly manager within their own career capacity. We were asked to reveal our professions and also our happiness index level.
This was a bit vague so they gave us an indication of happiness from a scale of 1-10. Generally, if you score 8 and above, you are considered to be "happy".
I was not surprised to be honest to see the majority of us scoring well below the happiness index as people in Singapore tends to be generally unhappy, even with a high enough income and good career progression.
For the second round, they have us mixed around in private and once again ask us the same question but this time instead of asking about the income and happiness level, they included the expense in the mix – which makes it a question about income/expense ratio over happiness.
So if you are earning $50k/year but your expense is $25k/year, your income to expense ratio will be 2x while another person who is earning $200k/year but expense at $150k/year will be having an income to expense ratio of 1.33x.
Once everyone has done this exercise, the researcher would share with us their findings.
Not surprisingly (at least for me), those who had an income to expense ratio of more than 1.8x has generally high correlation of happiness index over those with lower ratio. In other words, I began to conclude that the amount of income you earned only matters as much as how much expenses are you spending with it. Basically, if you start earning $200k but having to pay huge amount of loans throughout, your life would likely be stressful and thus this will affect your happiness level.
Although the research did not cover this aspect, but my hypothesis is once you get busy enough to climb up the ladder, you will also lose other aspect of life such as having a hobby, having time to exercise or spending time with family, etc – unless your expenses is low enough such that you kept your high income job as an option and not as a slavery.
This was a study conducted by Expensivity by using the Purdue's methodology of measuring happiness and income satiation adjusted for the Purchasing Power Parity (PPP) conversion factor from countries all over the world.
The figure is in USD.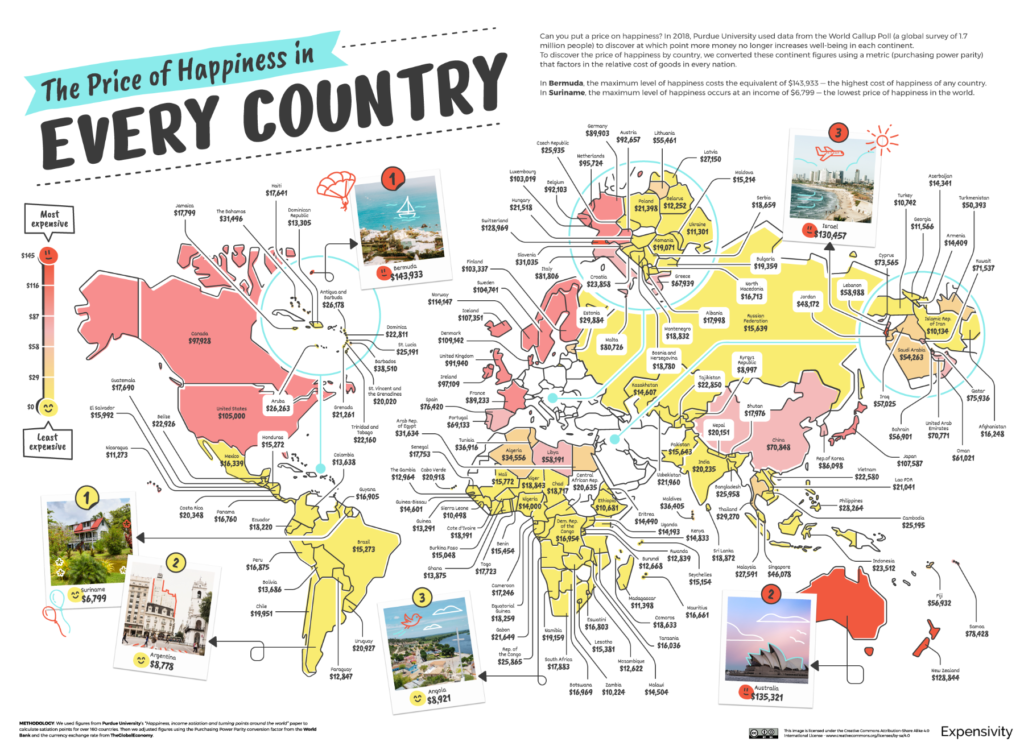 You can see here that the price of happiness is highest in the Bermuda, where is it well known for luxury resorts and vacation at a $144k high while lowest is at Suriname (somewhere in Latin America) at around $7k.
Based on the study conducted, we have around $46k for Singapore (~SGD 62k / annum) which is not far away from the median income we have here. Do note this study was conducted back in 2019 so adjusting for inflation, this should increase more.
Somewhere in this research study, nations were asked for their reasons for happiness despite a lower income to happiness capita and one of the top reasons was nature. I am guessing they are trying to say that some of the best things in life are usually free such as walking through nature, hustling around with friends, exercising, etc.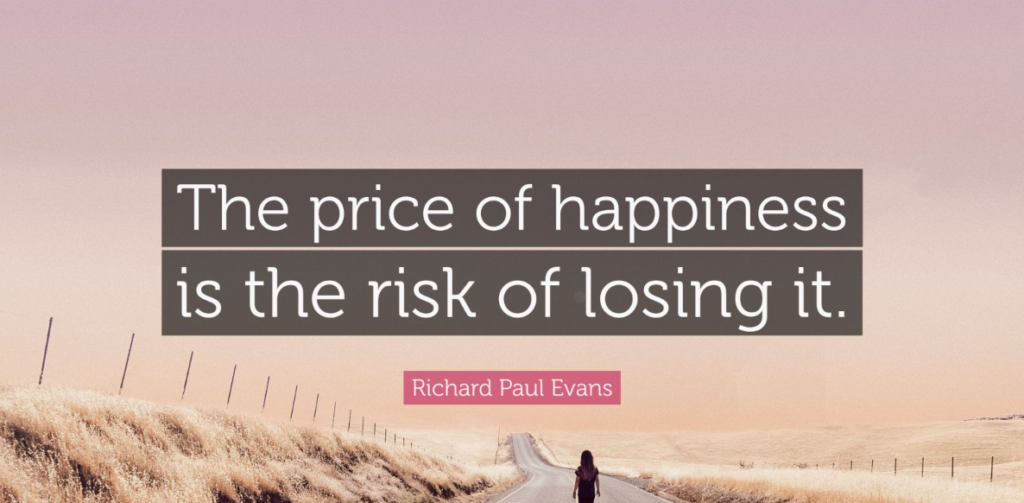 It all starts with us.
We may not always realize it and I myself am always guilty of it, but we probably have or be able to afford almost anything more than half the world can on any given basis.
If there is something that is holding your happiness back, it may be time to relook at the deeper problem inside and hopefully through that we can identify and better understand our inner selves by giving it room.

Personal Development