Market is in an unforgiving mode this year after we've seen a battered meltdown in many growth technology and e-commerce stocks.
While most of these companies are still in positive territory after their strong run-up during Covid, many of them are starting to give up their gains in the past couple of months.
The past couple of weeks we have seen a few notable companies with the likes of Netflix, Meta, Paypal and Shopify taking a beat from the market after earnings. With earnings still to come from many of the other companies, we could very much see a repeat of the same.
This article is about SEA Ltd and in this article I will explain why am I not a buyer at the moment despite the shares already crashing more than 60% to date from its peak.
Let's recount the timeline event that leads to the recent reversal of the trend.
In Q4 last year, SEA LTD raised more than US$6b in one of the largest equity offering in the year to propel more growth beyond gaming and e-commerce
Garena slowdown in the last earnings is a warning it will face a tough couple of quarters ahead
Tencent's announced divestment on the 4th January sent its shares into freefall
PUBG Developer Krafton, filed lawsuit against free fire developer Garena
Unfavourable Macroeconomic factors
The initiation of the short strategy is based on the premise that the upcoming full year earnings will be "ugly" and market will not like it. This should not concern however if you are a long term holders as the longer term prospect will remain elevated due to the continuous pillar growth of other areas such as Sea Money.
Sea's last quarterly earnings brought to light that Garena's growth – a pivotal pillar which drives cashflow into all the other businesses of the company which are burning cash – is slowing down. This is an expected situation which comes from every businesses who eventually go into maturity and should not be a concern long term but the market may still not like it short term and this drives volatility.
Earlier, Garena raised its guidance to $4.5b – $4.7b for 2021 bookings. With its first three quarters already at $3.5b, this implies that bookings in Q4 will come in at $1b thereabout, which will be a further decrease on the growth QoQ. Will be very interesting to see how they guided for 2022 as well.
Furthermore, the expansion on the E-commerce and Sea Money will result in more "negativity" in the short run as costs will ramp up, pushing EBITDA under heavy pressure. We know this is a deliberate action done by the management team but market may not like it in today's environment.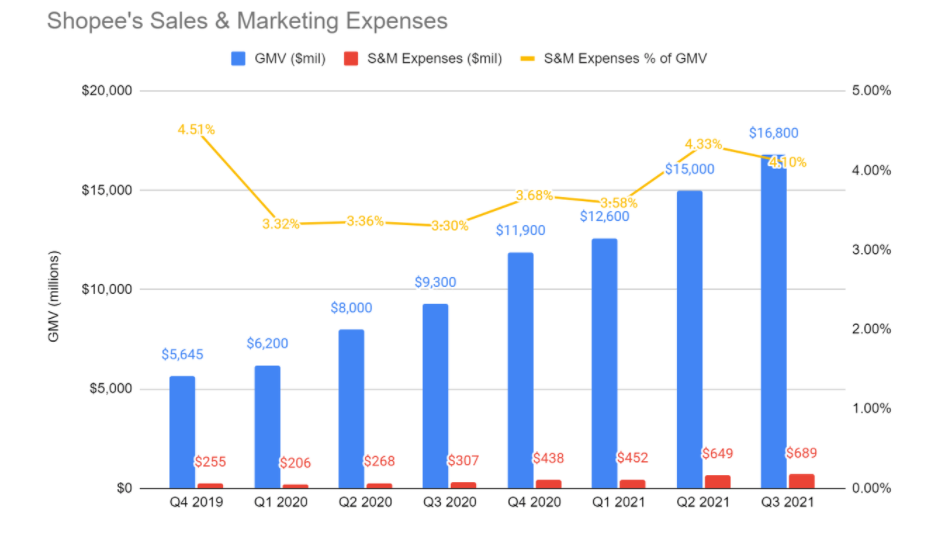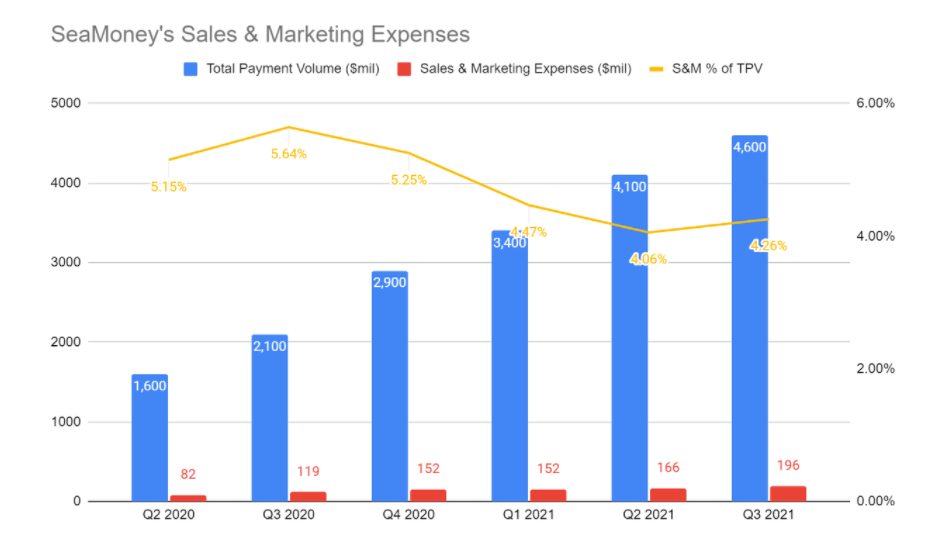 The stock has entered the downtrend zone.
You can see that lower trend channel playing out with the EMA20 acting as a resistance in the past couple of sessions when the stock did a dead cat bounce and then moves down lower.
I believe the same is playing out with the current situation where it is heading towards the $163 before moving lower. This would coincide nicely with the earnings in a couple of weeks time.
At the very least, the share would test the previous low of $120 once and if market decides to be unforgiving, it could even test the lower channel at $100.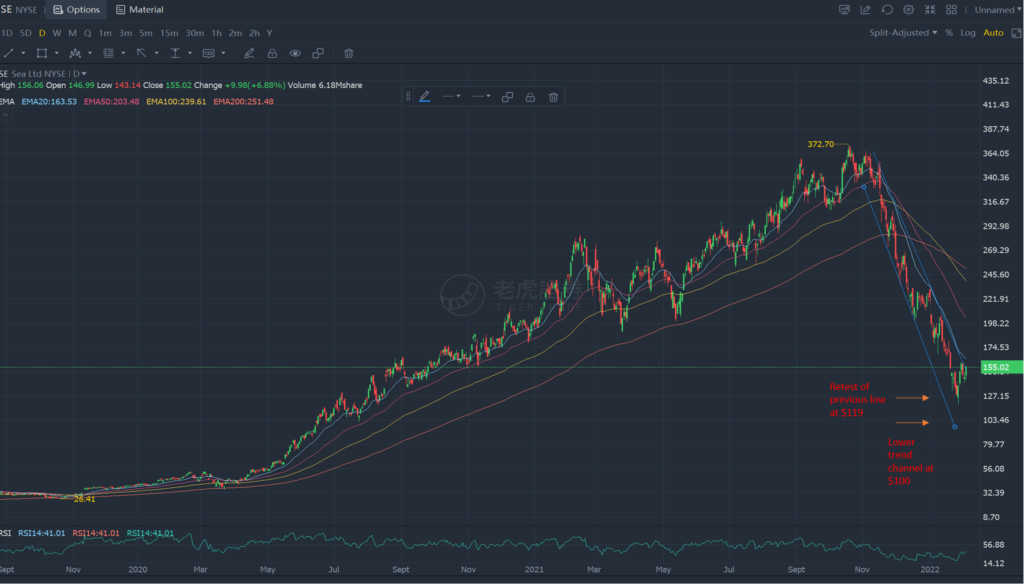 This article is written with emphasis on its upcoming earnings and short term outlook.
There are a few ways to play around this but going long is not one of them, at least in the immediate term.
Your maximum reward would be to wait until the share price goes near the resistance level at $163 before deciding to short or buy a put.
You could alternatively write a call at $163 or slightly higher to buffer yourself for a good margin of safety.
I am likely to do both and coincide this with the full year earnings when they announce by late Feb.
Longer term wise, it'll be interesting if we can pick this up below $100 level.
P/Sales valuation is not at the compelling buy situation yet so this could drop lower than what we think, even if the future looks bright with Sea Money coming up. Having said that, the latter is still burning cash along with its e-commerce business which is heavy in expansion.
It may not necessarily go there so as investors we have to weigh in both the risk and rewards going in at this point.

Stock Analysis