In my last portfolio update, I revealed a position in HUYA Inc. (NYSE: HUYA) which I recently undertook. I had a long position in the company at a purchase price of USD 14.88.
I was a little skeptical at first given the uncertainty of the Chinese strict regulation and a lot of the Chinese companies have been impacted negatively in the past few months. However, upon further deep dive into the company and its prospectus, I decided to put faith in my decision.
Based on the price action alone in the past 5 years, this does not look anywhere near justice. In fact, it looks like a company in trouble. Basically, it is a very predictable movement in the price action where the share price visited near the low of $15 in each of the year in 2018, 2019, 2020 and 2021 and then bounced back up strongly thereafter.
While growth rate is visibly slowing down in some of the key operational metrics in the past few quarters due to a saturated market where DOUYU and BILIBILI are competing with them, I believe there will be a transitional change in the business monetization model once post-merger with DOUYU is approved and done with.
Together with an undemanding valuation which I have explained more in detail below, this makes it a calculated buy at this point.
But first, let's take a look at the business model of this company.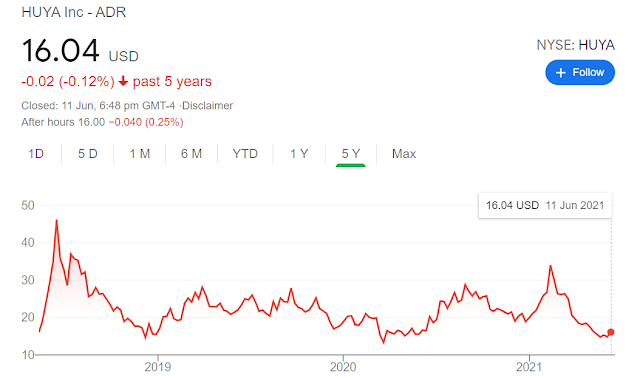 Source: Yahoo Finance
Business Model
HUYA INC. is a one of the leading game live streaming platform in China with a large and active game live streaming community.
The company was initially established in 2014 as a game live streaming business unit of YY INC.
HUYA cooperates with e-sports event organizers as well as major game developers and publishers, and has developed e-sports live streaming as one of the most popular content genres on its platform.
Popularly known as the "Twitch of China", HUYA is the first Chinese company to expand into the West with its first ground breaking deal with Team Liquid (one of the most valuable e-sports team around the world).
Emergence and Popularity of E-Sports
The emergence and popularity of e-sports tournament worldwide is on the rise.
In the West, e-sports tournament has consistently attracted more than 100m viewers in the past 3 years and this number is growing rapidly across the years.
In Asia, e-sports was featured as a medal event in the 2019 SEA Games in Manilla while there are discussion about including e-sports tournament as a demonstration sport in the upcoming 2024 Paris Summer Games.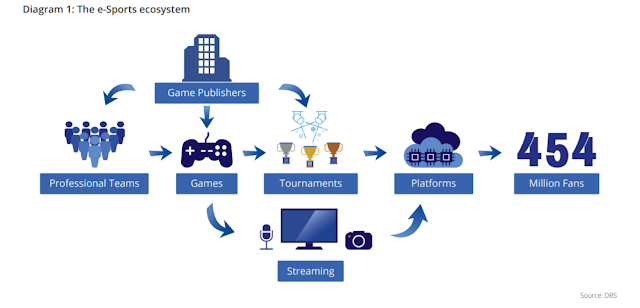 Source: DBS
These development built the foundation for the industry needed to succeed in today's world.
We see massive number of organizers holding gaming competitions where the top prizes can amount to million of dollars. In fact, the prize money for 2019 DOTA 2 International competition held in Shanghai amounted to a total of USD34 million.
According to a report by NewZoo, the industry is expected to grow at an exponential of 25% over the next 3 years. This bodes well for a relatively young industry which is gaining momentum.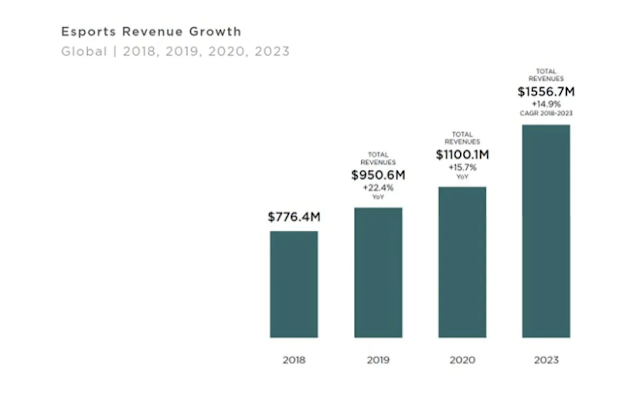 Source: NewZoo
HUYA's Huge Opportunities Lies in its Transformation of its Business Model
When someone look at HUYA earnings result, they quickly point out that the growth has been stalling and slowing in the past few quarters.
If we look at some of the data from the earlier years, they've managed well to sustain the growth in the Monthly Active Users (MAU), Mobile MAU and Paying Users (PUs) – building an ecosystem around the platform to keep them engaged.
The current business model of monetizing the platform today is tricky as HUYA generates the majority of 95% of their revenue from the sales of its virtual gifts on its live streaming platform while only 5% of the revenue comes in from digital advertising.
This means paying users, also known as "fans" come in to stream and watch their favorite gamers perform and then purchase and send gifts to them. As a streaming platform, HUYA gets a cut of that gift fees.
You can see that the room to maneuver this is very low as conversion tends to gyrate within the 3-4% rate.
This means that for every 100 active users you bring in to the platform, only 3-4 people are contributing to its topline. The rest of the 97 are what I call as active but non-contributing to the company's revenue. In other words, opportunities are "wasted".

Source: 3Fs Working Compilation
Our generation today consume a large part of information from the internet today.
The ability to create an eco-system inside and within its large monthly active customers mean that there is clearly huge opportunities within the monetization model that they have yet to tap into.
While this currently contributes only 5% of the company's topline revenue, they will be able to quickly scale up their growth topline should they change their business model to incorporate more advertising, subscription and broadcasting – which I am sure is already in the pipeline now that Tencent is the controlling shareholders post-merger.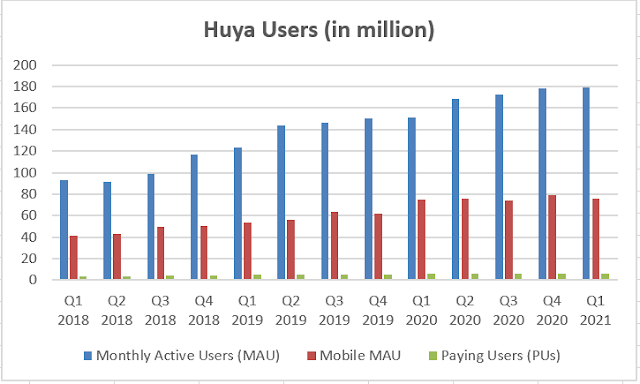 HUYA needs to monetize the model better to utilize all these available and engaged MAUs
Lesson to learn from Twitch
Twitch was a company that was bought by Amazon back in 2014 for $970m at a valuation of 70x Price to Sales. Clearly, Amazon sees an opportunity back in the days that no one saw and has clearly made that investment paid off in the long run.
The company main revenue stream comes in three main channels – Advertising, Subscriptions and Broadcasting.
According to a source from SuperData, Twitch's revenue surpassed Youtube's gaming revenue from 2018 onwards, racking up over 20% from the overall gaming streaming channel.
The biggest income stream comes from advertising, which they managed to chalk up over $400m in 2020, followed by subscription and broadcasting. In the space of subscription, subscribers can sign up to Twitch Prime for $7.99/month for which they are also entitled to streaming content from Amazon Prime video (a good thing that post-merger HUYA-DOUYU Controlling shareholder is the mighty Tencent Holdings).
Today, the company is estimated to be worth more than $20billion in market cap, which is almost a 20x investment return for Amazon within the space of 7 years.
Merger with DouYu
For a long time, the competition within the streaming and gaming space has been dominated by big players such as HUYA and DOUYU. The planned merger of HUYA and DOUYU will create one large dominant player in the industry.
This means that once the two companies merge, a gigantic one combined platform with a market value of over US$7 billion will be created and it captures more than 80% of the entire market share within China.
The merger may provide many economies of scale within the space of sharing one common platform and operational efficiencies without having to think about wastage and challenges that they have previously faced against one another.
Like HUYA, DOUYU's unit economic growth is visibly slowing down as well, as evident from the lower increase in the monthly active user and paying users conversion.
Post-merger, should it be approved, will see DOUYU gets delisted from the US market while HUYA will remain as an enlarged entity.
HUYA is offering 0.73 American Depository Shares (ADS) for each DOUYU ADS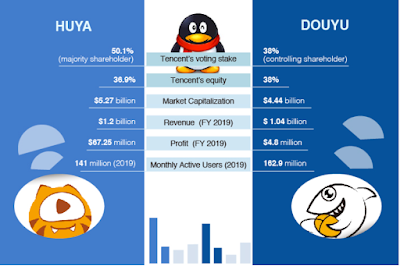 Source: CaixinGlobal
Financials: Cheap Valuation
HUYA is today valued at a market cap of around US$3.5b while DOUYU is valued at around US$2.9b – I think it's incredibly cheap at how the market is valuing them at the moment.
A quick look at the balance sheet across the past 5 years and you can see that the net assets of the company have been growing larger and healthier. This gives us the assurance that at least the company is moving into the right direction.
As at 31 March 2021, the company has more than RMB 9.7b in cash equivalent (sum of Cash and cash equivalent, Restricted Cash and Short-term deposits) and no debt borrowings. Most of the liabilities are related to the accrued and deferred revenues.
If we take the total of the cash equivalent of RMB 9.7b (~USD 1,481m) divided by the 236.2m number of shares outstanding, we get around USD 6.2 / share.
This means that at the current market cap of around $3.5b, close to 40% of current market cap belongs to cash value in their books. If we further add the investments portion, this will add another 10% of the current market cap to 50% overall.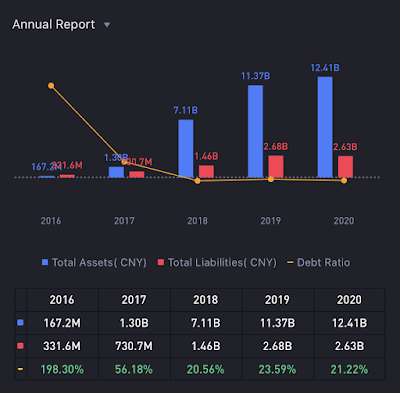 Source: Balance Sheet FY2016-2020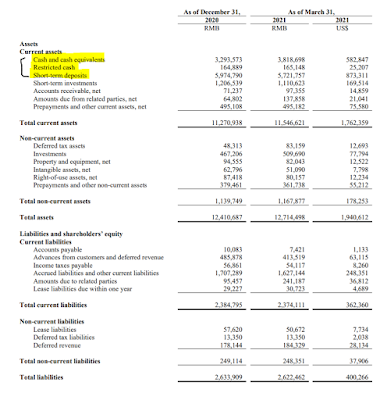 Source: Earnings Result Q1 FY2021
Furthermore, the company has garnered US$1.67b in total revenues for FY2020, which puts the current valuation at Price/Sales of only 2x (Current Market Cap / Total Annual Revenue).
If we exclude the abovementioned existing cash and investment, this will put the company's valuation at only Price/Sales 1x (ex-cash and investment). This is incredible cheap even for a company that's not growing, let alone one that is in the industry leader like HUYA.
To give a perspective of reminder, Amazon bought Twitch back in 2014 at a value of $970m at around Price/Sales of 70x and today Twitch is estimated to be worth $20b. While we don't expect the combined entity of HUYA and DOUYU to get anywhere near Twitch for the near term, I think there's still room for upside.
Final Thoughts
I've put some money in my position for HUYA because I thought there are greater risk reward for the company at the moment which might paid-off.
Clearly, a lot of things can go wrong from here, for example the merger is not approved which might provide a setback to the company going forward.
Currently, HUYA short volume ratio is a high 32% and I believe there are many who are suppressing the company's actual worth because of many of such uncertainty.
With the post-merger play ongoing and a transformation in the business model, as well as an undemanding valuation, a 100% upside target to $32 is not unlikely in the next 12 months. This puts the company at a market cap of around $7b or a price to sales (TTM) multiple of 4x, which is still very much reasonable for such a company.
As always, do your own due diligence and let me know what you think in the comments below.
Thanks for reading.

Stock Analysis