Patience is one of the key traits in investing.
But we hardly see them after the resurgence of tech investing these days.
Patient investing does not necessarily mean you have to hold the shares in your portfolio for the long term or infinity period.
I get a sense that many people are misinterpreting this as they thought the longer the hold the better the returns will be. Not every investment will fall under this natural cycle, as they are many factors, both internal and external that would affect this. For example, companies in the oil & gas or property cycle are likely to be cyclical and regulatory in nature so the underlying fundamentals will shift with the circumstance.
STI Component
The STI Index has not been doing "particularly well" if we compare where they are today versus where they are 5,10 or 13 years ago.
This hypothesis is likely to change as the situation for the Covid-19 gets better over time. For instance, if the STI managed to recover back to 3,000 over the next year, it might suddenly look not so bad, as investors who put in money during the 2016 or 2020 would have reaped the benefits of their investments.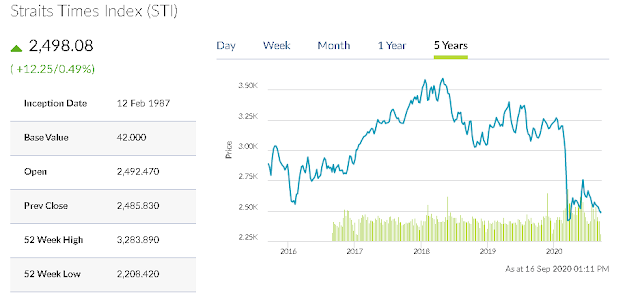 The same hypothesis applies to every investment in every market.
If you managed to put the bulk of your money in Tesla in the first half of the year and ride the noises, you'd be sitting on a pretty nice gain even as they are undergoing a little correction now. However, if you purchased and FOMO buy at the peak on the 31st Aug, you'd like to be hitting yourself over it. It'll probably take a while before Tesla will reach your break-even price.
For sake of reference, the Nasdaq and most of the tech companies peaked during the dotcom period on the 10th March 2000 at 5,132. By the time the bubble bursts a year later, Nasdaq was at 1,100 by October 2002.
Companies like Amazon lost 90% of its value and it took 15 years for investors who bought at the peak to breakeven.
I'm not saying it will happen this time around too but there is always the risk of such a possibility happening in massive liquidity pumped the market like what we are seeing today.
You might think and ask what about say the performance of banks since the STI component is heavily geared towards a bank play, it would make sense to consider banks' performance throughout the different markets.
Turns out that almost everyone is struggling thereabout.
If we take a look at the YTD performance, banks are minimally 20% down. It doesn't matter if you are owning banks in Singapore, Hongkong, China, or the US market. This is mainly due to the fact that banks are the barometer of the economy and most banks are being asked to cap some sort of profits, dividends, or share buyback in their respective market.
This means banks are currently in an overhang situation and becomes a recovery play in the short term when things clear up. Meanwhile, banks are still raking money in through lending and wealth management even though NIM is mostly down and the reduced payout will only make their balance sheet stronger for the eventual recovery.

Can Investors Still Find Value In The Singapore Market?
My answer to that is a resounding Yes!
There are still gems across the Singapore market that are providing good short-term, mid-term, and long-term strategy to investors.
Obviously, not all the gems have to be part of the STI index, so you'd have to look a little harder outside and consider the alternatives.
A good example of short to mid-term recovery value is a company like Comfortdelgro, a public transport and railway local company which I wrote not too long ago back in Jul (article link here). It is important for an investor to consider such a company as a recovery play and not a long term compounded growth because the two metrics and thesis are completely different and hence the strategy has to be considered differently.
If you are looking at a longer play theme in the local market, there are still companies that are revolutionary in nature such as IFast or Micro-Mechanics. Both companies are riding the revolutionary trend of digital innovation. IFast, for example, has consistently grown its AUA since IPO and are gearing up for a potential digital banking licence in Singapore.
Both have also done very well in the last 1 year – while STI is returning negative -23%, the strategy combined for IFast & Micro-Mechanics are returning 142.7%.
Final Thoughts
There are many investors, friends and bloggers in the community who've been investing in the local Singapore market and still make it past financial independence and become very wealthy today.
The key is to find the right segments and the right companies to invest.
While this year the economy has been plagued by Covid-19, most of the outperforming segments are in the technology space and this might be the hot sectors that everyone wants to get into now that it is getting crowded.
But the time will come when recovery sectors and companies in the muds will outperform, and that takes patience to unravel. Meanwhile, I'll stay to my strategy by pumping a heavy amount of capital into some of the unloved names and hope it will bear fruits sooner than later.
Thanks for reading.

Uncategorized