No.

Counters

No. of
Shares

Market
Price (SGD)

Total
Value (SGD) based on market price

Allocation
%

Category

1.

Alibaba

300

US$213

84,350.00

23.0%

Growth

2.

Lendlease Reit

85,000

S$0.79

67,150.00

17.0%

Dividend

3.

JD

300

US$72.7

29,000.00

8.0%

Growth

4.

Ping An

2000

HK$81.3

28,400.00

8.0%

Matured

5.

Huya

1,000

US$16.2

21,380.00

6.0%

Growth

6.

AMD

100

US$80

10,500.00

3.0%

Growth

7.

ISHARESHSTECH

1,200

HK$16.70

3,500.00

1.0%

Growth

8.

Ho Bee Land

300

S$2.40

720.00

1.0%

Leftover

9.

Options / Cash

–

–

135,500.00

35.0%

Options Premium

Total

380,500.00

100%

100%
I am going to do an earlier update for the June portfolio this month as I will be busier in the later parts of the month.
We have seen a good rebound in the overall market in the early part of June after a rather turbulence month of May where we saw a couple of overbought companies falling from its peak.
Some of the companies in my portfolio also rebounded with the overall market while there are still a lot of laggards play inside the portfolio which might need some good amount of patience.
The jobs report for the month of Jun (one of the three critical reports that always spooked the market) looks decent enough, sparking an overall optimism surrounding the faster rebound of the economy.
Over in Asia, many countries are still grappling across lockdown and re-infection numbers so we are unlikely to rebound as fast yet as compared to some of these Western countries.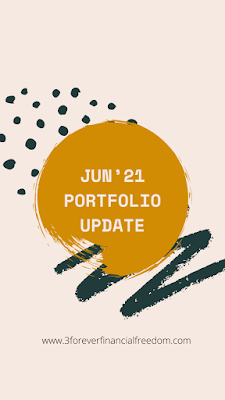 Portfolio Updates
My first update of the portfolio was for the divestment of my previously largest position in Manulife REIT as I saw opportunities elsewhere where I wanted to deploy the funds to. While the company was managed in superb condition, I was also somewhat cautious of the impending inflation rise which might result in the earlier hike of the interest rates which might dampen plays like Manulife REIT, which has borrowings done in the US (although they are unlikely to be impacted much as they have just refinanced not long ago).
Using this opportunity, I also doubled my position in Ping An at around HK$80+. The upcoming interest rate hike as well as inflation should bode well for the insurance company and with China recently announcing and allowing the 3-child policy, it looks like there is a good amount of organic TAM over the mid to longer term.
I have also added a new position in Huya, one of the biggest gaming stream company in China. Their share price has been wrecked since they hit a peak of around $34 just a few months ago. At the current valuation and market cap, I reckon it's worth a shot at this company. I'll do a more thorough writing in the next article on Huya articulating my thoughts and reasoning behind this move.
I am starting to sort of accumulate back positions in cash – keeping quite a lot of powder dry in the form of cash and short term options which allow me to move swiftly against the tide of the market. At the moment, not much compelling plays yet apart from what I think I already have to ride in this market but otherwise the majority of the play are still on waiting.
P.S: I don't publish my options position publicly here but occasionally share insights in my social media sites (Facebook and Instagram) so if you are interested, do follow them here.
Networth Updates
I am happy enough to see the portfolio rebounding from the drop in the previous month to end this month higher at $380,500.
There's no surprise to this really, it's just growing at a very slow pace at the moment but I am happy to see it trending in the right direction and there's still a good 6 months away to see where I'd end up till the end of the year.
My target at the start of this year was to hit $350k by the end of the year and it looks like so far it has been a pretty good progress overall. I am pushing this target up now to $400k by the end of the year.

Another 3 more days to go before we finally see the end of the heightened alert in phase 2. Hopefully, the case keeps going down and we can finally have some breathe air outside.
Continue to stay safe and well.

Portfolio