No.

Counters

No. of
Shares

Market
Price (SGD)

Total
Value (SGD) based on market price

Allocation
%

Category

1.

Manulife Reit

100,000

US$0.74

98,300.00

26.0%

Dividend

2.

Alibaba

300

US$211

84,200.00

23.0%

Growth

3.

Lendlease Reit

85,000

S$0.74

62,900.00

17.0%

Dividend

4.

JD

300

US$72.7

29,000.00

8.0%

Growth

5.

Ping An

1000

HK$81.3

14,200.00

4.0%

Growth

6.

AMD

100

US$77.1

10,000.00

3.0%

Growth

7.

ISHARESHSTECH

1,300

HK$16.77

3,700.00

1.0%

Growth

8.

Ho Bee Land

300

S$2.40

720.00

1.0%

Leftover

9.

Options

–

–

70,000.00

19.0%

Options Premium

Total

373,020.00

100%

100%
What a month we have so far in May!
The old saying of "Sell in May and Go Away" certainly doesn't disappoint this year – not only does this affected the stock market but also the crypto market and it certainly resets some of the expectations the market have towards these assets.
In the local Singapore market context, unfortunately our cases are also rising and we are back to the scenario where we almost had circuit breaker last year so it does feel a little like dejavu that we are back to square one amidst the past one year of restrictions.
Not much panic yet in the market as buying the dip continues to dominate despite the fear of inflation rising faster than expected which would mean a tightening in the monetary policy.
Using this opportunity, I have also made a couple of rotation by allocating more into the US and HK market.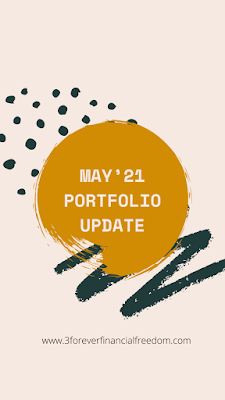 Portfolio Updates
I was fortunate in the sense that the tech market correction came in slightly earlier than the heightened alert period announcement which I already have some plans to do some rotation – this means I managed to divest my position in STARHILL REIT at a slightly better valuation ahead of the announcement. But you can see that it affected my other position such as Lendlease REIT which I have continued to hold and it has fallen quite a bit from the recent peak since the announcement was made.
I used this month's opportunity in the market to take an initiation position at Ping An at HKD 81.3 and JD (options at strike price $70 which I was assigned at expiry).
I also accumulated slightly more shares into iShares HSI Tech as the entire HK tech sector is still undergoing correction at the moment which I think makes a good compelling reason to load more at this stage.
The rest of the funds are moved mostly into options play, and this month I managed to get the majority of the options to expire with exception to JD which I have gladly taken assignment at.
P.S: I don't published my option positions here but do occasionally give hints on my Facebook and Instagram page so do remember to subscribe and follow.
Networth Updates
After what it seemed to be a smooth transition year, the portfolio finally takes a little breather in line with the overall market as certain assets and sectors take a hit.
The equity portfolio for this month falls slightly to $373,020 from the previous month high but I think there's really some nice set-up here which I am personally very optimistic about. We'll have to see if this pans out positively over the course of the next few months.

Meanwhile, do check out some of the past few affiliate articles partners I've worked with over the past month if you missed them. These partners offer products which I thought might be a good fit for some of us:
We are back to the heightened alert period, so stay home as much as you can, and stay safe.
Thanks for reading.

Portfolio