I've been thinking hard in the past recent weeks of allocating my portfolio positions based on the different categories of equities.
This is not exactly a diversification strategy, as the intention is not to spread the portfolio too widely which results in a small amount of each position.
The intention is to be more clear-headed when selecting and each position still has a thesis or quantifiable factor that allows for a better determinant.
Ideally, every position has to be a conviction play, so this means allocating minimally 5% of the portfolio and mentally I have to accept that I can allow more than 30% to sit in the portfolio. Without that conviction, it is a little bit like throwing darts. I can be 100% or 200% up in a position for glove makers or healthcare but if it takes only 1% of my overall portfolio, it's hardly moving the needle in the portfolio.
The ultimate objective is still to grow the net worth in the portfolio, so I am using this benchmark to determine what good looks like for myself. The market benchmark for S&P or STI or any other indices is secondary in nature, as they are used more for fund managers who are consistently trying to outperform a passive indices performance.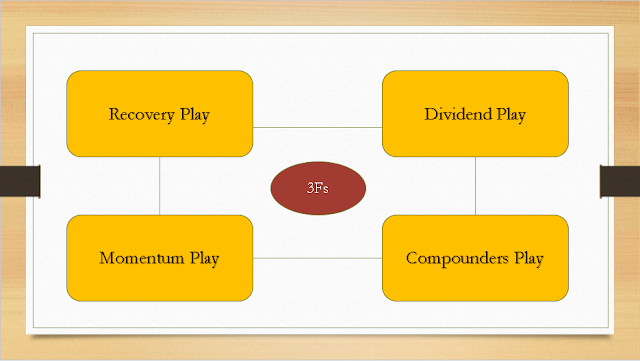 Alright, let's go through these different categories (which I will also insert an extra column in my next portfolio updates from next month).
1.) Recovery Play
The mentioned recovery play here is referring to companies that are heavily hit by the Covid-19 crisis.
These include players such as hotels, aviation, airlines, and transportations that are heavily decimated because of the lockdown. Most of these companies have been hit between 40% to 70% because of the crisis which resulted in valuations heavily beaten down.
The goal is to knick pick some of these companies that remained sound fundamentally, possess a strong balance sheet to weather the storm, and remained relevant (not become obsolete) after Covid-19. To avoid a counter-risk of failing, these investments should have a projected return of 50% / annum or more when the Covid-19 situation is attenuated.
O&G is a different sector altogether which may depict a longer move towards equilibrium and structural implementation towards natural and clean energy. Not an expert in this sector, I'll avoid this sector for now.
To summarize for "Recovery" Play:
i.) Main Thesis: Recovery from Covid-19
ii.) Expected Return: 50% xirr per annum
iii.) Sectors in Favor: Transportation, Hotels, Retails
iv.) Sectors to Avoid: Airlines, Office, Traditional Media
2.) Dividend Play
Dividend play has been the main focus in my portfolio for the longest time, so it is also one that my readers are most probably more familiar with.
In the
article
I wrote back in 2016 on selecting dividend stocks, my focus is not just on the dividend itself ("X") but also on the potential growth itself ("Y") which can come from either
organic growth
of the business (hence higher dividend) or
subdued valuation
like what we are seeing now.
Subdued valuation remained a favorite of mine because it offers not just higher forward yield (looking beyond the pandemic period) but also higher potential capital gain. In other words, it has a subset of recovery thesis inside the dividend play, making it very attractive to yield-hungry investors.
Similar to a recovery play, it is important to ensure that the sectors and companies remain relevant after a paradigm shift in events like Covid-19.
To summarize for "Dividend" Play:
i.) Main Thesis: Cash Flow through dividends
ii.) Expected Return: 10% xirr per annum, broken down into minimally 6%+4% or 7%+3%
iii.) Sectors in Favor: Retails, Industrial, Infrastructure
iv.) Sectors to Avoid: Telcos, Offices
3.) Momentum Play
This thesis is pretty self-explanatory.
The companies for momentum play are usually in the heat of the moment, either due to cyclical recovery (e.g: soft commodities) or demand ramp-up (e.g glovemakers).
Because there is such a strong demand (or lack of supply) in the products, the increase in production leads to higher earnings and profit margins which then leads to analyst re-rating on the valuation of the company and then leads to an even further push on the share price of the company.
Most of the time, these companies are trading at the higher range of their mean valuation and breaking new high its time, attracting momentum technical play from the arrival of traders and speculators.
The only caveat here is that we still need to find real solid rock companies, otherwise it might result in a pump and dump which can catch any investors or traders off-guard.
To summarize for "Momentum" Play:
i.) Main Thesis: Momentum Macro Play / Catalyst present
ii.) Expected Return: 20% xirr per annum (minimally)
iii.) Sectors in Favor: Soft Commodities, Hard Commodities, Glovemakers, Healthcare
iv.) Sectors to Avoid: Structural Permanent Obsolete Industries, Value Traps
4.) Compounders Play
The thesis for Compounders Play is that the company should be able to grow at double-digit growth year on year due to a massive gain in market share globally through their scalability.
These are typically companies with an unconventional business model that are able to disrupt the traditional mode of doing business.
For instance, instead of doing traditional paper advertisements, many companies are moving to online advertising space. The same goes for e-commerce online shopping, cloud computing, and gateway payments.
Covid-19 has pushed technology adoption even faster and the government worldwide has been encouraging businesses to adopt an alternative model such as takeaway and table-ordering for F&B and online shopping for retail.
One of the things I've been anticipating is to see how digital banking can potentially disrupt the way traditional banks have been doing. While banking is a critical essence to run the whole ecosystem in the economy, banks are not. Already, we've seen how the past two years MVNOs came in and disrupted the margins for traditional telcos, which encourages competition and good for consumers.
To summarize for "Compounders" Play:
i.) Main Thesis: Compounders of Tomorrow / Disruptor
ii.) Expected Return: 15-20% xirr per annum
iii.) Sectors in Favor: Technology, Cloud, Semi-Conductor, Payment Gateway
iv.) Sectors to Avoid: Telcos, Banks
Final Thoughts
I'll keep these rough ideas in mind when selecting industries and companies to buy and will be classifying my next portfolio updates into these 4 different categories.
The allocation of these categories are not conclusive in nature and might change depending on the objective I have.
Still, I just wanted to get this thought off my brain for something I've been thinking in a while so I am glad I have managed to put that in writing.

Uncategorized