You might recall that the last update (
Link Here
) I made with regards to the DBS Multiplier was in May 2019 last year.
Back then, they've enlarged the proportion of the categories and interest rates, making the maximum effective interest rates on applicable transactions up to 3.65% on the first $100k.
Since then, we've seen central banks around the world cutting interest rates back close to zero and this resulted in banks having to follow suit to making revised changes to their savings account and fixed deposits issuance.
With effect from 1 August 2020, the multiplier interests for the Income + 1 and 2 categories are going to come down (as expected) and quite a bit too from the last revision.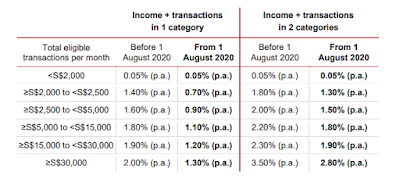 The changes from the 1 category are in variance of 0.7% difference for transactions that are above $2k.
That means if you've been previously earning 1.40% from the 1 category, you will be earning only at 0.70% from Aug 2020 onwards. That is equivalent to a 50% drop from the current interests that you are earning.
The higher your transactions the lesser the drop from a percentage point of view, though in absolute the variance is still at 0.70%.
For the 2 categories, the changes are in variance of 0.5% for transactions that are above $2k and it goes lower to 0.4% variance when you hit a transaction of above $5k. The message they are trying to portray is to transact more with DBS and with
DBS NAV Planner
in place now, it makes sense to consolidate all your accounts into one.
All other qualifying conditions including the 3 plus categories remain unchanged.
However, not everyone is able to transact such a big sum each month.
Thankfully, they've made it more lenient with regards to dividend crediting, which can add up quite a bit each month for those who are dividend lovers.
From 1 August 2020 onwards, eligible dividends now include dividends received from all markets that are transacted via DBS Vickers and also other platform such as unit trusts and Invest-Saver.
It also includes dividends that goes into the SRS and CPFIA accounts, which was not an alternative previously.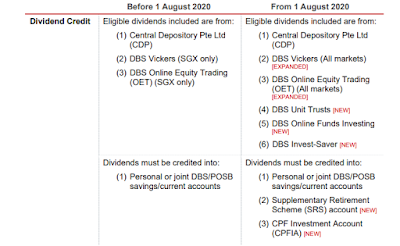 Conclusion
I'm going to stick with DBS Multiplier for now because all the other changes such as OCBC 360 and UOB One Savings account have also made drastic changes in the past months so you won't really get to "save" much by moving your funds here and there each month.
I think what is possible is perhaps to take advantage of the expanded servings from DBS such as taking advantage of the NAV budgeting planner and also the expanded crediting of the dividends. With this in place, I think it makes more sense to increase the amount of transactions as well as the number of categories in each transactions as you deem fit.
Thanks for reading.

Uncategorized