The REITS asset class have been gaining popularity fast amongst the local investor scene since we have our first investment trust back in 2002.
The earliest investment trust was CapitaLand Mall Trust (CMT) when it IPO in 2002 and today its market cap has since jumped 16 times to $9b over a period of 18 years through the issuance of new shares and growing asset portfolio.
Today, all the Singapore REITs, stapled and property trusts are a combined number of 35 with a total combined market value of over $100b, which is approximately 10% of the overall Singapore stock market capitalization.
The STI now includes five REITS which have a combined index weighting close to 10%.
Mapletree Commercial Trust (MCT) and Mapletree Logistic Trust (MLT) were the latest joiners in 2019, joining other earlier companies like CapitaLand Mall Trust (CMT), CapitaLand Commercial Trust (CCT) and Ascendas Reit (A-Reit).
To be fair, they've hold up the STI pretty well, given the dismaying performance of the other counters in the STI.
Most investors treat their REITS investments as their cash cow, providing them with stable dividend income on a quarter or semi-annual basis at the very least.
Today, this article is about dissecting the different types of distributional income that REITS have on their books and why each type is different.
Distribution Type


Let's take the announcement details by First Reit which was announced a few weeks ago.
There are 3 different distributional type of dividends that were declared.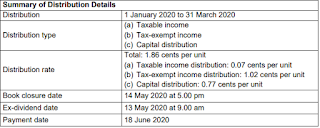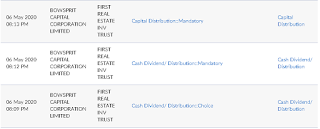 The first is taxable income which amounted to 0.07 cents/share and is a choice.
The second is tax-exempt income which amounted to 1.02 cents/share and is a mandatory.
The third is a capital distribution which amounted to 0.77 cents/share.
It sums up to a total of 1.87 cents/share declared.
Taxable Income – These dividends declared are by choice since it is taxable in nature. These are dividends that the trust received from its' respective SPCs (Special Purpose Vehicle) which are tax residents of Singapore.
The dividends will be taxed at the company level but exempted in the hands of unitholders based on the one-tiered rule. For foreign trust like First Reit who derived their income from a foreign SPCs, It will further be subjected to the withholding tax in their respective holding country.
Tax-Exempt Income – These income relates to the disposal of ordinary / redeemable preference shares in the SPCs where such capital gain tax are tax exempted in Singapore. This is also usually the bigger portion and one which many Reits are currently withholding the distribution in lieu of the Covid situation after MAS ruling was allowed.
Capital – These income represents a return of capital to the respective SPCs, who may choose to redeem on a periodic basis. Depending on the Reit's distribution policy and earnings payout they choose to give out, a portion of the dividend may be returned as this would deferred the amount of tax to be paid and reduce the cost basis for the units, which translate into lower taxes and hence higher dividends for unitholders.
The more diversified the assets in different countries, the more SPCs they would have to carve out in order to receive these funds before they go to the trustee for execution.
Thanks for reading.

Uncategorized